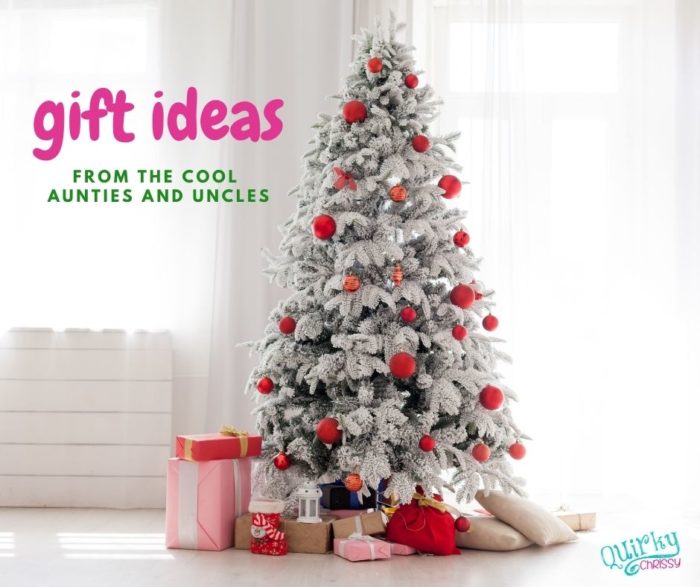 Ah, the holidays. My favorite time of year. The season of joy and magic, lights and wonder, and uh…gift guides?
I always have so much fun putting together gift guides that I try to do several throughout the month of December. This year is no different. I've got two great unique gift guides planned for this week. Now, my previous gift idea lists are still perfectly valid and fun, so if you're looking for some unique, clever, or classic gift ideas, I've got you covered. You can find a full list of my gift guides at the end of this post.
Today, I've put together some ideas for gifts from aunties and uncles that will have the littles in your life telling you that you're the best and possibly the parents telling you that you're the worst and preparing to exact revenge upon you the minute you procreate. I'm always prepared for these, now more than ever. But there's nothing like being an auntie and showering the kiddos with things that will surely bring joy.
Without further ado, I give you the list.
Cool gifts for teens
My godson is a freakin' teenager. I don't know when or how that happened, but it did. I don't like to give gift cards for Christmas unless it's absolutely necessary. I know it's a big thing and a lot of people love them…and I'm happy to do it for birthdays, but for me, Christmas calls for gifts under the tree. These are some of the gifts that have been absolute hits.
Party light display ($30) I don't make the rules here, but young adults and teens seem to really appreciate things that turn their rooms into party spaces. Even if they don't have parties in their rooms. Come on, you remember being 16, right? It was cool to sleep in a room that felt like a club, even if you've never been to the club.
LED Light strips ($20) Same concept as above, different execution. Bonus points if you get both for the same kid.
Games from the cool aunties and uncles
Bonus auntie and uncle points if you stay to play these games with your favorite kiddos.
Bold Made Card Game ($25) This new take on an old classic is exactly the update it needed. From the bones of the game, Old Maid, Bold Made is all about collecting cards featuring 40 different women who changed the world. The base game has ten different categories, including art, science, world leaders, and more, and the athlete expansion pack ($15) adds 20 game-changing female athletes.
Astro Trash ($20) This space-themed game is fun for everyone, as long as they know their left from their right. It's a quick-paced game, and my niece and nephews (16, 12, and 7) all really enjoyed playing this together. If you're more into Disney, a similar game mechanic with a Mickey theme would be Mickey and Friends Food Fight ($35).
Build or Boom ($15) This 2-player game is ALWAYS a hit with my nieces and nephews ranging in ages from 4 to 12. The 4-year-old has no idea what she's doing, but she knows she loves playing with the pieces. The 7- and 12-year-olds fight like crazy but love doing it. And really, isn't the best part about being an auntie or uncle loading them up with cool stuff and sending them home part?
Other fun gifts for your nieces and nephews
Legos (varies) Listen, I get it. Parents don't like stepping on Legos. I'm sure I'll discover this one day. But for now, I'm happy to send the kids home with those parental death bricks just to see the joy on a kid's face when they open the coolest gift ever. Plus look at all the cool shit Lego is doing now. These storybook adventure Legos are so sweet, I kinda want one for myself.
Nerf Guns (varies) Again, as the auntie or uncle, you don't have to worry about lost darts or balls. Or who hit who with a foam dart. Because those toys go home with mom and dad. I'm going to pay for this post. I know it. But I love giving the best toys to my favorites.
Noise. Makers. (varies) Kids love 'em. Parents refuse to buy 'em. It's your job to get on this. From the Little Tikes piano to crying dolls to a toddler drum kit, the kiddos will love your choices in gifts, and your siblings/cousins/friends will plot their inevitable revenge.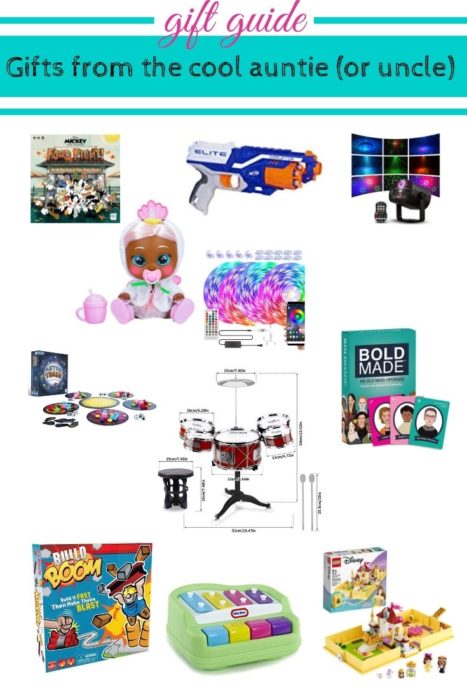 Whether they're you're blood relatives or the children of your nearest and dearest, these gifts are sure to impress even the tiniest of tots and surliest of teens.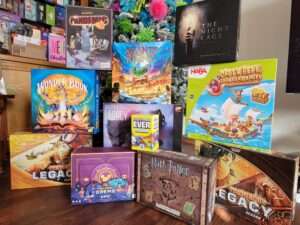 We are living in a time of mass consumption. Maybe even over consumption. We all know I'm not immune to it. I've spent years creating gift guides full of things I love, have, and/or want. So much of our gifting often revolves around tech and solo activities, and so I wanted to shine focus on some gifts that help gather people and share experience rather than divide us.
Read More »