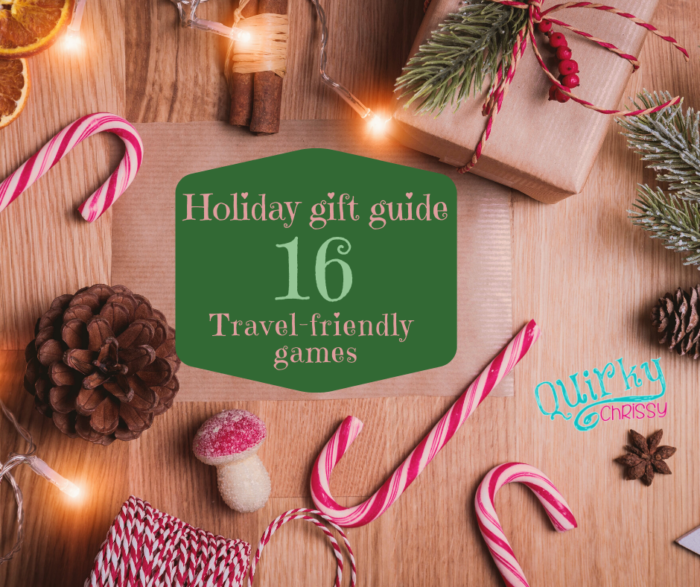 This past summer, Brian and I spent two weeks in Ireland. Our first week, we were almost entirely on our own, traipsing through Counties Dublin, Offaly, and Galway. The second week was spent with family for an Irish wedding in County Kerry.
During that first week, we spent a lot of time in bars and restaurants as well as hotel lobbies (don't judge our vacation style!). And as much as we love talking to each other, when you're spending every second together, you don't have many extra talking points outside of shared experiences. As Brian and I are gamers to the core, we decided to fill some of our drinking time with a little healthy competition. Our constant companions for the week became the games we could easily throw in our pockets, backpack, or purse.
And this leads me to the best stocking stuffer idea I've ever had! Pocket games! (Don't tell Brian, but there may or may not be a few of these games in his stocking this year.)
Now, your mileage may vary depending on the type of gamer you are, as some games are definitely more strategic and detailed than others. But I've tried to provide a variety of options whether you're a party game addict or a strategic game wizard.
In full-disclosure, any purchases made from these affiliate links may result in a tiny commission that help support my board game addiction. It doesn't cost you anything extra.
Tiny games for international/carry-on travel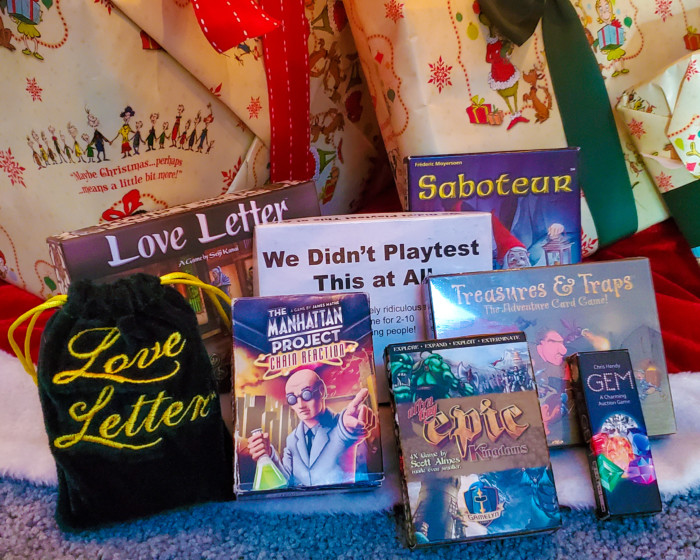 When luggage space is tight, size matters. These games are perfect for carry-on luggage, international travel when every ounce makes a difference. These games are also really great to throw in your purse or pocket when you're going somewhere with a long wait or hanging out in a bar or microbrewery.
$15. 1-5 Players
This game is the condensed version of the larger, Manhattan Project, which, in full disclosure, I've never played. But Chain Reaction is a favorite of ours, and it plays well with two, three, and four players. It's a pretty easy resource management card game with a strong randomized luck component, but it plays quickly and enjoyably. Basically, you create uranium using yellow cake and the appropriate workers; then turn that uranium into bombs to earn points.
$6. 2-4 players
There are sixteen different Pack O Games — small card games in a box no bigger than a classic pack of gum, and I love the concept of these games more than anything else. They're so tiny, they even fit in those piddly barely-a-pocket pockets that they have started adding to women's clothing. And GEM is so fun. It's an auction-style game in which you are bidding on gems in order to have the most valuable collection at the end of the game. Finally, a game I can beat Brian at!
$15. 1-5 players
There is a series of games, known as Tiny Epic Games, by Gamelyn Games. These games pack a full-size strategy game into a relatively small box. But our first adventure with the Tiny Epic brand was their Ultra edition, which we received in a Board Game Bento Box (no longer available, but absolutely one of the best wedding gifts we were given!). This itty bitty game comes in a small box similar to that of Manhattan Project: Chain Reaction, but has a fully functional worker placement game inside. We love it. Brian especially loves it, because he usually wins. Whatever. It's a fantastic game. We first played Ultra Tiny Epic Kingdoms at a bar at Gen Con, because of its travel-friendly size, and now it goes on every vacation with us.
Fun fact: There may or may not be a second Ultra Tiny Epic game coming out this month. So keep your eyes peeled for Galaxies!
$13. 2-6 players
I played this game at Chicago Toy and Game Fair this year, and it was super fun. It's a dice rolling game with some nerdy gamer strategy. The art is awesome, which is one of the big things I look at when buying a game. The primary reason I got this one was that it comes with a storytelling element in the expansion pack, The Adventure Story Game. But I also love that the Random Encounters expansion box is big enough to house all of the cards in each expansion (which is pictured below in the Domestic/local travel because it's a little bit bigger than pocket-sized).
$16. 2-4 players
This is one of the social deduction games that I really enjoy. We have a slightly different version with Asian-inspired art. The goal is to send a love letter to the princess through one of the many messengers that are closest to her. Of course, you'll have to pay attention to your opponents because the cards can change the course of the game and your opponents are watching your actions to beat you. It's a fast game that's relatively easy to learn if you have played deduction games before. It also comes with a convenient inner velvet bag that you can use to travel even lighter.
$9. 3-10 players
There are several things I love about this game, not the least of which is that it plays up to 10 players, and the expansion, Saboteur 2 makes that 12 players, which is awesome if your game group gets a little too big for a 4-player game. I also think the concept is fun. Everyone is digging their way to the treasure, but one sneaky saboteur is trying to thwart the squad. Find the saboteur and prevent them from dominating to win.
$13. 2-10 players
This might be the silliest game on the list. The rules are simple: Read the cards. Follow the rules. Change the rules. Win the game. Basically, any card can change the rules of the game, create end conditions and win conditions. And other cards can thwart your attempts at winning. It's a super fast-paced silly game.
Games for domestic/local travel
These games will fit into a tote, duffel bag, or suitcase, especially if you fly Southwest and bags fly free. Some of them are card games that can be repackaged in a smaller container, but all of these games should easily slide into your luggage.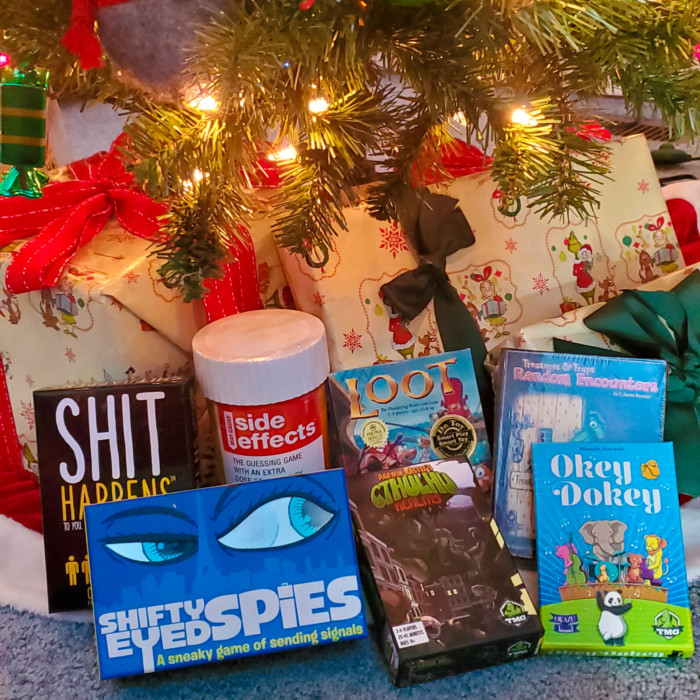 $25. 4+ players
This party game was gifted to me from my friends at Goliath Games is super great for a group of friends looking for an amped-up version of Taboo meets charades. The bottle is hilarious. The game is super fun, especially if you have a larger group of players. You play in teams and compete in a typical game of Taboo (providing clues to guess a word), with one exception. The player is experiencing side effects. So in addition to giving clues for the word, you'll also have to perform two physical actions, traits, or body movements. For example, you might have to pretend to be a ballerina while whispering to guess the word owl. You have 40 seconds to get your teammates to guess as many words as possible.
$12. 2+ players
This is one of my best friend's favorite games. She slays at it every single time. It's super easy to learn and play, and really crazy. This game was also gifted to me by Goliath Games. It plays an unlimited number of players (though I wouldn't recommend more than 10) Basically, you place the cards in the order you think they belong in based on the misery index one at a time. Each of the 200 cards have been pre-ranked based on surveys and research. Cards include shitty things like root canals, $115 parking ticket, smelling like a fart for the rest of your life, and darker, dirtier things like a ketchup bottle stuck up your ass. (I'm sort of looking forward to the Google searches that lead people here).
Side note: If the darker, dirtier part turned you off…good news! There are PG versions of the game: Stuff Happens and parenting Stuff Happens.
$16. 4-8 players
I love this silly game. Each player is a spy trying to deliver and receive packages. The goal is to wink at the player to whom you need to deliver a package without anyone noticing. Then that player must tell you where to meet them. The game is super easy to play, and the winking aspect is hilarious.
$13. 1-5 players
Okay, so this was on last year's Tabletop gift guide, but I couldn't help myself from putting it in again because it's a nice pocket-sized game! This game is silly and amazing and I love it. Brian hates it. It's very polarizing. You can play it by yourself in sort of a solitaire type game, or you can work together with your teammates to organize and order the cards properly…without saying a word. I've played it by myself and with others, and I really enjoy playing it.
$18. 2-4 players
This is a big game in a little package. It's one of the smallest boxes for deck builders that I've seen, but it's got more to it than just deckbuilding. It's an elimination game, and your goal is to make your opponents go insane before you do using the cards in your hand. Because it's small, I sometimes forget it's there, but when we play it, it's always a good time.
$12. 2-8 players
I randomly found this game at a thrift store years ago, but it is always fun to play. You're collecting coins from pirate ships by one-upping each other as the bigger better pirate. This is another easy-to-learn game that has lots of replayability. Plus, again with the large player count! Just know that another over 5 is a partnership game, where teams of two compete with each other.
I hope you found this gift guide useful and interesting. Which of these games would you most like to play? Let me know in the comments below!