Happy December, friendos! Because I'm feeling especially festive this year, I've got a lot of plans for the holidays here in the quirkyverse. Starting yesterday (on the gram), we'll be celebrating with 25 days of holiday joy! There will be a few giveaways sprinkled throughout the month over on Instagram (and there's one live right now!). Festive ideas. Gift guides to help you shop or make your own wishlist. And brightly colored happiness wrapped up in a bow.
To start the month off properly, I'm giving you some easy ideas for jollying up your life this month. You know I'm festive AF every year, so here are some of the ways I get started.
Holiday wearables
"Ugly" Christmas sweaters
Remember when people actually wore ugly Christmas sweaters unironically? And then when other people started thrifting said sweaters and wearing them because it was funny?
Yeah, those days are so gone. If you're going to wear an "ugly" Christmas sweater, I say make it a super cute one like this Grinchy sweater.
Or a hilarious one, like this National Lampoon's Christmas Vacation sweater.
Or marry the two ideas with this amazing 3D plush dinosaur sweater.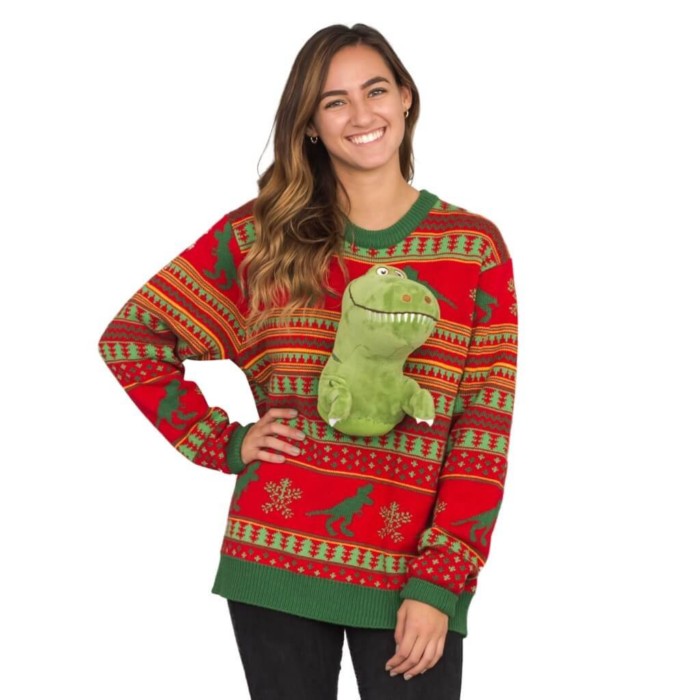 My friends at UglyChristmasSweater.com sent me the coolest, funniest, cutest dinosaur holiday sweater to share with you, and I absolutely love it! I sized down on this one to an XL, and I was super glad I did. It fits perfectly for all of my Christmas sweater needs. The dinosaur has velcro to stay on the sweater, and it comes with some industrial sized safety pins to keep him safely secured to your back and torso. The sweater is super cozy too!
I haven't named my dinosweater yet, and I'm hoping you can help! Leave a comment below with your name idea. Because this dino and I are going to be besties for life.
If you want to try your luck this week, I've partnered with UglyChristmasSweater.com, and we're giving one of these sweaters away over on Instagram.
Festive accessories
I love holiday headbands and slippers and Santa hats. Necklaces and bracelets and ribbons in my hair. I wear them all month long for a festive flair. Jingle all the way, that's what I always say! Most of my accessories are older or thrifted, but if you're looking to add to your collection, here are a few items I've seen recently that I love.
Holiday colors
Want to be festive without the extra flourishes? Pair fun combinations of red and green for super holiday fun. I'm a big fan of color blocking and mixing/matching solid-colored pieces like this green dress, red top, and red leggings (technically, they are paprika, but whatever).
Pro-tip: When I wear a blouse over a dress, I usually tie it in the back with a hair tie so that it cinches my waist.
You can use accessories to make colors pop if you don't want to be too bold with the color blocking – like a green belt and scarf with a red t-shirt dress (I wore it over skinny jeans because winter). You can switch up your accessories to be a little less extra, but I always recommend the extra.
Decorations
Trim a tree
I have had my Christmas trees up since mid-November. They make me happy. I always have at least one themed Christmas tree and one hodgepodge, family-ornament Christmas tree. This year, I also have a fancy tree (but make it Chrissy).
Wintery atmosphere
Garland is key when decorating our house. Whether it's lighted garland on the banisters or super flowy strings of faux pine needles and holly leaves hanging all over the house, we have garland everywhere. And it looks awesome.
Twinkle lights are also a necessary component. Christmas comes when the nights are longest, and what better way to brighten a room than with twinkle lights everywhere?
Tablescape
I have Christmas dishes. Of course, I have Christmas dishes. When Brian and I moved into our first (and only, actually) apartment together, my mom bought me a few pieces of Pfaltzgraff Winterberry as a housewarming gift. And from there, it's become an obsession.
I also went through a Rae Dunn obsessive phase, and I used some of those dishes to make another fun set up for afternoon tea (and cocoa). Rae Dunn can be found at your local TJ Maxx/Marshall's/Homegoods or on sites like Mercari and Poshmark (if you say quirkychrissy referred you, we each get $5).
So there you have it, friends. Chrissy guide to celebratory holiday fun! Dress festive and decorate festively to enjoy every second of the holiday season. How do you get into the Christmas spirit? Let me know in the comments!