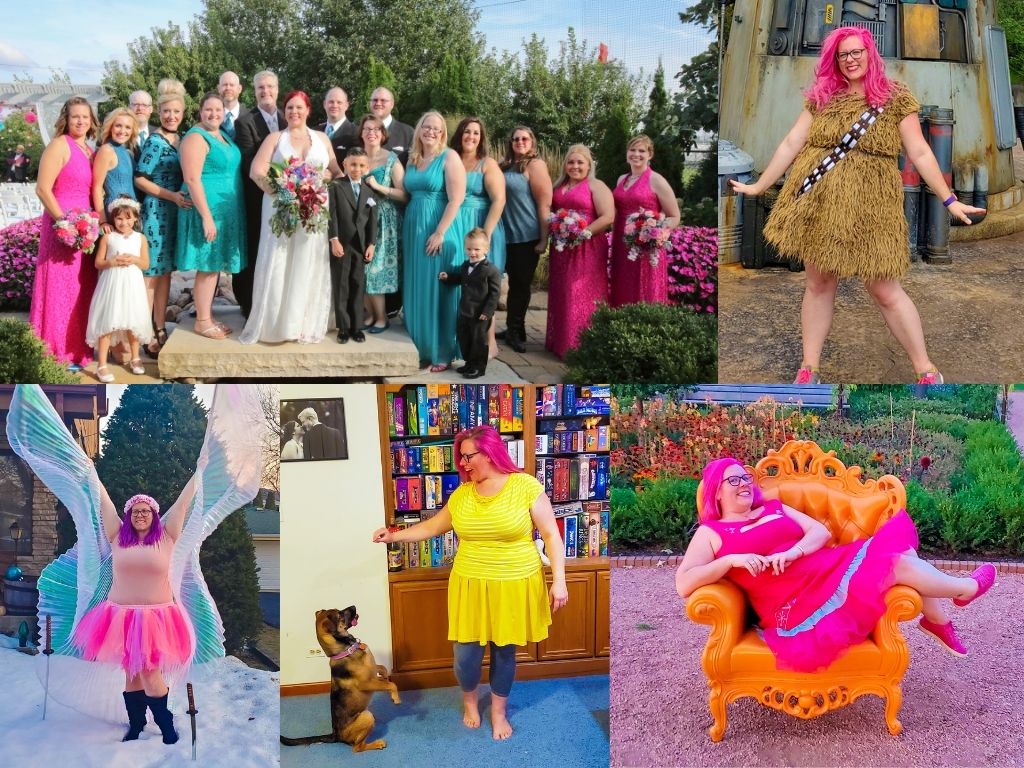 An adventurer, writer, and humorist walk into a bar…
Hi there! Welcome to my humble abode. I've been writing on this site for over 11 years, and a lot has changed. When I first got started, I was "between jobs" and kind of sort of living with my then-boyfriend, Brian, while still writing my parents' address on legal documentation and such…because that's where my closets lived. Brian and I have since moved a few times over, bought a house, got married, adopted a dog, had a baby, and are now living in utter bliss pure chaos. I'm a full-time stay-at-home mom, while also trying to maintain my identity as a writer, living the dreams that formed decades ago. You'll find a variety of fun things here that cover many of the following topics:
LIFE  We've all got a story to tell. This is my story.
DISNEY I'm an annual passholder to WDW, watch nearly every Disney movie prior to release, and, in general, obsessed with all things Disney. Such is my world, and welcome to the magic.
FASHION BAD LAUNDRY HABITS/BEAUTY/STYLE Rainbows, bright colors, bold clothing choices, and Disneybounding are all major aspects of my style.
TRAVEL Brian and I like to traipse the world together. Sometimes I tell those stories.
FOOD I am passionate about food and cheese, so they get brought up a lot.
CHEESE Do I need to explain this?
BODY POSITIVITY Because everyone should try to love themselves first.
GAMES Brian and I are board gamers. We play lots and lots of sweet-ass games. Sometimes I write about them.
WEDDING I got married and it was the greatest wedding that ever was.
GENERAL NERDINESS Because it's hip to be a square.
FAMILY Just because I'm not a mom doesn't mean I don't have a family. Our family is awesome. and LOUD. Mostly, loud.
PETS/WILD ANIMALS Mostly dolphins and sloths…sometimes bugs. Also our wild boxer shepherd, Lady Nymeria Stark.
MY EVER-CHANGING RELATIONSHIP WITH DIET CULTURE I've had a constant struggle with my pants size since I was 11. I'd blame cheese, but I don't want to hurt its feelings.
YOGA I used to be all over Instagram in crazy yoga pants doing crazy bendy things. Then I hurt my back and things got weird.
I hope that you will enjoy this site, share it, and share your world with me. I love feedback. I love comments. I want to hear from you.
I am a PR-friendly blogger, and you can review my advertising and sponsorship page to see if we're a good fit.