In recent news, Brian and I are the proud parents of a five-month-old puppy we call Nia (her full name is a regal one: Lady Nymeria Stark of Winterfell). We rescued her exactly two months ago and have been in love/hell ever since.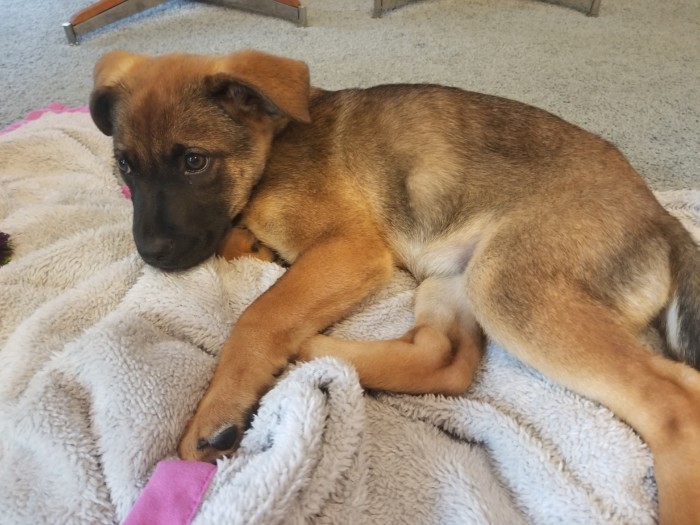 I've wholeheartedly embraced the dog mom life, so if you're here to comment on how dog owners aren't real parents and puppies aren't human children, kindly see yourself out (you don't know or care about my life, my struggles, or what brings me joy. This isn't for you.) In my experience training a three-to-five-month-old pup, I've come to the realization that having a puppy is very similar to having a toddler.
Mobility
Some people compare puppies to babies, and I'm not going to do that: While a baby is mostly immobile, a toddler is running all over the place, exploring all available surroundings, and basically trying to kill itself every chance it gets. Ways to combat this: baby gates, constant vigilance, and positive reinforcement. Unsurprisingly, this is exactly how we combat the dangerous exploratory behavior of puppies, baby gates, constant vigilance, and positive reinforcement. We've gated the pup in the kitchen when we're cooking, the TV room when we're winding down, and the front room when I'm working. She even gets to hang out in the bathroom when I shower.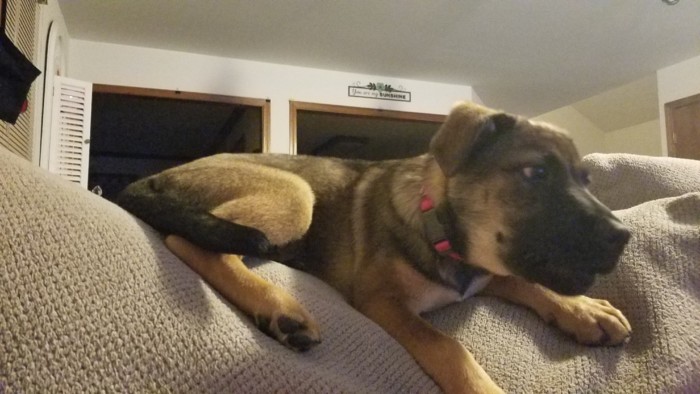 Constant attention-seeking behavior
Speaking of the bathroom…From the memes I've seen on the book of face, toddlers who aren't invited into the bathroom with Mom claw at the door, sticking their tiny fingers under the bottom trying to get in. Wanna know what my puppy does when I go to the bathroom without her? She claws at the door and sticks tiny paws under the bottom trying to get in.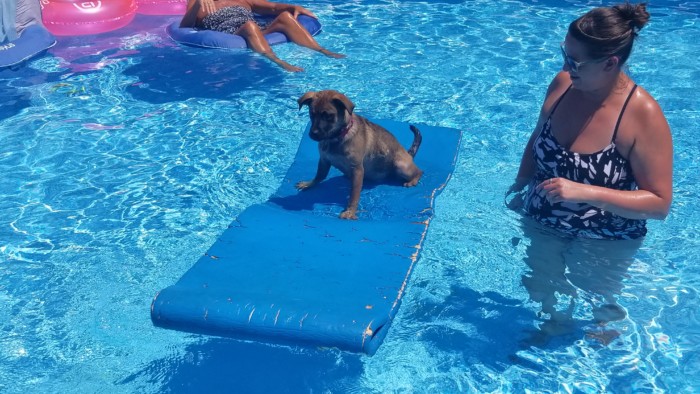 Managing nap schedules
I know that toddlers need a lot of sleep, and managing their naps can be a full-time job. I also know that if Nia naps all evening, she won't go to bed at night! We learned the hard way that our evenings of snuggling on the couch while binge-watching TV were days of the past when Nia wouldn't go to bed until after midnight because she slept during TV time. We're still working out the logistics and what works best for her, and hopefully, we figure it out soon!
Puppy diaper bag
Moms carry bags of stuff toddlers need every time they leave the house with their kiddo: diapers, wipes, creams, extra clothes, toys, snack packs, containers, sippy cups, etc. I carry a bag of stuff Nia needs every time I leave the house with her: poop bags, alternative leashes, toys, snack packs, bowls, bottled water, etc. And I'm often so flustered when trying to gather everything that I forget stuff for me. My phone, a beverage, my purse, my ID, always something.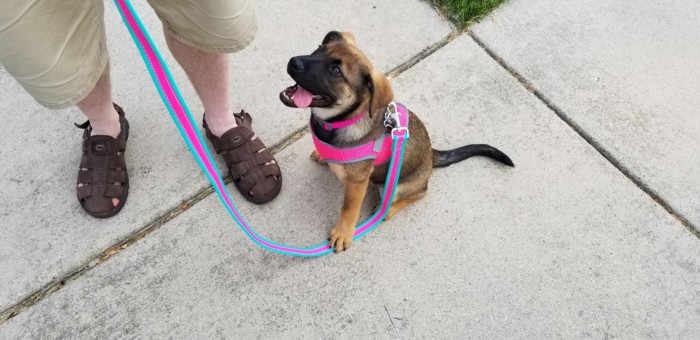 Bedtime routines
I'm pretty confident many, if not most, toddlers want to snuggle up with Mom and Dad at bedtime, and I've known parents who curl up in their toddler's tiny beds and fall asleep with them in order to get them to crash in their own beds. When we began crate training Nia in our bedroom, about 2 feet from our bed, she would cry at night because she didn't want to be alone in the crate. So Brian and I would curl up on the floor crateside with the lights out as if we were all going to sleep in a giant puppy pile together. Once she was asleep, we would tiptoe back to our bed for the night. You may say we're suckers, but guess who goes right to her crate at bedtime, now?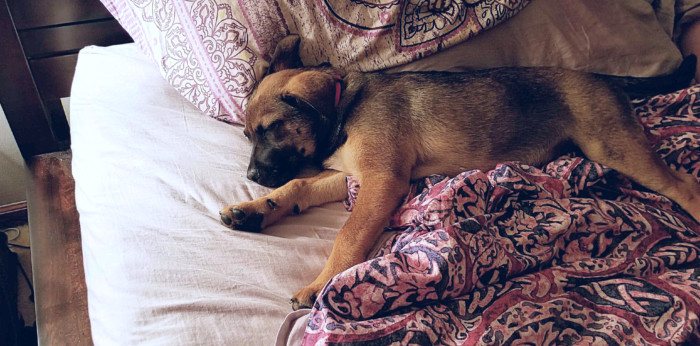 Toys everywhere
Just like my toddler niece, the puppy pulls all of her toys out on the ground and spreads them far and wide for good measure. I may not rip up my foot on a Lego, but you can be damn sure I'm falling all over Kongs, Nylabones, and Duraplay balls left and right. I'm probably going to fall and injure myself (like I always do), but I'd rather have her play with dog toys than chewing on my shoes.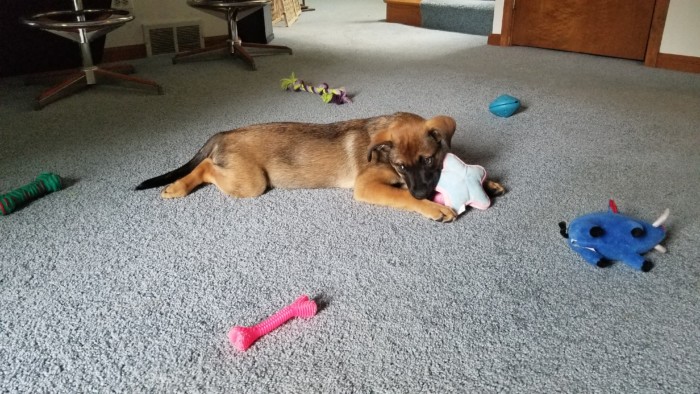 Bribery
When I was teaching reading comprehension to small children, we used bribery as a way to get them to work. Smaller, more frequent bribes for more distracted students and that's exactly how we have to train this puppy. Snacks, snacks, snacks; just like me and my snack addiction. Our pupper loves food. Thank goodness. Because we bribe her with food all. the. time. Get that non-toy out of her mouth? Offer her a piece of string cheese. Need to lock her up in her crate when we go out? We provide a plethora of brain-teaser treats and puzzles.
I'm sure there are bazillions of ways that puppies compare to toddlers, these are just a few of the ones I've noticed in the two months since adopting our little monkey.