After our adventures in Dublin, it was time to kick back and relax in a haunted castle for my birthday (as one does). We rented a car as we made our way out of the city center, and I took the right-sided helm.
A two-minute look at some of our adventures in Kinnitty Castle
For better or worse, we were on our way to one of the many haunted spots in Ireland — and planning to spend two nights in said hotel. Because I had every intention of spending my birthday like the high-maintenance princess that I am.
The drive itself was uneventful, but upon arrival, we got a glimpse of our lodging for the next couple of days.
With an epic view from the road, Brian and I just kept "holy crapping" our way up to the front gate. This was where we were staying for the night?
We were welcomed to Kinnitty Castle Hotel and told that our room wasn't quite ready yet, but we made reservations for my birthday dinner the next evening in the hotel restaurant and made our way to the first of two bars in the castle. The Library Bar was a welcoming mish-mosh of weathered furniture (sofas, tables, and chairs) and old tomes lining the shelves.
We quickly discovered the entire place was full of quirky antique decor that added charm to an already incredible venue. I was here for all of it.
We had drinks in the library while we killed time before the Dungeon Bar opened. Upon opening, we made our way downstairs to the dungeon for lunch. Embracing the kitschy theming, we found a dark dungeon nook just waiting for us to occupy it.
Our bartender/server ended up being our favorite staffer in the hotel (everyone was truly kind, though!) and she spent time telling us about the hotel and just chatting with us about anything and everything. We saw her a few more times throughout our stay and she was wonderfully sweet and engaging. She also promised that the hotel was indeed haunted and that she had her share of spooky moments. I knew then I was going to scare myself into imagining something if nothing ended up being in our room…
Before dinner, we wandered the grounds and planned to take one of the walking loops. We found all sorts of neat slugs and snails (you guys there were seriously slugs every couple of feet and inches in some areas! It was so weird and awesome).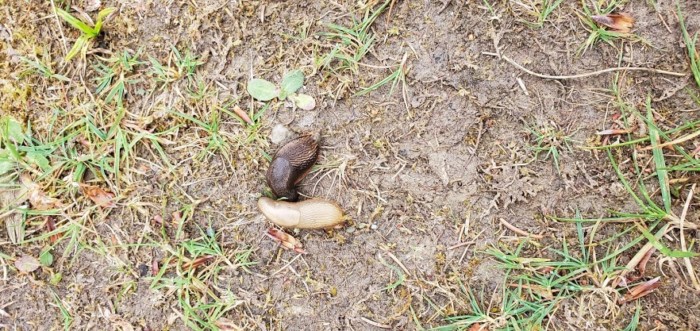 And then we accidentally hiked through part of the Slieve Bloom Mountains (we kept getting higher with no turn in sight. Eventually, we turned around to make it back in time before dinner service ended — this turned out to be a common issue in our Ireland travel…food service stops at 9 in most restaurants). If there's anything Brian and I are good at when we travel, it's getting ourselves a little lost and calling it an adventure!
That night, we played card games in the Dungeon bar until it closed and then in the library until well past midnight before quietly tiptoeing the creaky floors of our room.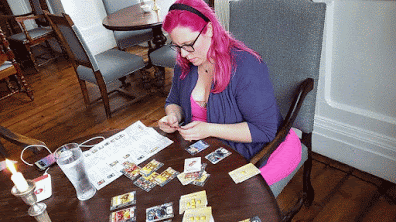 It was at this point that I started worrying myself into a tizzy. What if there ARE ghosts? Throughout the night (including one wake up in the middle of the night bathroom check), I thought I may have heard creaks and noises, but I am about 90% sure they were all in my head. No hauntings for us. Which, to be honest, was probably for the best since we still had another night left in us.
I woke up the next day to embrace that birthday princess life, and what a magical day it was. I disneybounded as Princess Aurora in two different outfits (of course).
First, up was breakfast in my Ralph Breaks the Internet loungewear. Breakfast at Kinnitty Castle was amazing. It was definitely the best Irish fry that we had throughout our trip (and omg the brown bread was addictive here). For those who don't know what an Irish breakfast consists of:
Eggs
Bangers (Irish breakfast sausage)
Rashers (Irish bacon — imagine marrying Canadian bacon to American bacon in one full slice)
Black and white pudding (bready sausages, sliced and fried)
Some combination of tomatoes, mushrooms, and or onions
Baked beans in tomato sauce
Basically, happiness.
After breakfast, I realized I was still beaten up from jet lag and opted for a two-hour nap. Because it was my birthday and I was wearing a shirt that said Nap Queen. It felt appropriate.
We then left our castle to go to another castle (appropriate), Birr, where we toured fancy gardens that reminded me of our arboretum and saw what was, for over 70 years, the largest telescope in the world (science!). The castle itself was still lived in – remember our awesome server in the Dungeon Bar? She told us that her friend used to work at the cafe of Birr Castle and said that the residents of the castle insisted on being called Lord and Lady, and the way she said it had us giggling a little too much.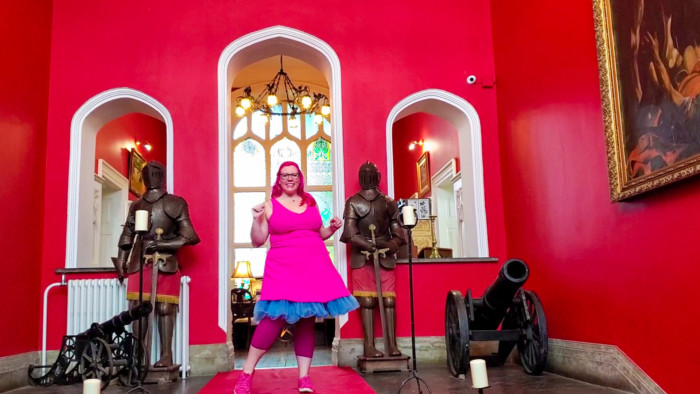 We returned to our home castle in time for an incredible birthday dinner at the Sli Dala (the fine dining restaurant open on the weekends for dinner). This was the best meal that we had in Ireland, and I was in absolute heaven. When they arrived with dessert, they came in singing with a candle in my torte, but Brian was nowhere to be found. They stopped halfway through the first line, and I started laughing.
The server who was holding the cake looked at his empty seat, said, "uhh this is awkward," and blew the candle out. I told him my husband had stepped out for a minute. Just as they turned around to leave, with me laughing like a hyena, Brian returned to his seat. They started again and I just laughed through the entire thing. It was perfect.
We finished our meal and went down to the bar for live music and after dinner drinks before calling it a night and preparing for the third leg of our trip. Overall it was a fine birthday adventure for this girl, and definitely one I'll never forget. Level 36, bring it on.