Yep, I see you. Waiting until the last minute to buy those Christmas gifts for your wife. I see you, because I live with you…HUSBAND. Brian is infamous for waiting until the eleventh hour to buy Christmas gifts (even though he is RIDICULOUS with ordering birthday gifts so early that I have to restrain myself from investigating and playing 20 questions).
That being said, here are some gifts that should (hopefully) arrive in time for Christmas. And make sure you fill a stocking for her. She's already got one for you, so you should probably return the favor. (And if you're the wife in this relationship, add these puppies to your wish list so he knows what to get you!) Full disclosure: product links may be affiliate links, which means that at no additional cost to you, I may earn a few pennies from any purchase you make. All of the products mentioned either live in my home already or are on my current wishlist.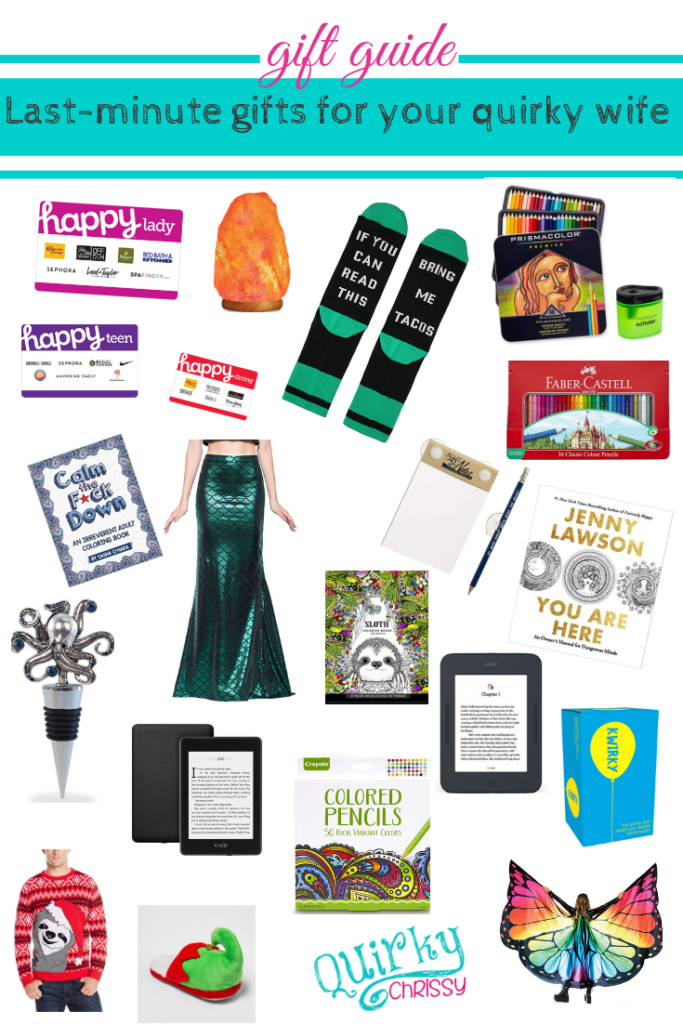 Order online — pick up in store
My new favorite thing to do? Buy something online and then go pick it up in the store. I know it's in stock (instead of racing to three different Targets looking for something and not succeeding) and will be in my greedy little hands immediately. Bed, Bath and Beyond, Target, and Barnes & Noble are on my list of favorite places to do so.
Cozy essentials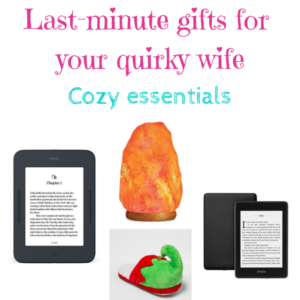 I know I need some downtime with the mass amount of energy I exude, and these are a few gifts that can help your favorite lady chill the fuck out. There's something warm and cool (I know. At the same time) about a salt lamp. We have one in our front room, and it's a favorite piece of decor to be sure. These elf slippers are perfect for the holidays…and pretending you live in the North Pole with Santa Claus year round.
And the most important accessory for any cozy evening: BOOKS. Now, I've had a Nook (GlowLight) and I currently have a Kindle (Paperwhite). And I miss my Nook like you wouldn't believe. Sure I can get books on Amazon now. But I miss the design and style of the Nook. It was at least a pound lighter, which makes a big difference when your e-reader has a tendency to fall on your face with more frequency than you'd like…But you know…both e-readers do the job. So order one or get some books to add to the one she already has.
Order online — fast delivery
Prime shipping. I don't have to tell you, I'm sure. But Prime one day? If you spend $35 or more, you can get your gift TOMORROW. You can even have that shit wrapped up. And who doesn't love those pretty (and reusable) Amazon bags?
Quirky style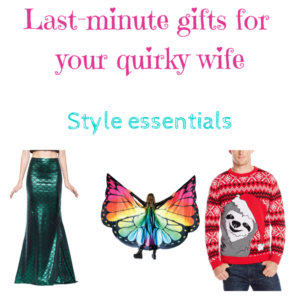 Y'all may know I'm something of a self-proclaimed style maven. And let me tell you, there's so much more to style than traditional wardrobe essentials. It's the add-ons that really make you stand out. The year Brian got me a light-up skirt for Christmas was seriously hard to top. Here are a few Chrissy-approved ideas for your wishlist or gift list.
I love holiday sweaters, especially this slothy sweater I wear every year. I also highly recommend a pair of butterfly wings, because you never know when they're going to become useful. Nerd con events? Renaissance faires? Vacations? Costume parties? Wings are a staple, people.  And of course, what's a mermaid without her tail? This mermaid skirt is the best!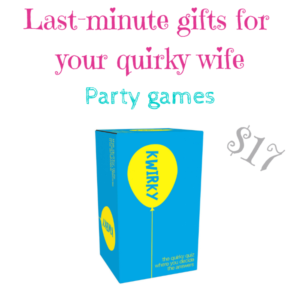 What better to give to a quirky lady than a party game with her name on it! With this Goliath Games gem, Kwirky, the possibilities (and laughs!) are endless. It's a fast-paced quiz game where the answers don't matter nearly as much as your conviction! It's fabulous for improv lovers and anyone who enjoys friendly banter!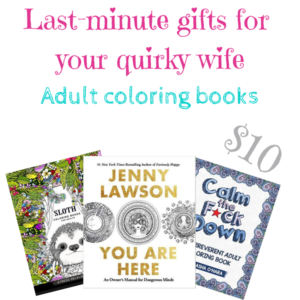 Listen, people. We love us some coloring books. You Are Here, from Jenny Lawson, is especially magical. Not only does it have incredible art to color, but it also has blurbs and affirmations from The Bloggess, queen of the quirky wives. This is a great gift for anyone who suffers from anxiety, depression, or even just boredom. It's full of positive vibes and magic. I love my copy, and I've given it as a gift a number of times. It never fails me. Other coloring books I recommend? Calm the Fuck Down and Sloth are two that really get me.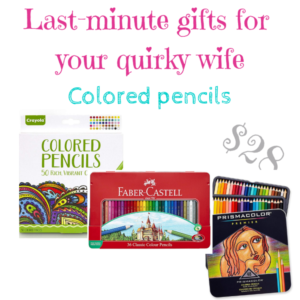 While you're getting her some coloring books, make sure she's got a good set of colored pencils. Personally, I prefer Faber Castell to Prismacolor, but to each their own. I have friends who swear by the Prismacolor though I think the tips break too easily. For the less expensive route, you can always go with the trusty Crayola pencils (in a fancy new box for "grown ups").
Quirky stocking stuffers under $10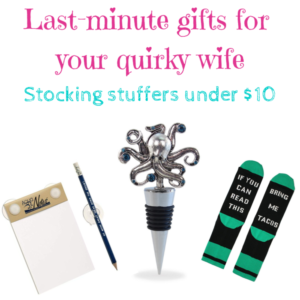 I love stockings. I love little things. I used to make my brother play a game I called little things. The art of filling a stocking with as much little stuff as possible makes my heart happy in a really weird way. But these gift ideas also make my heart happy. I own two of the three, and I want the third. Can you guess which is which?
Aqua notes are incredible for writing in the shower, by the pool, or wherever. You can leave love notes for your best friend who stays at your house with some frequency or you can jot down ideas for your next Instagram post. I am obsessed. Taco Socks? Yes please. Also bring me tacos. Always. Octopod wine stopper? Cork your wine with pizazz, kids!
Email delivery
Okay, let's be honest here. The easiest gift you can get her is a gift card. And she's probably okay with picking out her own goodies…assuming you know the right store to include in the gift card. These Happy cards, though…they bring something even better to the table. OPTIONS.
The Happy Lady gift card can be redeemed at:
The Cheesecake Factory
Saks Fifth Avenue Off 5th
Panera Bread
Sephora
Spafinder
Bed Bath & Beyond
Lord & Taylor
And if she's more of a foodie, consider the Happy Dining gift card which she can use at:
The Cheesecake Factory
McCormick & Schmick's
Red Lobster
Bravo
Texas de Brazil
Brio
Personally, I would be ecstatic with the Happy Teen gift card, which includes (books books books!):
Regal Cinemas
Sephora
Dave & Buster's
Nike
Barnes & Noble
Jamba Juice
American Eagle
Need more gift ideas for everyone else on your list? Consider some of these other guides I've created: