I don't know if you know this about me, but I love Christmas. To kick off the holiday shopping season, I've taken the liberty of curating a super fun list of quirky Christmas gifts from one of my favorite online stores, UncommonGoods. It was hard to narrow it down to ten items, but I didn't want to overwhelm you.
BTW, I love it when a store I'm obsessed with is kind enough to sponsor a post like this by allowing me to choose a few items from my wishlist to keep! While I may have received free products to write this post, all opinions are my own.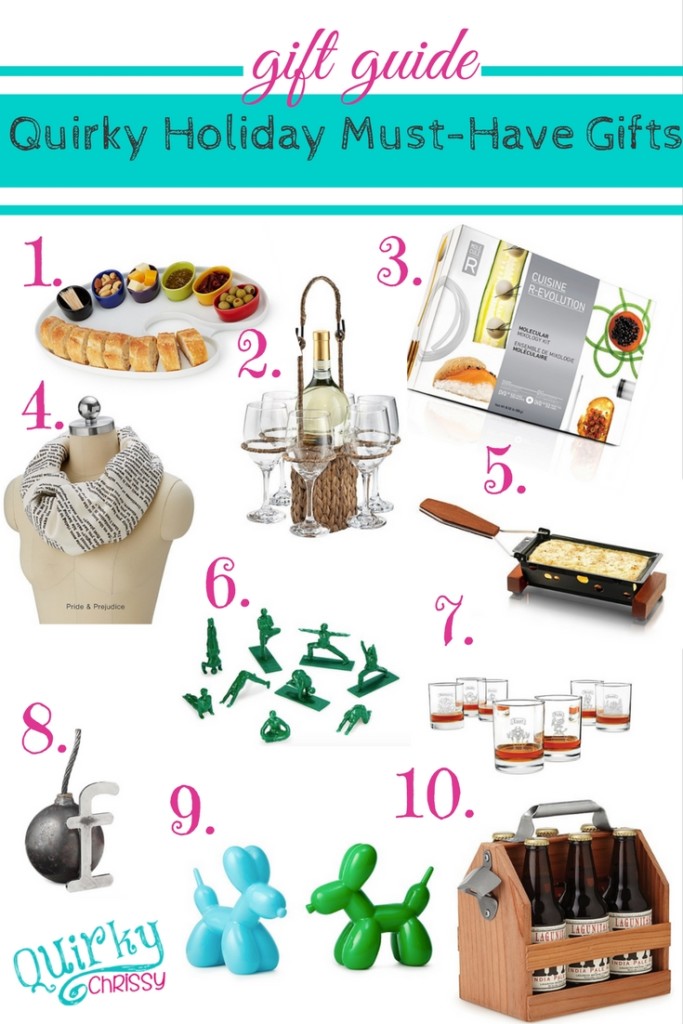 Gifts for foodies (and cheese lovers)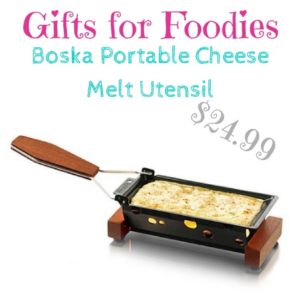 Guys. GUYS. YOU GUYS. This cheese melty raclette device has been on my wishlist since I saw them in a gif last year or the year before. I can't be trusted to remember these things. Anyways, Brian was too busy buying me a Le Creuset and a magic sparkle skirt last year to pick one of these up for Christmas, but now I have one, and it is everything! Melty cheese for everyone!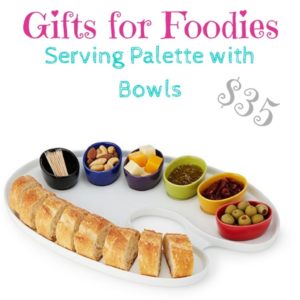 I also love throwing shindigs. And when I saw this fun palette platter, I knew it had to be mine. Think of all the tiny things you can put in the little bowls! Olives, fig jam, tapenades, fruit spreads, butter, CREAM CHEESE, dips, cheese spreads. God. The possibilities are endless for a kitchen artiste like me — or you, for that matter.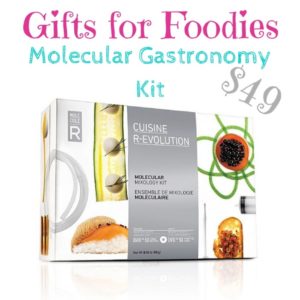 Another foodie gift on my list from last year, I have been dying to try this molecular gastronomy kit since I saw it on the suggested wishlist items from Draw Names. It comes with 4 different food additives (5 of each) that you can play with to make creative foodie dishes that will at the very least impress your husband because SCIENCE! I can't wait to show you what I make with it!
Gifts to stock the bar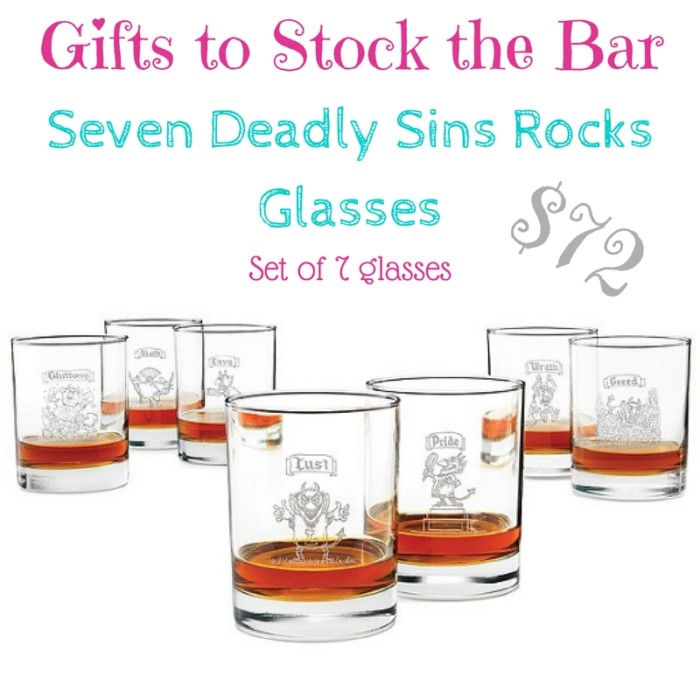 I LOVE these glasses. I don't own them yet, but (ahem, Brian) they are on my Christmas list. The seven deadly sins on rock glasses with fun little cartoon devils. I don't know why I love these so much, but I do. They're the most expensive item on this list, but glassware is expensive, you guys. And these are too fun! They also have matching pilsner glasses. Or personalizable sin glasses.
So this summer, my bestie Ally and I went to an Alannis Morissette concert at a park. The park allows you to bring your own food, drinks, etc. It's like a magical concert picnic of joy. People get super swanky and bring candelabras and stuff. The biggest problem we encountered, though? Not having anything to hold our wine glasses! Which is where this picnic saver comes in handy. Six wine glasses in a caddy that holds your bottle of wine and your glasses. Like magic.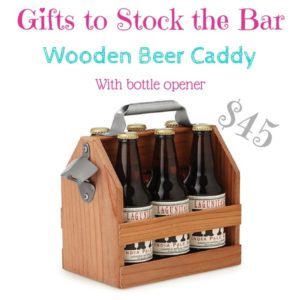 This is on the list of things I'm going to get Brian. He likes to bring a collection of rando ciders when we go to parties, but he never has a six-pack holder to carry them. This super nice wooden crate is perfect for those occasions, and — bonus — it comes with a bottle opener!
Fun gifts and stocking stuffers
UncommonGoods also has a number of super bragworthy smaller gifts perfect for filling stockings or rounding out bigger gifts.
These balloon dog nightlights probably won't fit in a stocking, but they are SO FUN LOOKING. I would love to have or two of these hanging around my house. Because unlike real balloon animals, these will never deflate on you!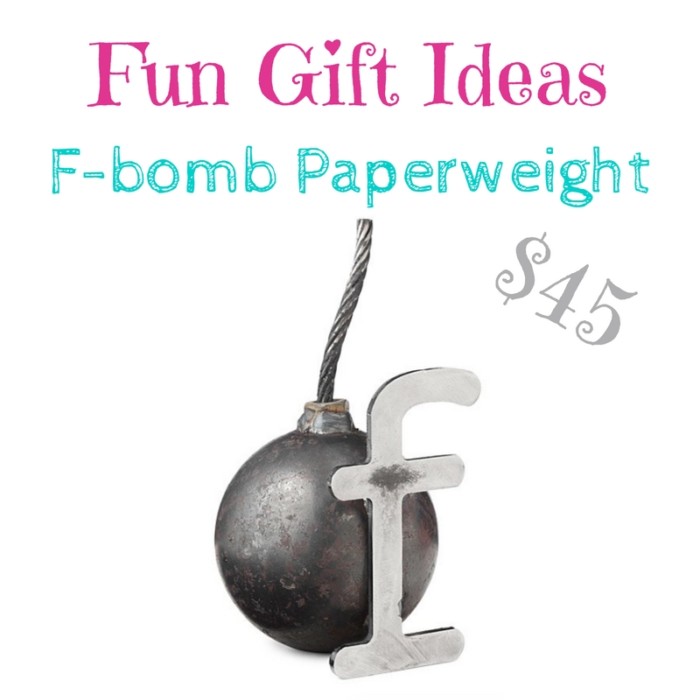 This f-bomb paperweight is sure to weigh down someone's stocking, but you know it'll be worth it. Come on…you know you want to drop an f-bomb in someone's stocking. It even looks a little like coal for a double whammy of fun. Fun fact: They also have an A-hole paperweight. You know. For the matched set.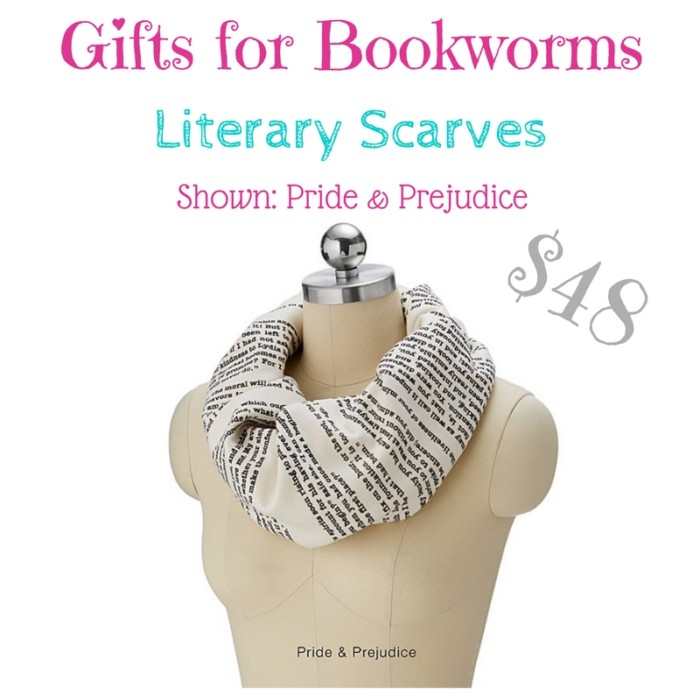 Scarves are also on my list of things you can never have too many of…especially when they have text from your all-time-favorite novel! I am so thrilled to have this magical Pride and Prejudice scarf in my life, you guys. Anyone who loves a good book and a cozy scarf will probably love one of these too!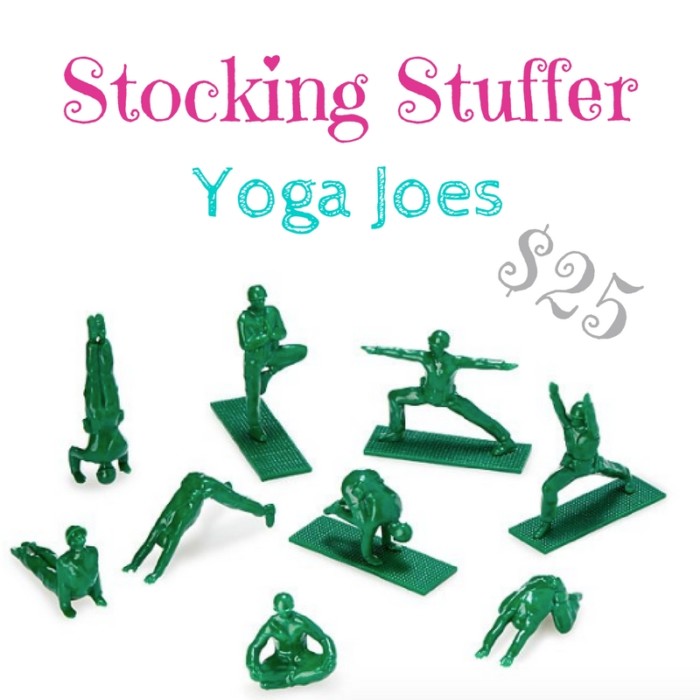 My personal favorite stocking stuffers (hint, hint Brian) are these adorable yoga Joes. Forget tiny army dudes, these yogis are all the rage.
A couple of other fun tidbits about shopping with UncommonGoods: Their mission is to provide a space for artists and creative designers to showcase their products. Half of the items they sell are handmade and 1/3 of the items are created with recycled and/or upcycled materials. Their customer service is top-notch — they've received awards for it for the last ten years. Customer service is SO important to me that I will quit a brand I love if their CS isn't up to snuff when I need it.
So go take a gander at UncommonGoods, and let me know what else is on your list!
Looking for more gift list ideas? Consider one of these bad boys.