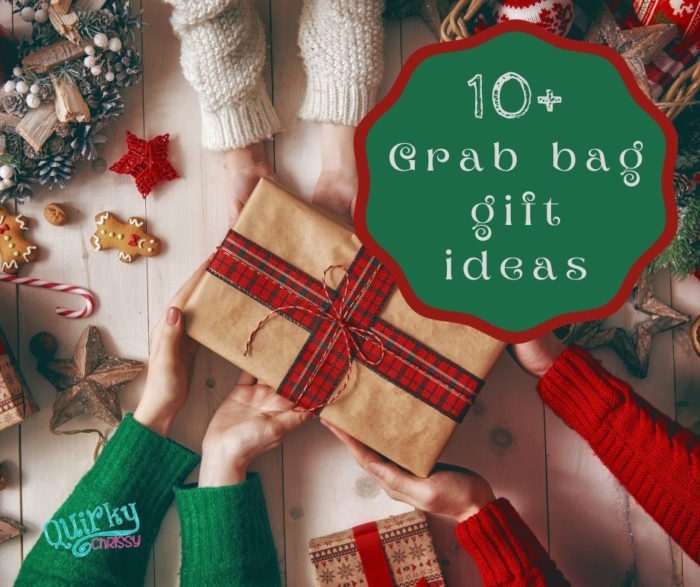 I don't know about you, but the holiday grab bags are in FULL force this year. There are a bunch of games to play with community gift exchanges and white elephant exchanges, and people are eating them up in excess this year. I'm super on board with them, because I love holiday and Christmas exchanges. In some groups, we do a secret Santa type deal with everyone randomly assigned names using an app or website like Elfster or Draw Names. In others, we do a fully random, bring a gift and see what happens.
It can be paralyzing trying to do a gift exchange when the world is your oyster (even if your gift exchange has a theme), so I thought I'd throw some ideas at the spaghetti wall and hope it helps you out!
Grab bag gift ideas under $20
PlaneAire Starter Set ($15) While this gift set is designed to accommodate air travel, it's convenient and useful for everyone! It comes with travel-size (read fits in a small carry-on bag, purse, or even pocket if you're lucky enough to have pants with real pockets. It comes with a hand sanitizer and surface cleaner/air mist combo. If you've got a larger budget, there's also a super great Travel Essentials Bundle for $25 that includes wipes in addition to the hand sanitizer and air spray. You can also find PlaneAire products on Amazon if you need that Prime shipping.
Dr. Teal's epsom salts set ($16) I'm not entirely sure where I would be without these bad boys, but they are by far my lifeline in relaxation and pain relief. I just love soaking in an Epsom bath. So much so that I even bring a bag to Disney with me and use it every night after walking all day. Plus, they smell amazing.
Party games (Varies) If you're getting together as a group for a thing, odds are the people you're with enjoy social interaction. Party games are a fun gift idea that keeps on giving. It may even end up being a gift for the entire group to play later. A few of my favorite party games are Codenames (which, in addition to the original game, comes in a variety of themes and versions, including Marvel Codenames and Codnames Duet)
Your favorite things (Varies) So my book club is actually doing this for our gift exchange. Everyone is bringing a gift in a set budget that includes their favorite thing or things. This can be interpreted in so many different ways too! Maybe it's your favorite foods or your favorite game or your favorite beauty/bath/body essentials or your favorite movies or music. Or maybe it's a little of each! Think of things you can't live without and how much you love them, and I'm sure your gift exchange group will love them too!
Grab bag gift ideas under $50
Erin's Elderberries Linzer cookie kit ($25) I love holiday baking. I especially love the product of holiday baking (weeks worth of cookies for me to eat? Yes, please. And I know I'm not alone. Fun gift ideas for grab bags are DIY kits like this Linzer cookie baking kit. It comes with almost everything you need to make Linzer cookies, including special cookie cutters and the Erin's Elderberry jam (just add butter, an egg, and vanilla)! I have these in my baking queue this week, and I can't wait to bake and eat them!
Pyrex storage set ($33) Every single time I see Pyrex in one of those gift-stealing grab bag games, it gets stolen the maximum number of times. Want to have the best gift under the tree, this one is often a winner. I don't know anyone who doesn't love them a little Pyrex.
Cheese board ($45) Charcuteries are HOT right now. Granted, I've always thought they were sexy AF, and making cheese plates has been a form of therapy for me for years, but they are having an actual moment right now and I'm HERE for it. (You can find them in a variety of price points, I just really liked the one I linked to).
Quick and dirty grab bag gift ideas
Sometimes, you wait until the last minute to get the grab bag gift, right? Or is that just me? Well, I'm sure I'm not alone. Here are some of my favorite quick gifts that people tend to love. I've always loved those gift baskets too, so sometimes I get lots of them for the holiday season. Because they're so fun. Who doesn't love a basket of fun?
Bottles of booze
Bottles of wine
Chocolate gift baskets
Any gift baskets, really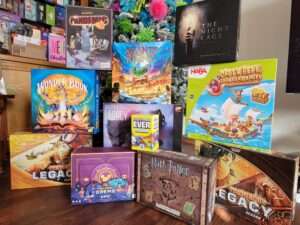 We are living in a time of mass consumption. Maybe even over consumption. We all know I'm not immune to it. I've spent years creating gift guides full of things I love, have, and/or want. So much of our gifting often revolves around tech and solo activities, and so I wanted to shine focus on some gifts that help gather people and share experience rather than divide us.
Read More »