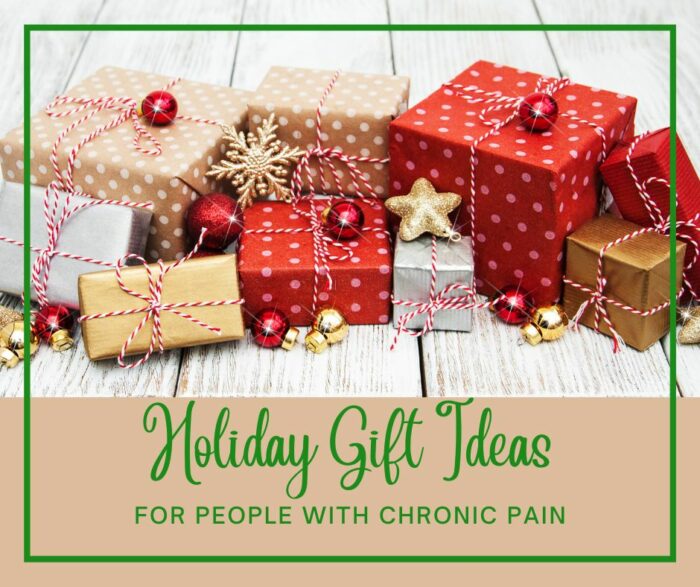 If you absolutely hate reading author commentary with gift guides, Here is a direct link to some of the products I recommend for people with chronic pain on Amazon. If you want to read my brilliant words and see all of my current recommendations, carry on, soldier. I'm mildly amusing when I'm telling you about cool shit, I promise.
It should come as no surprise to you that I suffer from chronic pain (between my knees, back issues, bum ankles, and terrible proprioception, I mean…how did it even take this long to get a diagnosis?). I have a connective tissue disorder that makes all of my ligaments and tendons "loosey-goosey" according to the very professional orthopedic surgeon I saw over a decade ago. I plan to start talking more openly about my disorder and diagnosis (generalized hypermobility spectrum disorder — which is basically Ehler's Danlos without checking "the right number" of boxes for the clinical diagnosis) in the coming months. But for now, I've got a new gift guide (that adds to my first round of therapeutic gift ideas from a couple of years ago) that's going to help just about anyone who suffers from pain or stress but is specially designed for those chronic pain warriors.
At-home self-massage essentials
I have been getting regular massages for more than 15 years. I didn't know when I started why I needed it, but now I realize monthly massages help me keep my body together. My worst back pain often happened when I couldn't make the time to see my massage therapist (Note: not all massage therapists are created equally. You may need to try several out to find the pressure and style that works for you. Make sure to explain your pain and conditions you may have to see if they understand). Now, I make sure to keep up with my tight muscles at home with these tools in between sessions so that they're maintenance rather than regularly fixing me.
Omg. I didn't know what I was missing by not having one of these bad boys until a couple of years ago. Now I can't live without it. Hell, I don't even travel without it anymore. I use a Renpho Mini Massage Gun because it's perfectly sized for travel and easy storage at home, but I've considered getting a bigger one for home too. Mine is pink (of course), but you can get them in several colors, sizes, and a variety of price points. Game changer.
I learned about these last year in physical therapy while I was pregnant, and omg. This 100% beats digging the back of your shoulders into a corner of your wall or door frame, which I have done more times than I care to admit. This device, which may look like a medieval torture system, allows you to reach those hard to maneuver to spots in your back for an amazing self-massage.
A friend of mine shared this with me, and I bought one immediately. It was immensely helpful when I was pregnant and dealing with the worst carpal tunnel of my life, but I can imagine it being useful for just about anyone who spends an exorbitant amount of time on their phones…I linked to the specific one that I use, but if you just look at arm massage rollers, the world is your oyster.
This is great for rolling out the leg muscles, particularly your upper thighs. I even get Brian to do my hamstrings sometimes, and it's super helpful for back pain (who knew that your legs and hips were huge contributors to back pain? It sure wasn't me until I got a really great massage therapist).
Therapeutic devices and tools
My pain management toolbox is massive. Here are some other things I use to help manage my issues outside of massage.
This device is super neat and helpful for anyone with thoracic back pain, poor posture, and headaches. It really helps open up the rib cage area, which always feels so good for me, and was especially useful when I was pregnant and losing breathing space ever-so-quickly as Stormy took up more and more of my body.
I am OBSESSED with this acupressure mat. Okay, it may seem scary, but it's actually kind of amazing. There are a number of benefits of acupressure (tiny plastic prongs with rounded tips that press into your skin and stimulate your nervous system) including relaxation, improved circulation, and pain management. I found that using it on my bed is less intense than using it on the floor. I have both the acupressure mat and the pillow, but I really mostly use the mat. If your pain is often in your neck or feet, the pillow may be more useful.
I recently tried cupping for the first time, and I'm pretty sure it's a game-changer. Very cool feeling. My pelvic floor PT recommended them for helping with scar tissue after my c-section, and I've also used them on my wrists. You can use shea butter to help move them around on your body. My pelvic floor PT recommended them for helping with scar tissue after my c-section, and I've also used them on my wrists. You can use shea butter to help move them around your body or you can use them in a single spot.
Cozy comfort and more
While helping manage pain is super important, so is providing comfort and improving your quality of life. And these gift ideas are perfect for just about anyone.
Oh, man. I love this thing. It's like a gigantic hoodie and so much better than a snuggie. I'm just not a snuggie person, guys. I wish I could be, but the backward robe thing just freaks me out. Cue The Comfy. There are so many fun colors and designs to choose from; they even have some licensed properties from Disney, Marvel, and Star Wars.
We have several of these adorable plushies in our house, a couple of octopods (Brian's fave) and an axolotl (my new fave) and they are the perfect little dudes for expressing whether it's a good day or a bad one. Just flip the little dude inside out and you've got a jaunty smile or a grumpy frown. There's even a reversible holiday reindeer plushie!
Honestly, there's nothing like a shower to make you feel a little better. Even when the thought of showering seems daunting, I always appreciate the shower once I'm in it. Of course, a good showerhead can make all the difference. I really like the 8-Stage Shower Filter from The Goodfor Company. It filters out chlorine and other impurities in your water, and it's especially great if your pipes are older like ours are.
A few years ago, my brother-in-law had "interesting edibles" on his Christmas list. His words, not mine. And while yes, THOSE edibles are legal in Illinois, and we did get him some as a joke, the thing he was looking for was tasty food items that he may not have tried yet. And so here I am with a gift guide for just such a wish list. These are some of my favorite sauces, spices, seasonings, snacks, and other yummies perfect for the food lovers in your life.
Read More »