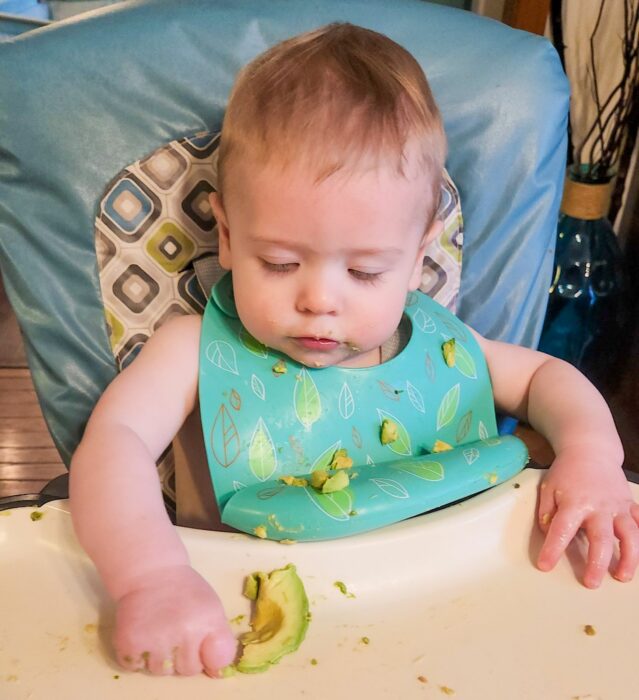 I have a 10-month-old. Like what the hell? Last week, I gave birth, right? It's true that time flies when you're living life, and I am learning rather quickly that with a tiny human, you're constantly living life. If by living life, I mean making sure your child eats, sleeps, poops, and plays — I literally made a packing list this morning that was divided into those four categories. That's it. That's the essentials of life wrapped up in a tiny bow (without nuance, obviously).
In my very limited experience of having a child (10 months does not an expert make me), I've been trying to figure out what this kid needs to perform each of these primary functions to the best of his ability. And I've come up with a list of my current favorite things that Stormy uses to eat human food. (Yeah, I get it, breast milk and formula are human food too, but I mean like…not those). So here are all the things I've loved so far. If you have more suggestions, dear god, please leave me some comments and recommendations because I'll be the first to admit, I'm no expert. Note: I have tried several things not listed here, and probably didn't love them enough to recommend them.
Second note: I'm an Amazon Affiliate, and many of the links included below may earn me a few pennies in order to purchase more shit for my child (since that's where the money goes these days), so go ahead and click through and know it doesn't affect you, but it can mildly help me.
When I started researching travel highchairs, this one was at the top of my list. I put it on my consignment shopping list, and low and behold, I managed to find it right away and snagged it for $18. (Listen, I'm keeping it real over here. I love second-hand stuff, and I think it's important that you know when I didn't pay $80 for a thing. That being said, if you're loaded with Amazon gift cards right now, registering for a new baby, prefer new items (I totally understand you want the best for your little one) or you know, cash isn't a concern, this chair is worth every penny).
Anyways, we take this everywhere. It's great when we're eating at friends' and family's homes and out to dinner. If I hadn't gotten a high chair from my bestie, I would probably just use this for home too. It has a weight limit of 37 pounds, so we've got many months before Stormy outgrows it.
Dudes. This little mat packs so much of a punch. I didn't know these were a thing. The brand reached out to me to see if I wanted to try it, and try it I did (they sent me one for free, but my opinion is always mine). I'm a huge fan, especially since we keep trying suction bowls and plates, and he's just not that into them yet. It works at home and for traveling, and it fits underneath the Inglesina, which I find very useful. We literally take it everywhere with us. With medical-grade silicon, it's SO easy to clean (hello dishwasher safe) and it's even microwave-friendly. It also rolls up, and those little tabs keep it rolled tight!
Our pediatrician has said that by 12 months, he should be off the bottle, so we need to find the right cup for his milk (OMG I can't wait to be done with formula). I have tried…a LOT of sippy cups in the very short time we've been trying to get Stormy to drink some water, and so far, these are the best. They come with a silicon valve that I can't wait to use once he figures out how to suck from the cup and not just let the water fall out, but he can grab it on his own, tip it up, and actually get water out of it. They're also made of recycled material, which I think is super cool.
Okay, so Stormy hasn't quite mastered the art of feeding himself…Okay, fine, I'm also mildly afraid to fully let him go to town on his food because omg he makes such a mess eating not spoon-foods. But I really like this fork and spoon set because it's dishwasher safe, and I'm not afraid he's going to push it too far into his mouth with the big ring around the center (fears I never thought I'd have, and yet, here we are). I also received this from the brand to try, and I really how it's helping him learn the dexterity needed to feed himself.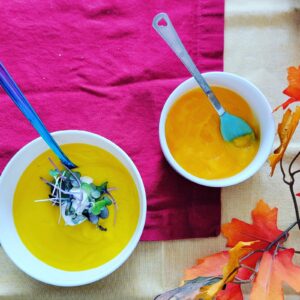 These are our favorites for when we're feeding the baby. They're sturdy, but also, they have a soft silicon tip that turns white when food is too hot for the little guy's mouth. I have a weird thing with metal touching teeth (It's literally nails on a chalkboard for me), so it's important that we aren't giving him a spoon he can scrape his teeth on *shudder*
Another thing we've tried a lot of: suction plates. Stormy is really good at figuring out how to lift the plate, so the suction has to be really good. I still mostly use the Table Tyke or his highchair table, but when I use a plate, this one is my favorite. The suction is great, and I really like the flat side, which means it can sit flush with the table, so he's less likely to spill a bunch of crap between him and the plate (note: I said less likely not definitely won't. This kid finds a way).
We go through bibs like crazy. I mean, one per meal, three meals a day…seems like if I don't want to do bib laundry weekly, I need a million bibs. Luckily we received a lot of bibs second-hand plus several gifts. Most of them are fabric and need to go in the washer, and none of the fabric bibs (which were especially good just as we were starting baby food) were especially standout. They did their job equally, from the super cute fancy penguin bib to the dollar store bibs. But now that the little guy is feeding himself, this silicon bib set has come in clutch. you can wash it off in the sink or throw it in the dishwasher (my specialty).
So that's what we're using and where we're at right now, as we clock into 10 months. If you have other ideas, I'm all ears! Let me know your favorites from when your babes were still tiny!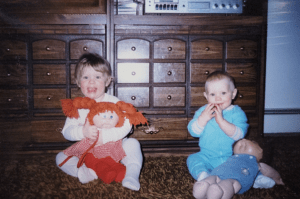 One of the items that I had sitting in my house was an antique desk. It was my mother's desk in name, if not possession. We were storing it for her because there wasn't space in her house. But after several years of it getting moved around my house to the least inconvenient spot, it just became…too inconvenient. So I called her up and asked, if she still wanted it. "Yes. Of course. It was my father's desk. It's over 100 years old."
Read More »