To absolutely no one's surprise, I love playing dress-up with my child. From the time he was a teeny tiny little thing to, well, the day he says, "no" or some version of "dear god, Mama STOP!" it's a free-for-all around here. I have every intention of, not only dressing him up in adorable outfits and costumes (my goodness the costumes! So much fun) but also, twinning with him as often as I can. For a plus-sized lady, trying to twin with the tiniest of humans is actually kind of tricky, but it is possible.
Pro tips for finding twinning outfit options
Look for easy-to-match patterns (like rainbow stripes — okay, maybe that's a me choice. Some other styles could be two-colored stripes, checkerboard, or a common tee shirt — we also just got the final piece for our matching family Captain America tees).
Start with something you or your little one already have in your or their closet. Then find a match!
Always keep your eyes peeled for potential twinning options when you're shopping.
Use resale websites like Mercari (Use my code CBWBSH for up to $30 off) and Poshmark (Use my code QUIRKYCHRISSY for $10 off) to find specific items to match.
Matching pajamas are basically everywhere. You can find them in most stores, specialty shops, and more. If you know what you're looking for, you can even buy pieces on sale or thrift them for a fraction of the price.
Seek out companies that specialize in Mommy and Me or Daddy and Me clothing.
Specialty clothing retailers
There are so many different baby brands that make matching clothes for parents and littles, but not all of them work for me (I wear a 2X to 3X postpartum). I was gifted these totally cheesy tees from The Spunky Stork, and I'm mildly obsessed. The baby onesie is organic cotton, which I love for Stormy. And they go up to size 3XL in adult sizes, which means that they've got shirts I can fit into. Of course, they have more than just cheesy matchy shirts. Lots of other puns and dad jokes, nerd humor, and, my favorite, a plethora of colors to choose from!
In-store thrifting and consignment sales
My all-time favorite way to shop, thrifting can be a treasure trove of wonderful matching options. Over the summer, I was thrifting at my local Goodwill, when I stumbled upon this aqua check button-down in a 3X. Normally, I would have walked right by it because it isn't quite my style…But I happened to have just brought out the little guy's next round of clothes that week and remembered one of the hand-me-downs we received from a friend was an aqua check button-down onesie. OBVIOUSLY, I needed the matching shirt. I couldn't believe my luck when I brought it home, and it was damn near the SAME COLOR. And my dudes, GET THIS: I just found the same shirt for his next size up at my local Rhea Lana children's consignment sale, so we'll be aqua twinning again real soon.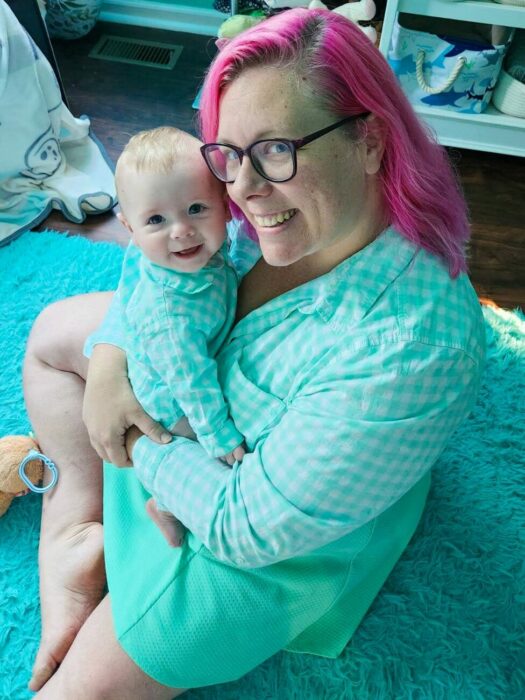 Online thrifting
Often slightly more expensive than the thrift stores, but not always, apps and websites like Mercari, Poshmark, and eBay allow you to search for specific items. Mercari is one of my favorites because I can save my searches and new items will pop up with a notification so I can snag them right away! These sites are super helpful when I'm looking for specific items, like matching pajama sets. I knew that my Disney gingerbread Mickey pajama onesie had a whole family set, so for our photos with Santa, I set out to find the matching pieces. I let Brian wear my onesie, found the ladies' jams set in my size from a seller on Poshmark, and found the baby pajamas on Mercari. It was a team effort.
Children's consignment sales
As previously mentioned, I love shopping the clothing racks (and all the other departments) of my local Rhea Lana pop-up consignment sale. When it comes to twinning, I try to find items that might match something I already have in my closet, because it's easier for me to find clothes for him than for me. I found this Hamilton onesie at a previous sale and, knowing I had a matching shirt at home, I HAD to purchase it.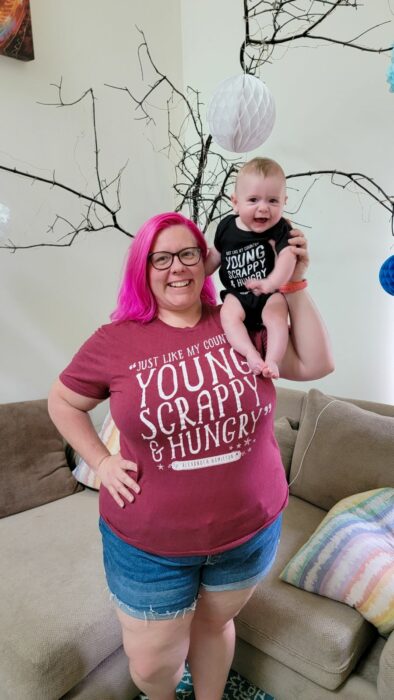 The world is your oyster. There are so many ways to get matchy matchy with your little, and I hope you enjoy every second of it that you can (but please know, I completely understand when you just…can't! Because I get it 100%).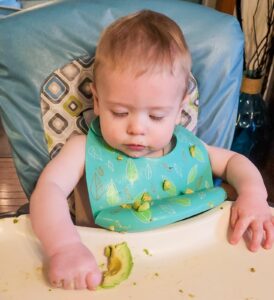 I have a 10-month-old. Like what the hell? Last week, I gave birth, right? It's true that time flies when you're living life, and I
Read More »