Everyone's got at least one "vacation" that wasn't a vacation at all. I, of course, have several. My mom probably thinks that I'm going to write about the worst vacation ever, which is also known by me as the worst Thanksgiving ever…but I'll save that gem for another time. (Love you mom!)
This is one that we all look back on and think. Wow. Just freakin' wow.
I was 15. A sophomore in high school. It was Spring Break, and we were going on vacation! We had gone to Florida the previous Spring Break (my 3rd visit of now 8 trips to the Sunshine State). That was the magical trip in which we named our dog, Buck, where we ventured through Disney World, traveled to the west coast and spent half our vacation beach side. My sophomore year, though, no Disney  World or beachy ocean view for us. There'd be lots of sand…but no beach.
I heard they called it The Desert.
We were off to Arizona, land of the sun. No rain. No snow. No oceany watery goodness. Just sand. Lots and lots of sand. Mom's best friend had moved out there with her family, so we were going to visit them. Even at the airport, Brian (my brother), Dad and I stared longingly at the Florida departure gates.
Mom had heard about the beauty of Arizona, and was the only one who was really excited about the trip.
Here are the highlights:
I had given up pizza for lent. On the Friday night we were there, my family decided that it was a brilliant idea to order pizza for dinner at the hotel. I walked to the Cracker Barrel next door so I could pick up food that I could eat.  The smell of pizza made me wish I wasn't Catholic.
When Mom and I went to breakfast one morning, James Van Der Beek, or his damn well doppelganger was sitting a few tables away from us…I kept staring, and he even smiled at me. (This was at the very beginning of Dawson's Creek, when all of my peers were obsessed with the teen heartthrob).
That same day, some of my parents' friends from Chicago were also on vacation in Arizona, and came to our hotel to spend the afternoon poolside with us. Imagine my surprise when James Van Der Beek was someone's son! I was this awkward 15 year old, talking to this beautiful older boy. I'm almost sure I made an ass of myself.
After getting a raging sunburn during the aforementioned super hot poolside afternoon, it rained. And then it snowed. IN FUCKING ARIZONA. Where it never rains. Let alone snows. Especially when one is sunburned.
I climbed a mountain. Yes. Me. Klutzy. Crazy. Falls down like a boss. Me. I got all the way to the top of Camelback Mountain. I was a proud Chrissy. I rocked. Even though I only had sandals…and had to wear socks with them. And looked ridiculously stupid. I climbed a flippin' mountain. And then I got all the way down the mountain. And there were stairs for the last leg of the journey. And at the very bottom stair…I sprained my fucking ankle. Like a boss.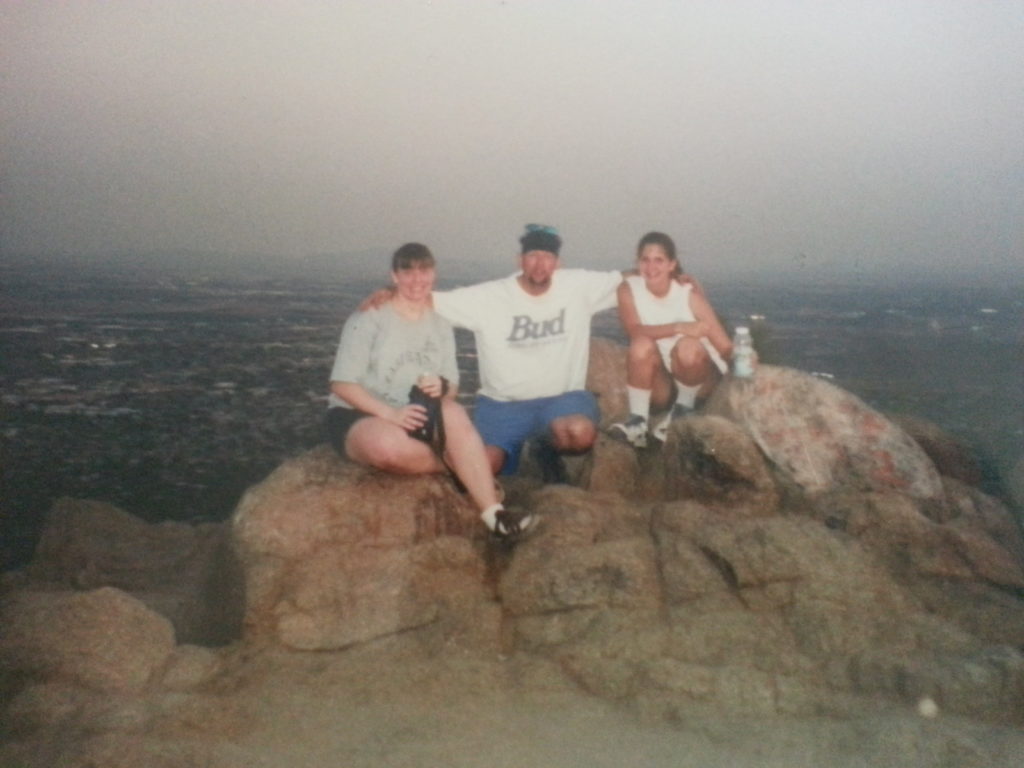 What about you, Bloggie Friends? Any vacay memories that you'd like to share with me? I'd love to hear them!
Join in the fun! Blog your memories and grab the button!
This week's participants are