Shopping for kiddos is easy. Shopping for grown ups? Not so much. As adults, we tend to buy what we want when we want it. Okay, Brian and I do, anyways. So from November 1 through December 25, Brian is under a strict no-purchase rule, as he has, on more than one occasion, bought what I was planning to buy him for Christmas/birthday/etc.  But I've crossed paths with several really fun and unique gift ideas (okay and some tried-and-true ideas too) that you can steal (don't actually steal the products, homies – just steal my ideas) to find the perfect gift for everyone on your list. Okay, fine. Everyone above the age of 12. And in some cases the age of 21. I'm not encouraging illegal gift giving here, people.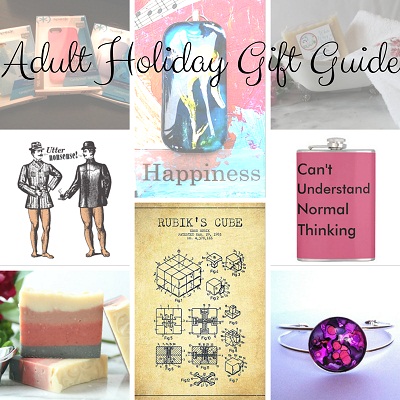 The Best Gifts for Him
I may not be a dude, but I've got a dude in my life who is REALLY flippin' hard to shop for. Last year I made him a romantical (slightly funny) book of looooooove swoon and he actually really loved it. He's sentimental like that. Here are a few top picks from Brian (okay fine. I added a few of my own too, since he was mostly unhelpful…Amazon gift cards are not PRESENTS Brian.
Wireless, keyboardless keyboard
Brian was a big fan of this gift I got him for his birthday. It's gadgety and techy and cool. It works pretty well too! My cousin sent me a link showing me how sweet it was, and I knew that was exactly what I needed to get for Brian. We've used it for the internetty stuff we do on the TV, because it's way easier than trying to navigate with the regular remote.
ThinkGeek Goodies
Brian suggested shopping around ThinkGeek for cool stuff. If you're like me, and hoard Amazon gift cards from the internet, you can find a bunch of Think Geek products available on that big box digital retailer of joy. Plus free two-day shipping with Amazon Prime. Please note, Brian also suggested Amazon gift cards as gifts. I only half acknowledged that. Because I prefer to find the best presents for the people.
The Best Gifts for Her
Speaking as a lady, I've got some adorable ideas for lady gifts that I have, love or want. These are those.
Handmade art jewelry
My pal Lily makes the BEST art jewelry. With glass stones and alcohol ink, Lily creates one-of-a-kind jewelry pieces that any lady would be lucky to have. I have one of her pendants and always get the best compliments when I wear it! The prices at Dome Life Studio are also quite reasonable, so maybe pick one up for yourself, too.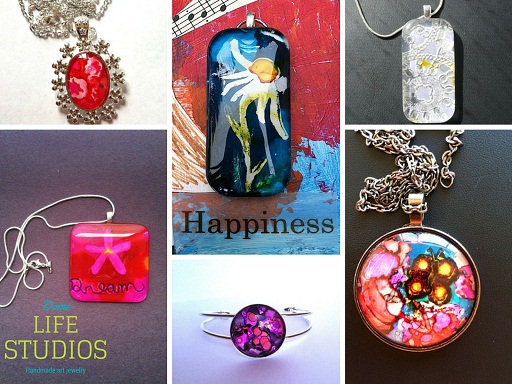 Zazzle Home goodies
I LOVE Zazzle. I've actually bought Brian a ton of gifts from Zazzle (a couple of mugs with octopods and a really sweet wall clock for his zone in the office), but I recently had the opportunity to try out some of the Zazzle Home products and thought they were super awesome. Zazzle offered to send me a product of my choice from their home department.  I spent hours perusing the pillows, lamps, blankets and poufs. I eventually settled on the polka dot pouf beside my reading chair, and it was the perfect addition to our home.  Not only is it adorable and (sort of) matchy matchy with my polka dot blanket, but it served as additional seating when we had 64 people in our house a few weeks ago. It was easy to pull up to the circle and join the conversation, and it was comfortable too! It's a little squishy, but mostly solid and ideal as a foot rest or seating. A few days after I received the pouf, I found myself scouring the pillow collection to see what else they had. I really wanted something with chevrons, so I got a pillow in the same colors, but with chevrons. I think it turned out pretty well, if I don't say so myself.
The Zazzle Black Friday sales are happening all week. So check them out and use this code for super savings: ZWEEKOFDEALS
60% Off wrapped canvas, posters
50% Off wrapping paper, all cards, stickers, calendars
25% Off ornaments, bags, jewelry, speakers
$15 Off pillows, chocolate boxes, lamps, watches
20% Off all orders
FREE shipping with zBlack (I've been a zBlack member for several years now, and the free shipping is so worth it.)
And if you're in the mood for some of Brian's art on Zazzle products or you want some random and ridiculous things I've created in my Zazzle store, you should check out the Quirky Shop. Just make sure that your content filter (left navigation bar) is off. Because some of my designs are not appropriate for tiny humans. Like this flask inspired by The Bloggess.
Gifts for Kids at Heart
If you're like me (or your gift recipient is like me), these fun and lighthearted gifts will brighten their day in a way that only a child at heart can understand. From toys for grown ups to grown-up things featuring toys, you're going to appreciate these epic finds as much as I have.
Fun Wall Art
I received a really fun canvas from Patents Wall Art in order to tell you about it. You guys! I couldn't decide what to get. While there were some cool mechanical/sciency/adulty patents available on canvas, I opted for something a little more my style. My decision was wavering between Mickey and LEGO patents, and ultimately, I went with Mickey Mouse. Because Walt Disney is one of my creative heroes. And he created Mickey Mouse. With Patents Wall Art, you can choose any pattern in several different colors. My personal favorites were navy, green and natural. Ultimately, I went with the natural shade, so I could match it in any space (as we hadn't bought our house or moved yet). Now it lives in my office nook, waiting to get hung on the wall. The product itself is pretty nice. The canvas comes mounted on wood and looks really cool in our office. I'm a fan.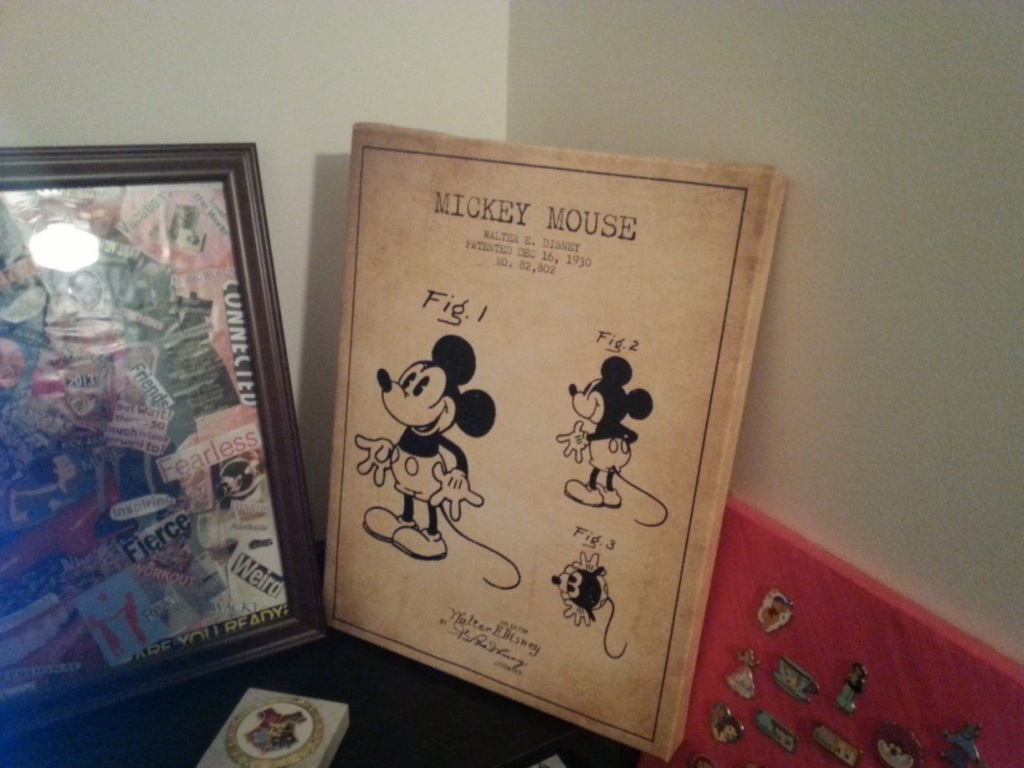 Games
Last year, Brian stocked my up on Cards Against Humanity, Munchkin holiday cards and other choice gamer games. It made me happy. So I am an advocate for game gifts. I even put together a widget of games you should buy on Amazon. You're welcome. You can find it here in the sidebar——————————————->
Of course, when I was at the ChiTAG Fair last week, I came across another adult game, that seems to be even more random and inappropriate that Cards Against Humanity. The game is called Utter Nonsense, and the logo is dudes without pants. I repeat. DUDES WITHOUT PANTS.
So obviously, I bought it. They were recently funded on Kickstarter (LOVE KS) and are locally based out of Chicago.

The premise is simple: Read cards in funny voices to impress the rotating judge. You can paraphrase to match the voice of your chosen person/dialect/accent. For example, on Instagram, I spoke in my best Caveman voice(and I suck at Caveman), saying something about a photo app and math. Here. I'll show you.
Stocking Stuffers for Grown Ups
Just because you're an adult doesn't mean you don't deserve your very own stocking chock full of goodies! As a teenager and adult living at home, Mom used to fill our stocking with the best stuff. Razors. Hair stuff. Beauty stuff. Candy. All the things you need or want, but don't really want to pay for, amiright? Here are my picks for the best grown-up stocking stuffers this Christmas. Brian, take note.
Nail polish and makeup stocking stuffers
You all know about my Julep obsession, I'm sure. I've been a maven since July and I'm addicted. The nail colors are spectacular, and the paint goes on so smoothly! They've also got some stellar make up products that I'm a big fan of. The lip gloss has a sweet smell to it that makes me happy. Plus if you sign up to be a maven, you get a 4-piece welcome gift for free. If you don't sign up to be a maven, they've got an awesome clearance section full of fun colors and products, so you don't feel like you're breaking the bank on stocking stuffers.
Razors make excellent adult stocking stuffers
Mom always put razors in my stocking stuffers. And I always put them in hers. So it seems like a great idea. Of course, my friends over at ShaveMOB also wanted me to let you know that they've got the perfect razor stocking stuffer gift for the holidays, so they sent me a starter set to test their product out. They have razors for men and women, so you can stuff anyone's stocking. Pink lady razors make me happy, so I was pleased to discover that they sent me a set of pink blades and a pink handle to win me over. You all remember what a pain in the ass it is to shave…so I had a little NoshaveNovtemtober (November/September/October) experiment. When I took to my woolly mammoth legs last week, the ShaveMOB razor did the trick. No cuts, either. Okay fine…just a mini scratching on my wrist. But in general, the razor rocked it. I recommend adding a moisturizing shave cream or gel to the stocking, as these razors don't have added moisturizers. But the price is right – so I'm totally down with them!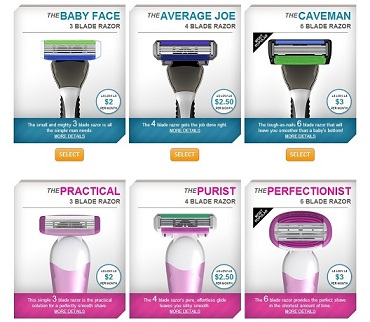 Mini bottles of booze
Don't want the whole gift to be liquor? Stuff his or her stocking with their favorite mini bottles or give them a collection of new and exciting flavors/brands/etc to try. In addition to mini liquor bottles like vodka, whiskey, Bailey's and tequila, you can find mini bottles of wine and champagne. You can even pick up a pack of pre-mixed shots like Twisted Shotz (which we had at our housewarming party and were oh-so-good) to toss in a big stocking.
Fun socks
Funny story. Amazon suggested that I add these socks to my cart based on my wishlist of slothy stuffed animal joy. I already own them. It's like Amazon KNOWS me.

Handmade soap
There's something so natural and fabulous about using handmade soap instead of store-bought soap with all sorts of adding chemicals and stuff. My friend, Kelly, started making her own handmade bars of soap and we've been using them. I'm in LOVE. Soft, gentle and aromatic. Brian smells like man with the beer soap and I smell like happiness and girlishness with the White Whey of Delight. You can visit her Etsy Store, The Little Blue Hippo for really fabulous homemade soap.
Phone and device cases
So a couple years ago, Brian stuffed both of our stockings (he likes to buy BOTH of us Christmas gifts…like last year when he gave me two tablets and said, "pick one.") with phone cases for our new-ish phones. Speck is one of my favorite products when it comes to protective cases, as they've encased my phone in the past, and they currently encase my iPad mini. (I'm not going to lie, after seeing how cool the ShowFolio was, I wanted an iPad mini all to myself just so I could use a ShowFolio and I don't even like Apple products. Thankfully, my friends at Netflix hooked me up with an iPad mini so I could play with my case.) They've got cases for all the most popular devices whether you're an Android or Little i person. They come in several cool colors for everyone on your list, too!
Right now, Speck's on sale!. Here are some current and upcoming deals.
Handmade Scrabble ornaments
Hey! Something you don't have to buy! I stock up on Scrabble games through the garage sailing season, and then hot glue those bitches together for adorable Scrabble ornaments.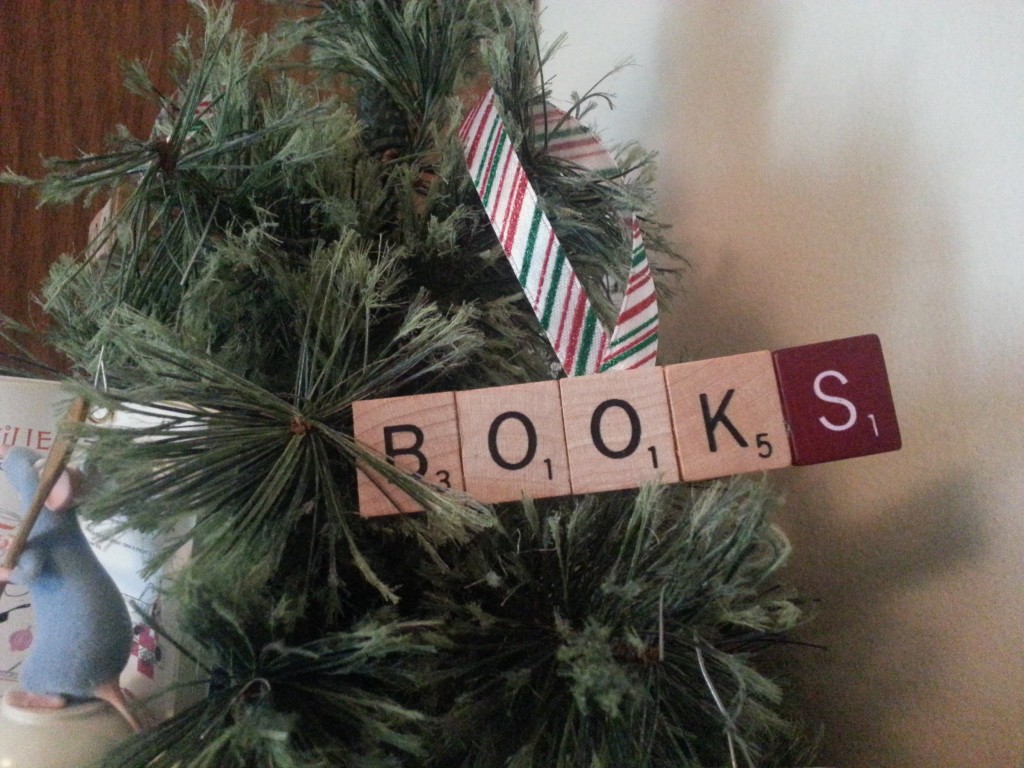 Giveaways and Christmas Cards
In honor of the holiday spirit, I have TWO wonderful things to offer you.
The first is an invitation to recieve our annual holiday card. If you'd like to receive a card from Brian and me, send your mailing address to.
The second is a big, fat holiday giveaway! I'll be giving away a huge surprise collection of stuff, including the razor stocking stuffer from ShaveMOB, a Speck iPhone case, Julep products, a game or two and so very much more! To enter, all you have to do is leave a comment that says which of these gifts you think would be best for someone you love. You'll get two entries if you visit any of the aforementioned sites to name specific products not mentioned here. Three entries if you share it on social media and tag or mention me. The giveaway ends at 10 PM on Friday December 5. The total prize is valued at more than $100. Just saying…
UPDATE: CONGRATS to Stephanie for winning the giveaway. You should have received an e-mail from me for your contact info!
Which of these gifts would be on your list? Will you be shopping online or in stores this season? What OTHER gifts would make great presents or stocking stuffers?
Disclosure: I received some of these products to review, while others were already on my list. I didn't include anything I wouldn't buy again. Additionally, some of these links are affiliate links, which means I make a tiny commission off your purchase. The Etsy sellers are my friends, but I do use/love their products. Basically, all of the above has my stamp of approval.
*Excludes iPhone 6, 6 Plus, custom cases, and Best Buy exclusives.