I love shopping local and small. I grew up in a small business family, and every customer helped put food on our table. Every customer helped me go to college. Every customer helped pay for my and my siblings' school supplies and sports uniforms, camps, and fees. Shopping local and supporting small businesses is supporting the lifeblood of our country.
I still shop at big-name stores and brands. I prefer sustainable companies that pay decent wages and do good, but I'll be the first to admit that I also shop on Amazon (that's an affiliate link, and if you use it to do some of your Amazon shopping, this small-time writer might make a few pennies of commission for sharing the link with you, and it costs you nothing to do it. Do with that what you will) when I need the convenience or they have something I need. But I love supporting smaller shops.
The thing about small businesses, is that you're getting more than just a product. You're building relationships. You're getting handwritten notes thanking you for your purchase. Some of my favorite businesses are even doing free local deliveries to help customers avoiding markets and stores in this weird pandemic life we're living.
So I made a gift guide with some of my favorite small businesses to a little something for everyone this year. Many of these shops are local to me, but ship nationwide. I know some of these business owners solely because I purchase their products regularly. Some have been my friends since before they opened their businesses. And some I don't know at all, but I am obsessed with their shops and products. A few of the links may be affiliate links, but most are just plain ole links to websites that house my favorite things. Go browse these shops. Follow them on social media (and engage with them to help boost their visibility!). Order gifts and some goodies for yourself too. And drop links in the comments to some of your favorite small businesses and shops.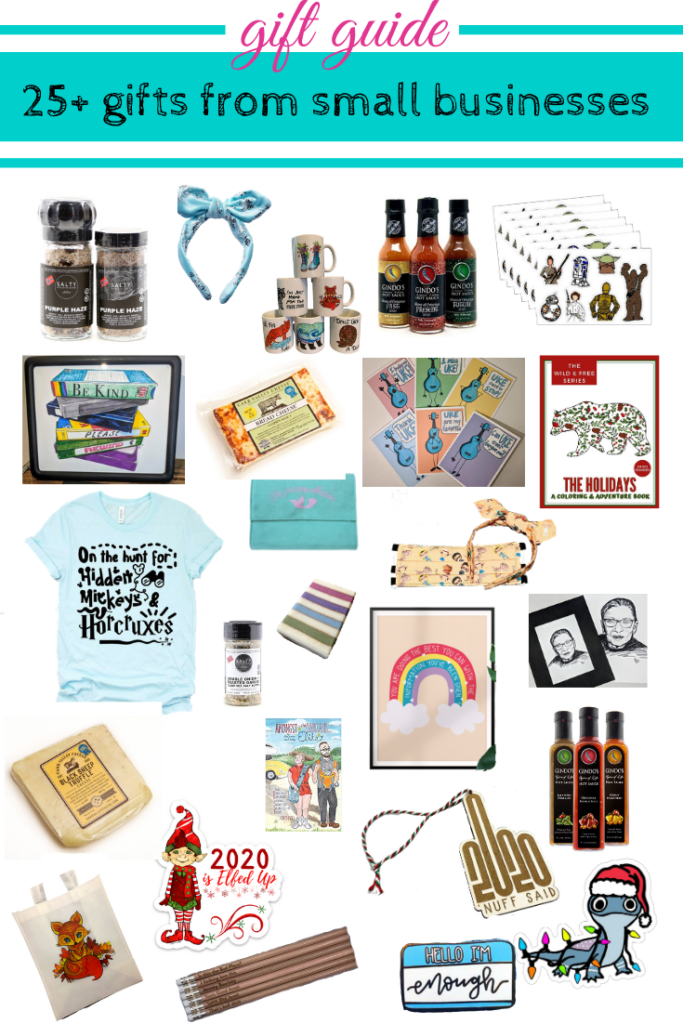 Foodie faves
Wanderlust sea salt: I love these Norwegian sea salt blends that come in a variety of herbs and spices. They're always at my local farmer's market, but you can buy them online because they ship nationwide! My favorite flavors are Wanderlust, Double Onion and Garlic, and Purple Haze. Don't forget to snag the free samples that are available as well!
Gindo's Spice of Life hot sauce: Another favorite of mine and Brian's from the farmer's market, these fresh made hot sauces include a huge selection of limited edition flavors. Brian goes through a Honey Habanero every other month and I love the Jalapeno Poblano and the Truffle Parmesan.
Carr Valley Cheese: If you didn't expect a cheese suggestion from me, you haven't been paying attention. Because driving to Wisconsin to get my cheese fix is currently out of the question, I've been ordering from my favorite cheese producer. They ship (though shipping doesn't come cheap if you're outside the midwest), and it is so worth it for the delicious magic that arrives on your doorstep. Current favorites include Black Sheep Truffle, Bread Cheese, Marisa, and Vanilla Cardona (which tastes a little bit like marshmallows and is SO GOOD as a low-carb dessert replacement).
Beauty essentials, clothing, jewelry and accessories
The Little Blue Hippo: I obsess over these amazing-smelling, gentle soaps (and even have a couple named after Brian and me — Nemesis is a beer soap and Brian's fave and Quirky Lilac was a custom design and scent that I gave to the ladies of my wedding party!). Until Covid pushed me to return to pump soaps in the downstairs guest bathroom, we were exclusively using these beautiful bar soaps in all of our spaces. We still use them daily in our upstairs bathrooms.
Fintastic Configuration: I am mildly obsessed with this whimsical jewelry collection with nods to Disney and other magic. I can speak to the quality of each piece because I have 4 necklaces and a bracelet. The jewelry collection bags are also incredible. I know there's a restock of items scheduled for this Friday at 7 pm EST in case you wanted to set a reminder like I do.
Oh Sew Exciting: These are my favorite cloth face masks! The ear loops are adjustable and they have easy flaps for re-looping if you ever need to. They're also larger than a lot of masks, which is great for people like me who have big mouths and need a little more space. You can also order matching knotted bow headbands. (This is an order through Instagram DM shop, but I have ordered about a dozen or more masks this way!)
Once Upon a Tee Shirt: I love these Disney and Harry Potter graphic tee shirts with vibrant, colorful and unique designs. The magnets and stickers are also amazing! I love the character art and the selection of brightly colored shirts.
Miscellaneous magic
Art, stationary, cards, stickers, and more
Elly Lonon: This beautiful writer, satirist, and artist has cards, stickers, art prints, and more to fuel your punny, feminist, liberal, and quirky flames. I love everything about this shop from the colors to the creator. You should shop here too. While you're at it, pick up her graphic novel, Amongst the Liberal Elite, based on her popular McSweeney's column.
Self-Love Tool Chest: Body-positive messaging that focuses on self-love and mental health awareness in art prints, stickers, cards, and enamel pins. I am in love with the use of color and the incredible messaging.
Pew Pew Lasercraft: The woodworking brilliance of these pieces makes me so happy. They are nerdy and clever and fun. You can find incredible hand-made ornaments, home decor, photo frames, earrings, coasters, pencils and more.
Alaska Wild and Free: This beautiful shop is chock full of art, cards, coloring books, clothing, and more features the beauty and inspiration of Alaskan wildlife. Gorgeous colors and patterns adorn everything from mugs and sweatshirts to greeting cards, stickers, and wrapping paper.