I know some of you are probably like wait, how is it Christmas already? Especially when March was an eternity, April was a lifetime, May was pretty extensive too, and then Junlyaugtober just flew by faster than you could say "Happy Halloween." Christmas brings me joy and I want joy and you need joy so let's bring on the holiday cheer!
Odds are you love someone who lives with pain. Chronic pain comes in many forms, illnesses, and disorders. And the thing you really want to give them for Christmas is relief. I know because I've been on both sides of the coin. I've been living with back pain for the better part of the last five years (this is not even getting into the loosey-goosey ligaments and tendons that cover most of my joints). I also have many friends and family members who live with much more severe pain, both emotional and physical, than I can even imagine.
The thing about pain though, is that it's not measurable. You can't put a number on it and it's not the same for everyone or anyone. Pain sucks. Sometimes it's not even a physical pain, which is even harder to quantify. And the only experiences we truly know, through and through, are our own. So even when we want to take the pain away from those we love, odds are, we cannot. But we can give them gifts to help ease some of the anguish. And here are some of my top therapeutic gift suggestions for the ones you love.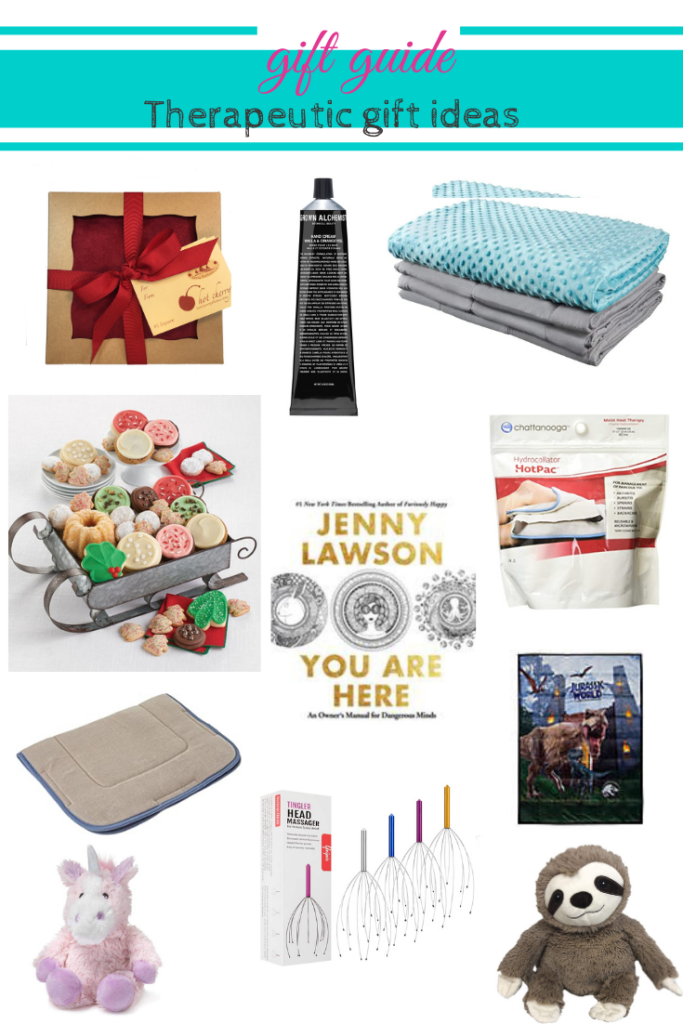 Please note any links that follow may or may not be affiliate links. This means that if you make a purchase by clicking through to these sites, I may earn a small commission on your order. It costs you nothing, but it helps me pay the fees to host this here blog.
Hot Cherry Pillows ($23-$68)
Available on Hot Cherry Pillows (code: Use code XMAS20 for 20% off) and Amazon
Moist heat is far superior to electric heat for a number of reasons — not the least of which is the ability to severely burn yourself in the shape of an electric coil and then have an allergic reaction to the medical tape you used to cover up the popped blister — not that I'm speaking from experience or anything.
I'm not a doctor or researcher, so take what I have to say here with a grain of salt, but my general doctor, PT, and massage therapist all agree that moist heat works deeper into the muscles. I've dabbled in a number of options, from hydrocollator hot packs and matching covers to microwavable stuffed sloths that smell like lavender to suede pillows filled with cherry pits that can be heated a variety of ways.
While I think they all have a place in my life, if you're looking for a gift that offers convenience, capability, quality, and safety, I would suggest the Hot Cherry Pillow, which I did receive as a gift from the company to share my experience with you. (And hey! Double bonus, if you follow me on Instagram, there's a giveaway going on this week too!)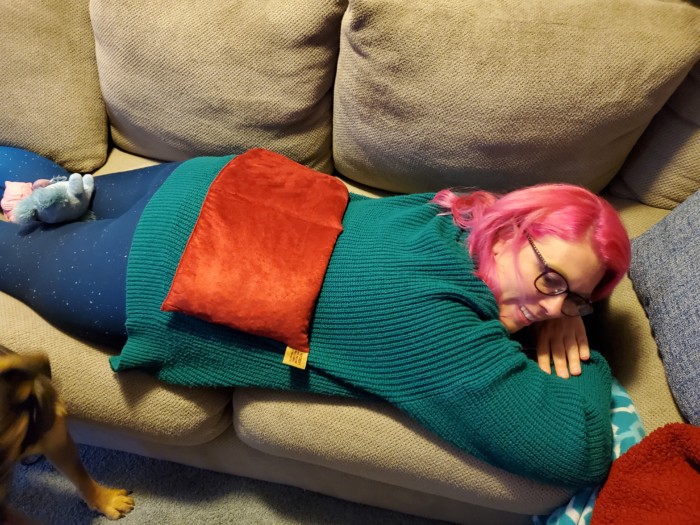 This therapeutic lifesaver isn't just for bad backs like mine, either. While I received the double square pillow for my back, they also have single and triple squares depending on the area you need to heat. There are neck pillows and eye pillows and even cherry ice pillows for a moist ice pack. They may provide some relief for migraines, tight neck muscles, tired and sore feet, cramps, and more. My favorite way to use it when I'm not heating my back, though, has been to warm up my bed as the temperatures started dropping last month in Chicago.
In addition to being a woman-owned business, my absolute favorite part about Hot Cherry Pillows is their dedication to sustainability. Every pillow is filled with rescued cherry pits (cleaned and dried without chemicals) from Michigan tart cherries that would otherwise end up in landfills. And I am 100% here for keeping things out of landfills. The packaging is minimal, recycled, recyclable, and/or reusable.
And how does the pillow compare to those other moist heat options? It stores easily without needing to be frozen, completely dried out, or sitting in water like the hydrocollator. The heat gets warmer and the surface area lays better than the Warmies. As with all moist heat, the temperature eventually drops unlike that of an electric heating pad (so that if you fall asleep with it, you aren't quite as likely to burn yourself). Plus it comes gift-ready in a recyclable gift box, tied with a ribbon and gift tag. I'm only a little obsessed.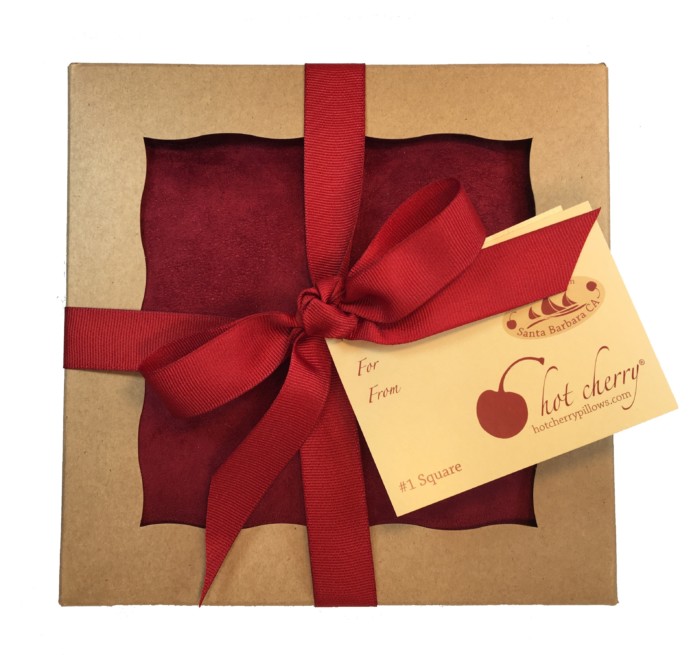 Weighted Blanket ($47+)
Available all over these days, but I included an affiliate link to Amazon if that makes your life easier
I am a huge advocate of the weighted blanket. Brian got me one a few years ago for my birthday, and it's literally like sleeping under a hug. Mine is 25 pounds, but you can get them as light as 5 pounds for tiny humans. I don't tend to sleep with mine in the summer because it's pretty heavy, but winter is the perfect time to snuggle securely under a tightly woven hug. Brian ordered mine from Amazon, but it's no longer available, so the link above is something similar.
Before I started sleeping with a C-Pap, I used to be a constant mover and shaker in bed. I would roll back and forth (and promptly steal all of the blankets from Brian). This was not only bad for my sleep cycles, but also my back, neck, and shoulder. The weighted blanket actually helped me train myself to sleep on my back (it's not super easy to roll all over the place when you're snug as a bug in a 25-pound rug) so that I could sleep in a natural position that adequately supported my back. It also made it hella easier to sleep with the C-pap.
Other people I know have found the weighted blanket helps reduce anxiety and restlessness as well as insomnia. I cannot fully speak to those, but I figured I'd mention it in case you wanted to research further.
My weighted blanket has a removable, reversible cover that is a cool cotton on one side and a plush microfiber on the other side. Some come with covers and some don't so you have a lot of options.
Scalp massager (Under $5)
Available just about anywhere random stuff is sold, but hey here's another Amazon link if you want to Prime it
Sometimes, a gentle head massage can help dull the pain whether it's physical or emotional. Not always, clearly, but sometimes it helps. And dudes. This head massager thingy that kind of looks like it belongs in the kitchen, but obviously doesn't is one of my most beloved random things in my house.
Now, these are useful for self-massaging, but the real gold is when your partner or child or parent or whoever does it for you. Don't ask me why, but when Brian pulls this bad boy out and starts messing up my hair with it, I feel like the dog tapping her hind leg repeatedly. It's one of those things that just warms your whole body.
I got my first one of these many years ago at a baby shower (my favorite thing about baby showers is gift opening bingo, in which prizes are given out THE ENTIRE TIME so the gift-opening part is way less awkward and much more competitive). Man. Remember baby showers? Showers in general? Group gatherings? 2020 is so weird.
It's small and inexpensive, and could easily hang out in a stocking on the mantle or whatever, but I'm going to throw this one out there as a necessary gift for anyone and everyone who needs a little therapeutic care.
Quick summary of therapeutic gift ideas
Because I talk too much
Wow. I'm rambling again. Let me make this easier for you.
Hot Cherry Pillows: Sustainable, women-owned business selling moist heat and ice packs. Use code XMAS20 for 20% off!
Hydrocollator hot packs and matching covers: Alternative moist heat option
Microwavable stuffed sloths: Cuddle-able moist heat option
Other microwavable stuffed creatures: Just in case sloths aren't your jammies
Weighted blanket: Helps with sleep, anxiety, and more
Scalp Massager: Small metal-tined device that sends shivers down your spine (the good kind)
You Are Here, Jenny Lawson: Mental health coloring book. I literally give this as a gift to anyone I know who needs a mental health boost.
Grown Alchemist Hand Cream: Moisturizing hand cream that smells good and actually helps keep my hands from cracking. I'm mildly obsessed with this hand cream I got in a past FabFitFun box.
Cookie baskets: The best individually wrapped cookies in all the land (go for the funky flavored buttercream frosted cookies, and you won't regret it). Send some to yourself for good measure.
Hope this helped you find some gift ideas that can help everyone finish out 2020 with a little more strength, and maybe a little less pain. If that wasn't enough on the gift suggestion front, I've got oodles of past gift guides that I think are still completely relevant (mostly). Go check 'em out because I spend a lot of time curating fun gifts (and trying not to buy the ones I don't already have)!