I have always loved little things. When I was a child, I used to make my brother play a game called "Little Things." We would drag out all of our tiny toys into the hallway and basically cage match them with each other. It was amazing.
So stockings were also always a big deal for us (me, anyways). I love finding fun little gifts in my stocking, but what I love even more? Filling stockings! I fill stockings for all of my nieces and nephews every year. I fill a stocking for Brian. And sometimes, I fill a random stocking for someone else on my gift list.
Stockings are basically a super versatile gift wrap. And I love them. So here are some fun (and some practical) stocking stuffer ideas. The usual note: any purchases from links may or may not be affiliate links that I earn a commission from. It costs you nothing but makes a huge difference for me and this little blog. So thanks for supporting my dreams.
Fun stocking stuffers
For games to pop in the big sock, check out my travel-friendly games gift guide because any of the 15+ games I talked about will fit in a stocking. For more ideas, read on.
$4-$11
Pick your favorite fandom and go wild. I used to think Funko Pop dolls were weird, but then they grew on me, and now I'm hooked. Plus these Funko keychains are so cute!
$7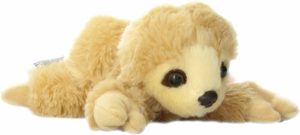 I just love this little guy. Also, I love Christmas with cute little sloths all over my house. You can also find other tiny plushes from Aurora World to fit the needs (and favorite animals) of your giftee.
$7 for two sets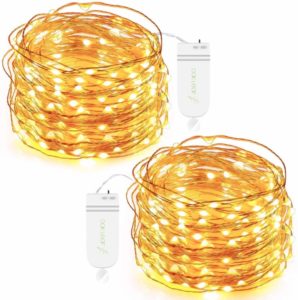 These silly little lights are mult-functional and perfect for anyone who likes to decorate with lights, create fun crafty projects, or wants to make their own light-up clothing.
$6-$18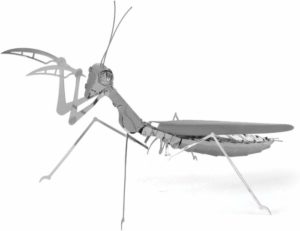 I bought this praying mantis for Brian a couple of years ago, and it was SO COOL. Also, it was fun to watch him put it together. You can also find a Cinderella pumpkin carriage on ShopDisney.
Nostalgic stocking stuffers
You didn't think that I was done with games, did you? I have a couple more silly and fun toys and games that I received from my friends at Goliath Games up my sleeve that are PERFECT stocking stuffers for anyone who grew up in the nineties.
$13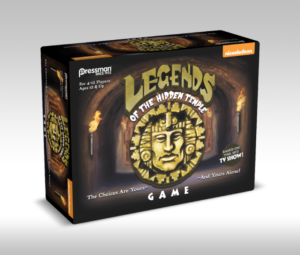 This game is ridiculously fun. If you remember watching the Blue Barracudas dominating on Nickelodeon, this is a must-get gift. It's a party game with activity task elements that pull from some of your favorite college drinking games for a double-down on nostalgia. Alcohol not required or included…but maybe encouraged.
$15
The follow-up to the first Oregon Trail card game, Hunt for Food now with five new ways to die! There's something about The Oregon Trail that will never stop getting me, and I love that these games from Goliath do my favorite childhood computer game memories justice. Don't worry. You'll probably die of dysentery.
$25
These little DC dudes are like Funko Pop meets Litebrite and I am loving them. Obvi, Wonder Woman is a star, but the joker is also a winner because everyone loves villains.* They're ideal stocking stuffers for kids, grown-ups, and everyone in between. These are perfect for anyone who loves superheroes, the DC universe, and collectibles.
*Chrissy loves villains.
Practical stocking stuffers
When I was a kid, socks and underwear seemed like the worst gifts ever. But then I became a grown-up with a job and life, and all of a sudden, I wanted socks and underwear as a gift. Particularly socks. So these stocking stuffers are practical and useful and awesome.
$10 (Save 15% off your first order with my code: Quirky)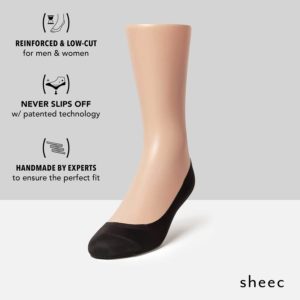 I am obsessed with these socks. Obsessed. They are truly the best non-slip, no-show socks ever, and I've tried quite a few brands. They are available for both men and women in two different fabric types: the Secret 2.0, an ultra-thin nylon material with a cotton sole for dress shoes and The ActiveX, an antibacterial modal for casual sneakers. They come in varying visibility from ultra-low to high (which is still low enough to hide inside most of my shoes). These socks would make a perfect gift for just about anyone who wears sneakers, dress shoes, and even sandals. I did receive some samples from them as part of an affiliate partnership, but I was already a huge fan when I reached out to them earlier this year.
$10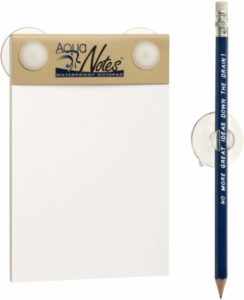 Practical AND fun. This is great for a writer or doodler. I initially bought these because some of my best ideas happen in the shower (don't everyone's?), but it turns out, they're also really fun for leaving messages for anyone who shares your shower. I'd like to tell you Brian and I leave cute little love notes for each other, but really, when my bestie comes to stay at our house, that's when the magic happens. Brian has his own shower, but Ally uses mine. And then she leaves me love notes. Because of course, she does. Anyways. Kick-ass stocking stuffer right here. Fun for everyone.
$13
I always end up getting Brian some type of multitool in his stocking. He loves the functionality and portability of them…even if it means he has half a dozen on hand at any given time.
Eco-friendly stocking stuffers
I've been trying really hard to make my life a little bit more sustainable. Nobody's perfect, and it is a constant learning process, but these are a few things I've been using to be a little more conscious of my single-use plastics and the environment overall. They'll all make fantastic gifts for people looking to make changes in their shopping and consumption habits. Okay, fine, these are practical too.
$13
This exact set is on my wishlist right now because 1. it's ADORABLE and 2. it matches my actual rainbow kitchen flatware. You're welcome. Anyone trying to minimize their carbon footprint will appreciate a travel silverware set in their stocking.
$20 (Use code SUSTAINABILITY for 20% off)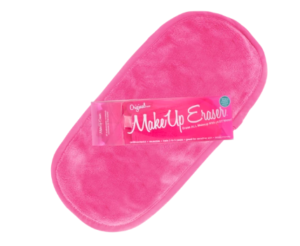 I have not tried this particular brand yet (I use a similar product: the Norwex face cloths right now), but I have friends who swear by it. I do want to try this cloth because it looks a lot softer than the Norwex (which has more of a leathery texture). Both are lovely gift ideas and stocking stuffers to boot.
$20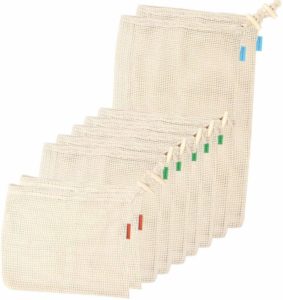 I love fresh produce, but I hate that every individual item needs to be in its own separate bag. Once I discovered these reusable beauties, though, I was hooked. I can pack my produce, store it, and then wash these bags when the surplus of produce inevitably goes bad in my fridge (I know. I already mentioned there's a learning curve).
Well gang, that's a wrap for gift guides this year (though I will be pulling several of the items from this year's guides for a YouTube video next week). Thanks for joining me on this super fun online shopping journey. If you're looking for more gift ideas, you can always check out all of the previous gift guides.
What types of stocking stuffers do you like to see when you wake up on Christmas morning?