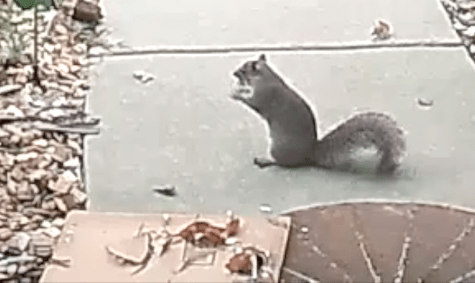 Last November, I was on a top-secret vacation in Disney World. I was afraid to tell anyone where I was going for fear that I would be lambasted for my choices. But they were my choices and I don't regret them for a second.
While I was gone, we had new floors installed. Brian stayed home and managed all the things, and the dog went on her own little vacation at her dog sitter's house.
With no dog to ward off unwanted visitors, and no Chrissy managing the Ring doorbell or acknowledging the arrival of packages, an Advent Calendar that Brian's brother sent went unnoticed on the front porch for a few hours.
As those few hours ticked on, a very hungry, chocolate addict of a squirrel happened upon the brown paper Amazon bag just barely protecting the cardboard Advent Calendar filled with chocolate.
While hanging out at Hollywood Studios, I noticed an obscene number of notifications from my Ring app. Normally when I leave town, Brian only leaves the house to get chicken wings, and the only other people that come to the door are the Chinese food delivery people. So I opened up and watched. For about 20 minutes, a stream of squirrel videos descended upon my phone while I stood under the Tower of Terror, enthralled.
The following video can give you a better picture than my words ever could.
A few weeks later, I watched the squirrel carry a full-size wrapped candy bar to the highest heights of my front parkway tree, only to drop it at my feet once it got to a top branch. That squirrel then watched me pick it up and throw it in the garbage because Google taught me that chocolate can be deadly for squirrels.
We've been much better about bringing in our packages since.
Follow
Me
and You'll See...