I pinched a nerve in my back. Which, if you've never done so, is one of the most painful experiences I've ever had the "pleasure" of dealing with. I believe that's what I did about a month ago, when I thought it was just from yoga-ing without stretching…but now I think it was just something waiting to happen. And the yoga-ing was the straw that broke the camel's my back. It wasn't nearly as debilitating the first time, and it went away relatively quickly.
This time, it came back with a vengeance. A vengeance that was not willing to part with me quite so quickly. And it all happened days before I was supposed to board a plane to New York for one of the biggest parties of the year. Brian almost didn't even let me go!
So I went to the doctor. Who prescribed muscle relaxers(corti-something something) and steroids (prednizone) after taking 37 seconds to press my back in 3 places (which will cost me something in the 3-digits)…thus diagnosing me with a pinched nerve in my lower back (sciatic nerve methinks, but non-radiating). She has since refilled the steroids (with a different, apparently more potent version) and told me to get my butt to physical therapy, a place I'm all too familiar with. And now that I'm  off the drugs, I'm stuck with a twice-daily PT routine that feels as tough as my most intense yoga class. Or personal training.
But when I was on the drugs, I got some serious fucking anxiety. Now I have a tendency toward anxiety and depression,  and whatever good Prednizone did to my back, it was wicked and evil to my brain. It was the worst anxiety attack I've had in years. And I've had a few.
So I did what any normal girl would do when hopped up on pain killers with a side of anxiety. I did everything wrong.
Things you shouldn't do during an anxiety attack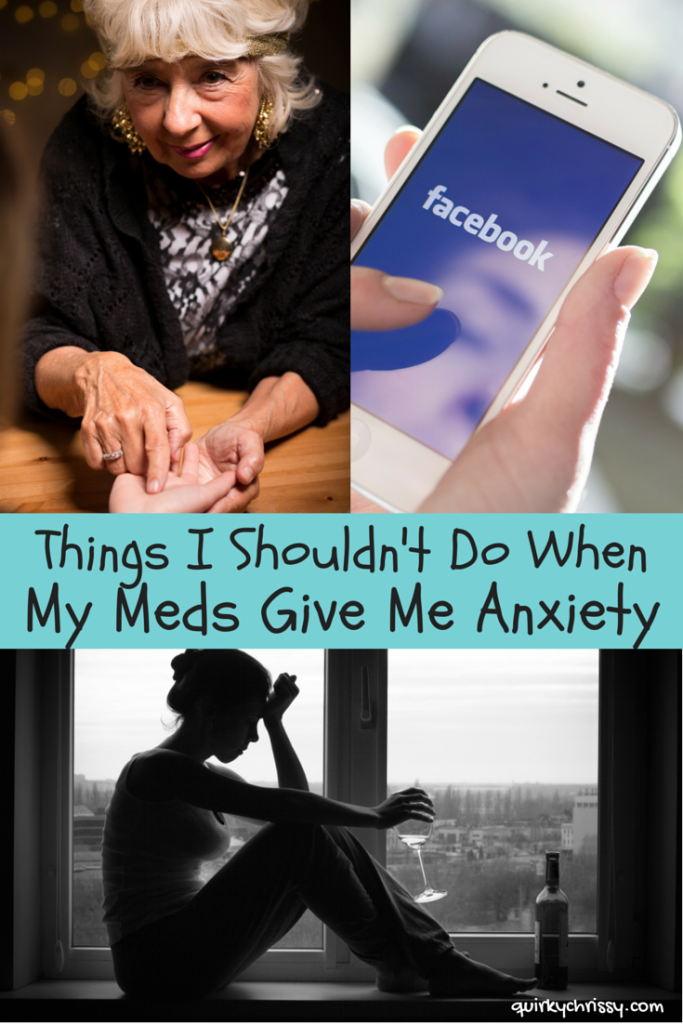 Have your palms read
In my infinite wisdom, while out with some girlfriends at a ladies day out event, I thought it would be brilliant to have my palms read. Sure I didn't really believe in any of that mumbo jumbo but figured I'd give some quack 20 bucks, and she'd tell me some of the badass things in my future. Of course, I didn't realize that her visions would be vague and could lean toward the negative or positive depending on where my head was. And fucking being the lunatic on drugs that I was,  I definitely leaned toward the nego. And my anxiety was through the roof the rest of the day. And just to drive the nail a little deeper, I fucking believed that bitch. The minute she told me I was on a lucky streak, I took everything she said and mentally filed it away.
Consume alcohol
With all that anxiety, you may find yourself in search of chocolate. When the only chocolate in the house requires baking (fuck that) or is the last piece of Easter candy (a hollow cookies and cream bunny) that you planned to snap photos of for a potential blog post next Easter (that you're probably not going to write anyway), you know what you have to do. You open a bottle of Bailey's and pour a largely portioned shot (twice) and take pictures. Since your tolerance is pretty much shite, you're drunk…and you anxiety is now magnified even more. You're probably going to start crying pretty soon, aren't you? Oh, you're too smart for that shit? Me too, guys. Me too.
Upgrade your website host
When your anxiety is already raging, there's no time like the present to fix what ain't broken. Well, my site was kind of broken. But not really It was running super slow, and the people at DreamHost told me if I  spent more money, my site would run faster. And everyone wants that, right? So I jumped on my computer after a few shots and went to town. I also panicked the fuck out and spent 30 minutes chatting with customer support who told me I should avoid making any changes for a couple days while it transferred over. They also said some other stuff which I promptly forwarded to Brian.
Contact your boyfriend who's out with his friends
So now I'm freaking out about my stupid soothsaying palms, drunk, with a broken website…and alone. Brian was out with a friend,  catching a flick. After movies, they tend to stand outside and talk…sometimes for hours even when it's balls cold outside. I couldn't handle that much more of my anxiety alone. I needed to drag someone else into my crazy bullshit. Since Brian voluntarily lives with me knowing I come with my own brand of crazy… I played the part of psycho girlfriend.
First, I checked the runtime of said movie. Then, realizing he was still in the movie, sent a text…something along the lines of "hey. I'm crazy right now. My anxiety is killing me slowly. Please come home as soon as possible so I don't accidentally die over-analyzation." I made that last part up. I don't think I actually thought I was going to die. But my brain was not pleased with where I was at.
When he didn't respond shortly after the movie was out, I sent a Gchat message. Because crazy requires company…and gchat lets you see if someone has seen your message.  And I could be a little less anxious knowing he hadn't actually seen my message. See? Batshit crazy. But I was just like…"hey no big deal, but just…let me know you saw my message. Kthxbye."
When in doubt, visit social media…or don't. Actually don't.
As if my anxiety wasn't already rockin', I took to Facebook where everyone's joys were flying all over the place. Why is it that when you're super anxious, Facebook is all look how happy everyone is? And when you're flying high on life, it's all, "OMG look at all this SAD." Why? Because Facebook is a dick. Always remember that social media is not real life, and the highlight reel is designed to evoke emotions from you. It's perfectly okay — and probably healthiest — to step back from all of the socials if you're stressed. 
Luckily, I have some pretty bad ass friends who I shared my anxiety with. They told me I probably shouldn't have done anything I did, but hey while you're here, let's talk about squirrel-foxes, macaroons and nannies. Best. People. Ever.
Thankfully,  the drugs are out of my system and I've returned to normal levels of crazy. Well…normal for me, anyway.
When have you had to deal with crazy side effects?  Any experiences with psychics or palm readers?  Do you get anxiety? What have you done while anxious that just increased your anxiety tenfold?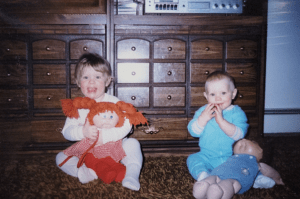 One of the items that I had sitting in my house was an antique desk. It was my mother's desk in name, if not possession. We were storing it for her because there wasn't space in her house. But after several years of it getting moved around my house to the least inconvenient spot, it just became…too inconvenient. So I called her up and asked, if she still wanted it. "Yes. Of course. It was my father's desk. It's over 100 years old."
Read More »