One of my life goals: Swim with dolphins. Because I think that I was a fish or a fishy mammal in another life. Seriously, I've always loved being in the water. They threw me right in as a baby, and I've been in love ever since.
This year, I wanted to go to the Florida Keys to swim with, hug and kiss a real, live dolphin. One that wasn't wild in the middle of the ocean with the potential to kill me. (I know. Dolphins. But still. Wild. Animals.)
I also wanted to snorkel. Last year, when we went to Marco Island, Brian's mom told me that we should get his dad to take us snorkeling in Key Largo, because she absolutely loved it. I promised myself that we would do that, even if we didn't do it last year…
Being the only one in a group of 4 that thought it was acceptable to pay several hundred dollars to swim with a dolphin…my P1 became the P2. Unfortunate…but…it was fine (and not the I'm-a-girl-and-going-to-say-it's-fine-but-it's-really-not kind of fine, just normal I'm-not-a-crazy-bitch fine). I'll just go to Florida and swim with dolphins on my own time.
So snorkeling it was. We drove the 3 hour ride through the Everglades to Key Largo where we 1. Didn't have a plan. 2. Apparently had TWO maybe plans. That required back and forth driving to decide which was a better deal.
This is where I had to get one of my bloggie besties to calm me off my ledge…
OCD has no place on vacation. OCD has no place on vacation. OCD has no place on vacation. OCD has no place on vacation. OCD has no place on vacation.
So, I listened to reason. And stopped freaking out. Brian and his brother also made a solid decision to stay at the place we were at and not drive around looking for a better deal or a longer snorkel trip. And so we slowed our day down. And got things ready for this snorkel trip. And walked around John Pennekamp to explore the beauty and such.
It was a REALLY perfect day too. We wandered for a few hours, got all of our gear for snorkeling, sunscreened the fuck up (when I came back just as pale as when I left, my co-workers and even the conductor on my train were all, WTF, Christine? And of course I responded, um Um hello?! Irish skin. And I don't want cancer. Or a nasty leather stomach like some of those old ladies I saw in Marco sporting sports bras and power walking.)
When it was time to head over to our boat, I KNEW it was going to be a great day. The name of the boat said all I needed to see. I mean, imagine the good fortune and the joy that came with a sweet ride named after one of my favorite sea creatures. It was definitely going to be a great day.
Does that sound like ominous foreshadowing to you? Sarcasm? Dirty, rotten lies? You'll see.
The boat ride out to the Coral Reef was awesome. The breeze through my hair, the amusing boat captains cracking jokes about boozin'. The quick lesson in snorkel gear. It all sounded good to me. This was my first trip out on the Atlantic that I am aware of. I've been of the beach before, but never in the middle of the fucking ocean.
After a brief training where the people in charge explained how to snorkel in about 15 minutes, we were ready to roll. Brian and I were the last ones out of the boat…
And as soon as I hit the water, I freaked the fuck out. Like full-blown panic. Apparently, it didn't hit me until that EXACT moment that I was IN THE MIDDLE OF THE FUCKING OCEAN. I had my snorkel mask on and the snorkel in my mouth and was wearing the most buoyant wet suit on the planet (which I didn't even realize, to be perfectly honest–I just knew I wasn't swimming hard or sinking) and flippers. This was the closest to being a fish I've ever been in my life.   And I was TERRIFIED.

Thankfully, Brian calmed me the fuck down as we floated 30 feet in the wrong direction of the boat. Apparently, it's really fucking hard to swim with flippers on. I couldn't get the hang of it. At. All. Brian had to hold my hand and cart me around, pretty much the entire time I was in the water.
After being yelled at by the boat captain, we made our way back toward the coral stuff. And I got acquainted with having my head in the water. Which was weird.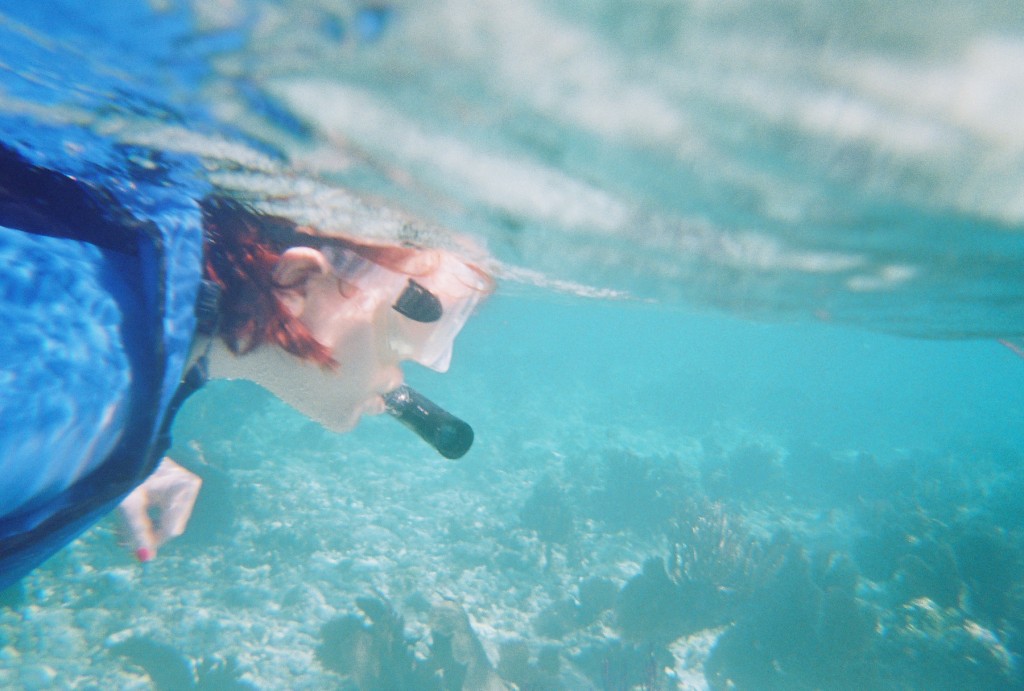 I suppose now is as good a time as any to tell you about the cheap disposable camera we purchased. I ALMOST bought an underwater camera for this experience. And decided to instead invest that money in a sweet Canon camera that I got a great deal on thanks to Amazon:
(It was the highest rated point and shoot on Consumer Reports; also shameless plug for my Amazon affiliate…if you click above, you might help me buy more cheese</cheesemoneytalk>).
So at the gift shop, we got a disposable camera to take underwater photos for you. Underwater, I pointed and Brian shot. It was a good system…especially when I saw a Dorie-fish (not sure what she was and too lazy to Google anymore…) and was yelling through my snorkel, "DORIE! DORIE! Get a picture of Dorie!)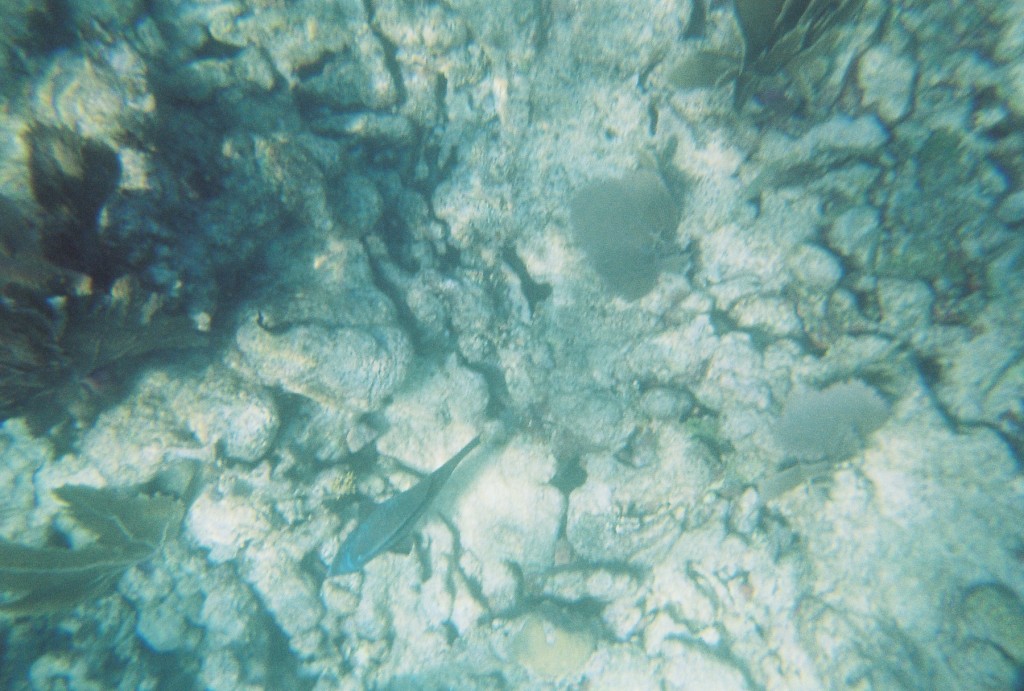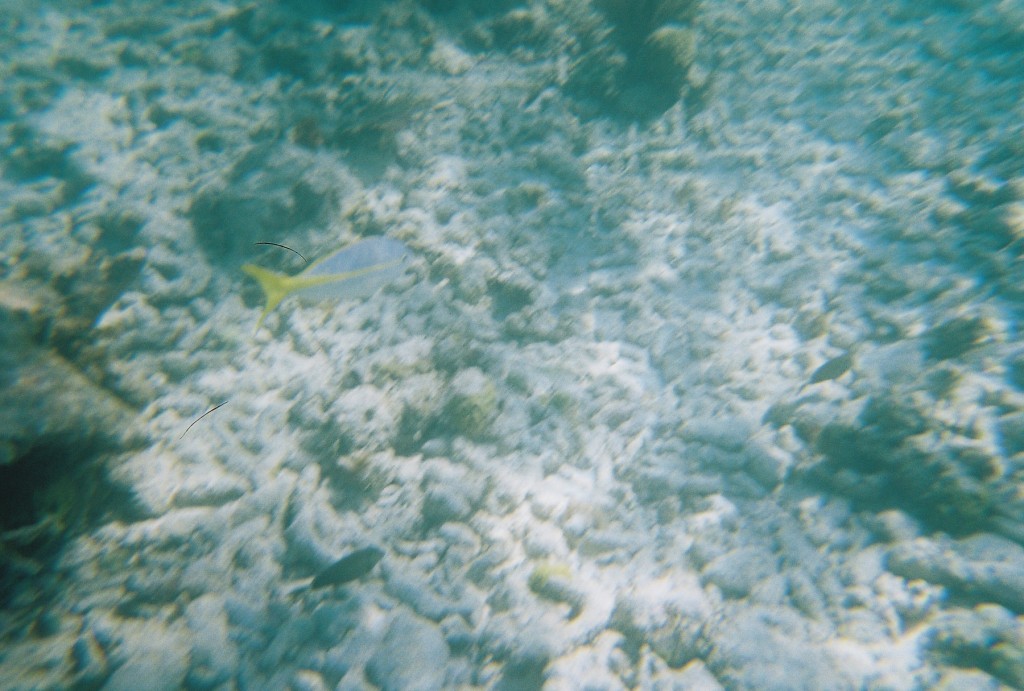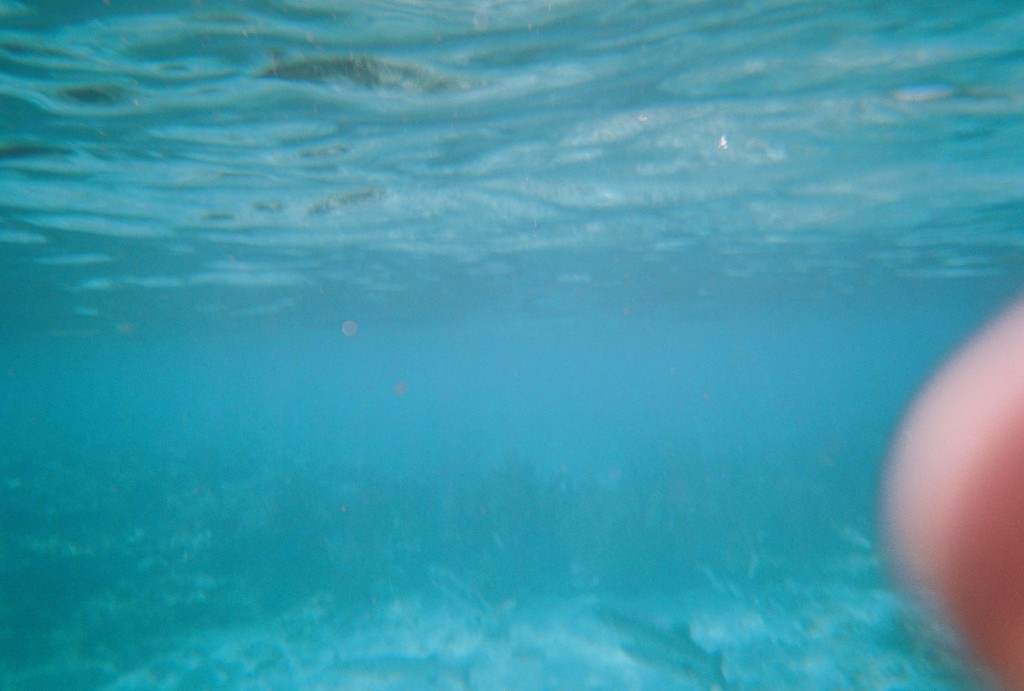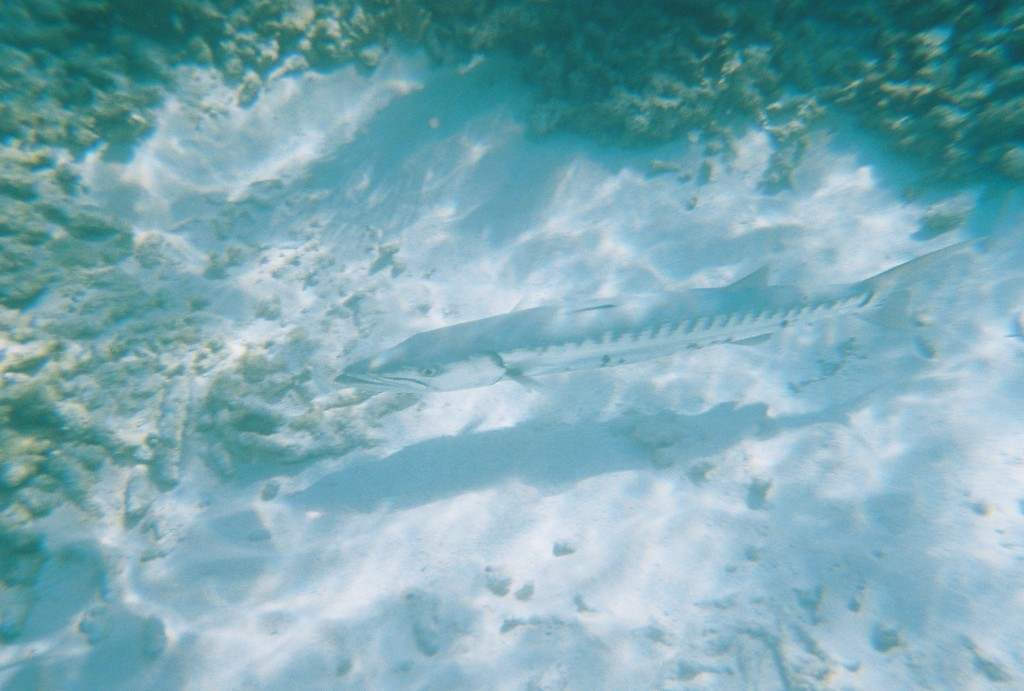 Eventually, I decided that I wanted to play with the camera. Or Brian wanted a picture of himself. One of those.
And he relinquished the camera to me.
Which was pretty much the worst idea ever. Not only could I not figure the damn thing out, things started to go downhill. Fast. I'm not sure if I swallowed any water, or if the floating motion got to me, or if the looking through the lens of the tiny camera underwater was the ace in the hole…but vertigo hit and it hit fucking FAST.
Immediately, I had to lift out of the water, remove my snorkel and freak the fuck out. Again.
I was going to vomit. I was going to vomit all over the Coral Reef and myself and Brian and the fish and the barracudas were going to eat me and it was all over. I'm only a little bit of a drama queen.
I knew I needed to get out of the water and out of the suit and out of the mask and the flippers and be done. But I didn't want to ruin Brian's fun. The saint that he is still voluntarily pulled me to the boat, while I panicked and tried really hard not to puke into the water that everyone was swimming in, unaware of my agony and that they might just swim into vomit at any minute now.
We made it to the boat. Brian pulled off my flippers (because bending down seemed like the worst idea ever. Worse than anything. Ever.) and I crawled up to the boat. I spent the next hour sipping water and wishing I were on land while everyone else enjoyed being fish for a day.
Brian got a picture of himself (I think courtesy of his brother)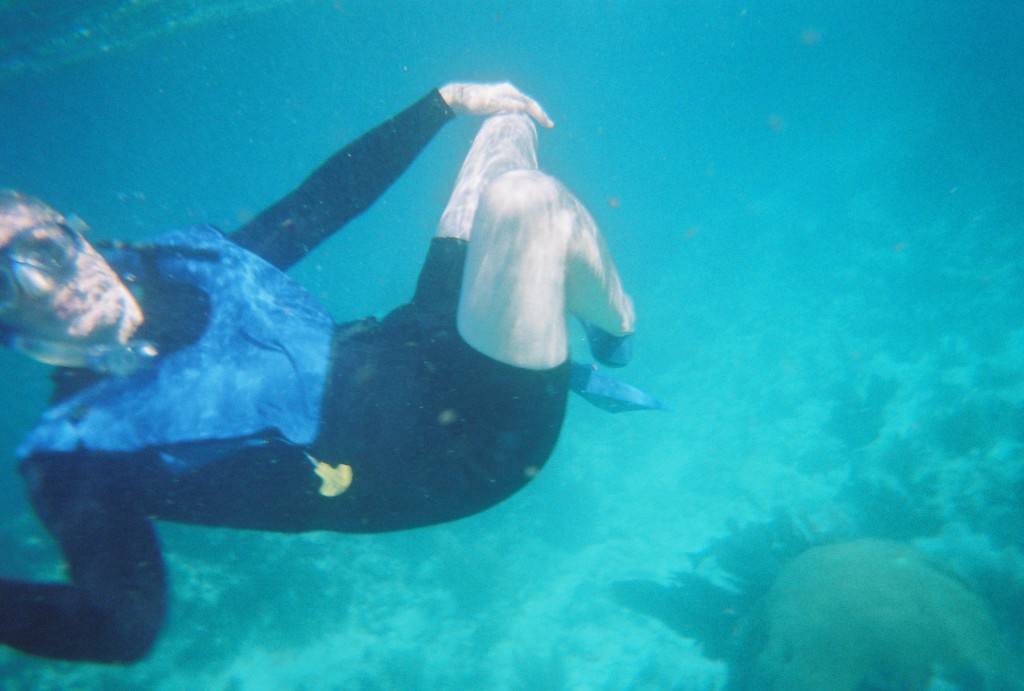 Before it was all over, Brian and his brother even saw this GIGANTIC goliath grouper. Apparently it was the size of a large cow. And bad ass awesome. I'm so jealous.
Don't feel bad for me, though, Blog Friends. I had a good time and got a story out of it.
Have you ever had high expectations for something that didn't quite go as expected?