I woke up in a hotel in River North the morning after Brian's work holiday party. I had brought a couple outfits but after the wild night, I was leaning toward a pair of tie-dye yoga pants and a hoodie. Brian steered me away from super comfort and suggested I try something else.
"Okay, ya weirdo."
He had apparently made reservations at a restaurant called Brunch, where we would soon eat ourselves stupid. "You can't leave brunch to chance," said the man who rarely makes reservations for anything.
"Okay, ya weirdo."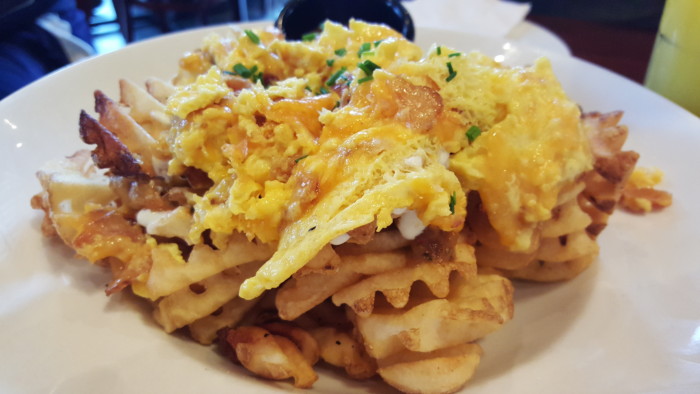 And so we went to brunch at Brunch, where they served breakfast appetizers (nachos made from waffle fries and topped with eggs—are you drooling yet?), coffee in thrifted mugs, and the most perfectly poached egg on the planet.
I was slightly suspicious, of course, partially because I had booked the hotel with the hopes that Brian would take the hint and partially because of a group text exchange of some friends who must have forgotten I was in the chat.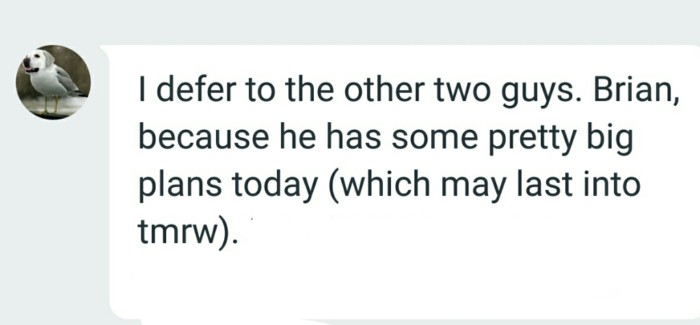 But I had no idea the wild ride I was in for. At Brunch, Brian was distracted. Staring at his phone (which is unusual for him). Furiously texting. I asked who he was talking to and he kinda brushed it off. "Okay, ya weirdo." As we finished our meal, making tentative plans to go to one of the museums, Brian jumped up quickly, stating he had to go to the bathroom as if it were there first time he'd ever done it. "Okay, ya weirdo." I spent my time wisely, screwing around on social media, bragging about the best poached eggs ever on
Instagram
and showing off last night's makeup like a rockstar on
Snapchat
.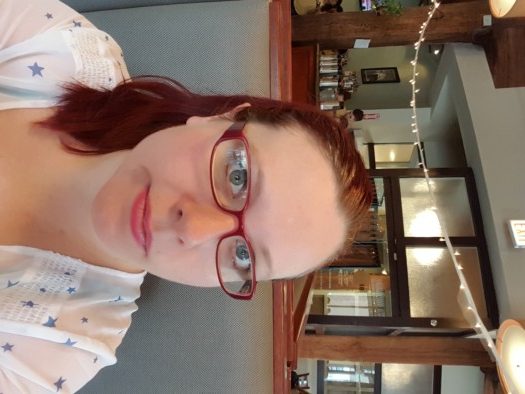 And then I waited. And waited. And it got a little weird. And then it got a lot weird when I looked up to see two of our friends, Eric and Brooke (one of my
Something Blue girls
). And Brooke had her video camera. All I could think was,
Okay, so it's happening here. An interesting choice, Brian.
I never expected a big scene or anything. I figured it would be quiet, somewhere nice/special, but mostly quiet. And never on video. Eric slid in next to me, and Brooke sat down where Brian had been sitting. "So where's Brian?" "Ummmm…the bathroom?" "I don't think he's coming back," her words were drawn, full of excitement. "Where's his jacket?" "You're sitting on it." Brooke reached into his coat pocket and pulled out an envelope. Inside the envelope was a note, an Android-compatible usb reader, and a cryptex. For those of you unsure of what a cryptex is, go back to the The DaVinci Code. That puzzley thing Langdon had to solve? That's a cryptex. The note from Brian was a clue to open the cryptex. Eric had the answer (and additional clues), so he could provide hints. Brooke knew nothing, so she could help me solve it. As we spent an embarrassingly long time trying to solve this puzzle, I figured out how to get the answer, and was about to work it into the cryptex, when I realized, the cryptex numerical combination was still taped to the bottom of the device. Nailed it!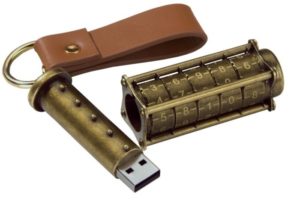 Inside the cryptex, was a usb memory thingy (which plugged into the cable which plugged into my phone). It was a video from Brian, in which he told me that he planned an adventure and gave me a clue to another location. This led us to The Looking Glass Theater near Water Tower Place. Upon our arrival, several really excited attendants handed me another cryptex and another clue. I solved this one in approximately 37 seconds, and inside this bigger cryptex was another clue to another location.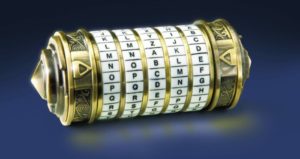 Again, it took me an embarrassing amount of time to figure out the location, which I knew was at Navy Pier, but had no idea where to go once we got there. As we were walking through the entrance, I mentioned The Crystal Gardens, having gone to an event there years ago. And Eric was like, BOOM. We made our way up the escalator, and as I looked through the windows,
Oh fuck, my parents are here!
My parents were sitting at a table inside the garden with another cryptex. They also knew the answers and had additional clues for me. Eventually, Brooke solved it, because holy crap it was hard.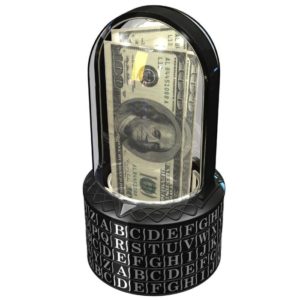 Inside the cryptex was a final location clue (and a flower hair clip, because as you can see, there's room for a flower inside) in which Brian told me to meet him under tallest tree. I knew immediately we were going to Winter Wonderfest at the end of the pier. My mom had wristbands for all of us to get in, so she led the charge. And we made our way through the restaurants and shops, twisting and turning to avoid crowds. As we drew closer to the fest, Eric received some intel, and was told to find the man in the blue suit before coming in. When we arrived an elf in a blue suit greeted us. "Welcome! Welcome! You must be Chrissy! We've been waiting for you! I am the mayor of Winter Wonderfest! Welcome!" A few other elves, including what appeared to be a reporter elf, appeared, but I looked past them to see Brian, wearing a suit under the giant Christmas tree in the center of the hall. The mayor took my arm and walked me toward Brian while the other elves cried, "Make way! Make way! Chrissy's coming through!" As I walked up to Brian, he pulled out a velvet box with my
grandmother's ring
inside it and got down on one knee. Behind me, I heard someone yell out, "Oh shit! He goin' to propose!"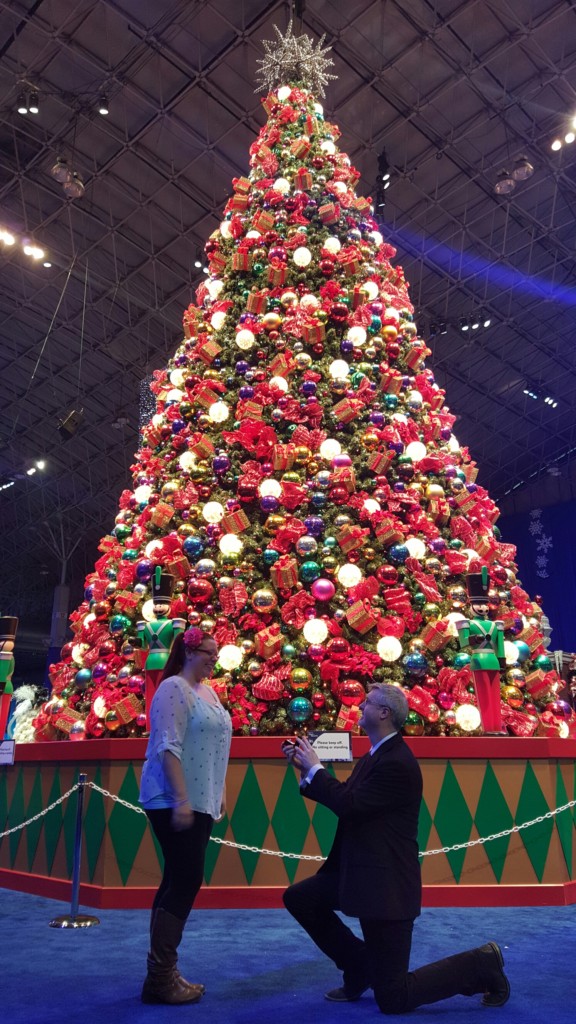 He asked me to be his bride
, and of course, I said yes. We hugged and kissed and then hugged my parents, his brother, amd our freakin' awesome friends who had joined me on the scavenger hunt. And then we needed some good pictures, of course. Brian got down on one knee, again, and asked me to marry him, again. And I said yes, again. It was perfect. After wandering around the indoor fest for a while, the six of us went for champagne and snacks at Riva, a Navy Pier restaurant Brian and I had been to a few years earlier on my birthday. We even kept the empty champagne bottle until fittingly, our wedding day, when it managed to get tossed out with other bottles in the mass insanity that was
my house the morning of the wedding
. And now, a year later, I can look back on that memory my wonderful husband created for us before he was my husband. And Christmas will forever be better than it was before. What was your proposal like?
Once upon a time, many years ago, there was a girl who waited tables at an Irish bar where people were mostly dicks. She also
Read More »