I'm going to try posting little snippets and tidbits from our wedding, mostly because THERE'S SO MUCH TO SHARE, and I really don't want to overwhelm y'all.
I figured the best place to start is with our wedding theme…which came together at the very last minute.
The cheese-themed wedding of my dreams
Wedding cheese cake before it was cool
It all started with a cheese cake. Apparently, I'm big on doing things before they become trends, like Pinteresting and having a something blue crew. A cake made of cheese wheels. Both Brian and I aren't big fans of cake, and the thought of tasting tons of cake and paying for tons of cake when that's not what we wanted was less that desirable. I originally thought cheesecakes, but Brian doesn't like those, either.
Cue big giant wheels of my favorite thing on the planet (Brian not withstanding), and we had ourselves a cake that dreams are made of.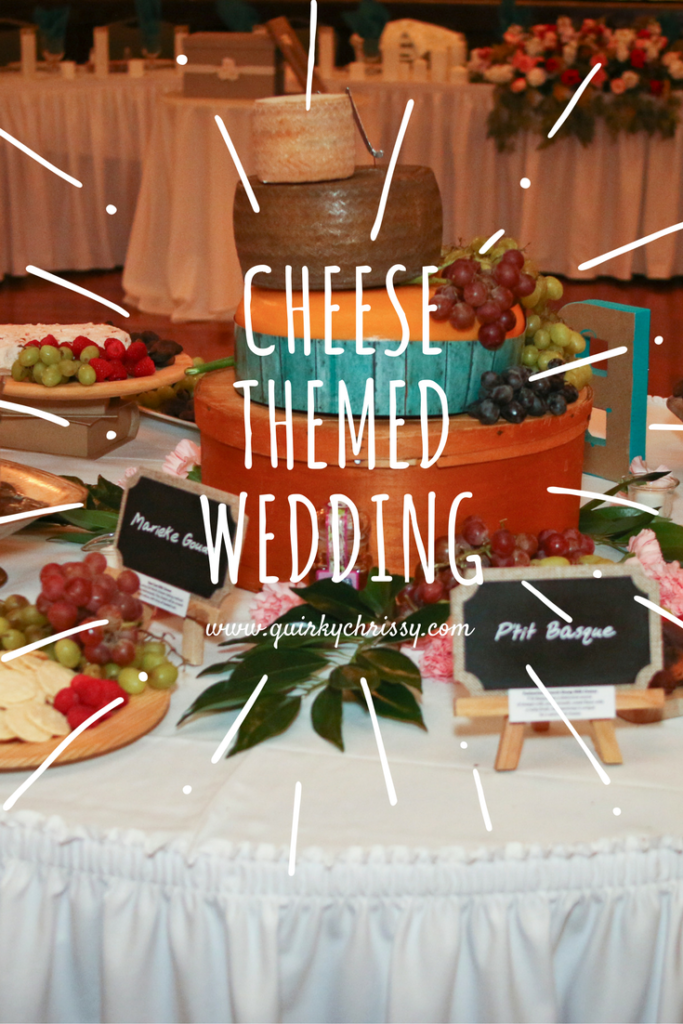 Originally, I had planned to vet the wheels, find the cheapest prices, order them, and set them up, all by myself. Basically, pre-wedding me was insane. (You're going to see as this series unfolds that people like me aren't DIY experts, so if you're looking for those kind of wedding planning tips, you're in the wrong place, my friends. If, on the contrary, you're looking for realistic, I-paid-someone-to-do-it and I-have-the-best-friends-on-the-planet advice, I'm your gal.)
About two months before the wedding, I realized I was crazy and definitely didn't want to add more to my to-do list, so I called Whole Foods Orland Park. I knew they had a kickin' cheese selection and there was one near the wedding venue. I worked with two unbelievably wonderful people in the cheese department, and they were just as excited about our cheese cake as I was.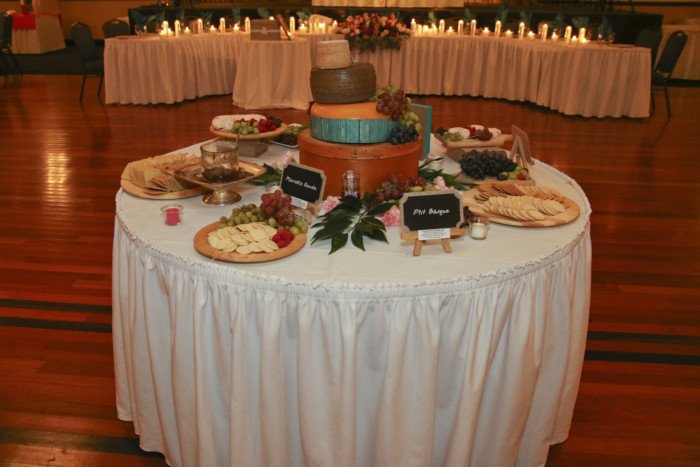 I'm so glad I called them because it turned out to be one of the best wedding experiences I had with vendors. After some back and forth with the cheese selections, in which they sent pictures and prices, and I asked for changes a few times, we finally had a pretty good idea of what we were going to choose, and I thanked them for their patience.
Instead of saying "sorry" and admitting fault, I say "thank you for being patient with me." Because I'm a pain in the ass.

— Quirky Chrissy (@quirky_chrissy) August 17, 2016
They invited me down to Orland Park for a cheese tasting, and I was already in love. Brian had zero interest in most things wedding, so I brought my pal Laura, who is a godsend and amazing. She managed a significant number of day-of wedding details for me, did my flowers, candy buffet, and handled the cheese cake.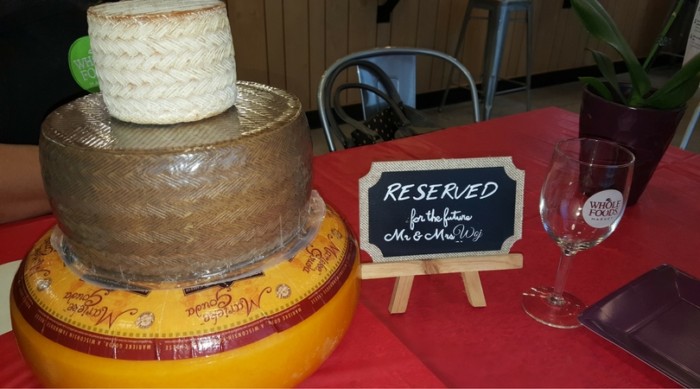 At Whole Foods, we tasted all three cheeses: Marieke Gouda, a young Manchego, and a Petite Basque, and they even paired the cheese with three glasses of wine. After I placed my order (in which I got 10% OFF for buying whole wheels), they handed me a lovely goodie bag with Whole Foods treats and beauty samples as a thank you to their bride. OMG I died. It was about a month before the wedding and I had yet to feel super duper special with any of the wedding vendors I was working with. None of the bridal events I attended were even close to this magical.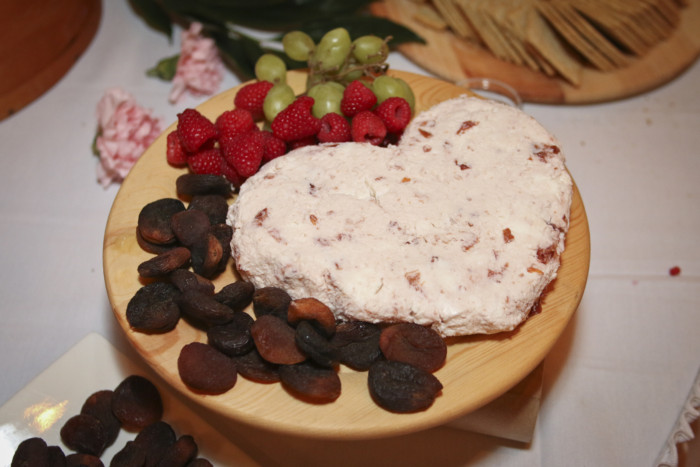 Cheesy wedding favors
As the wedding day drew near, I stumbled across mini cheese grater favors. We had planned to donate to a charity in lieu of favors, but once I saw those, I knew what I needed to do.
Cheesy geofilters
A week before the wedding, I also decided to make Snapchat geofilters, which was SO EASY.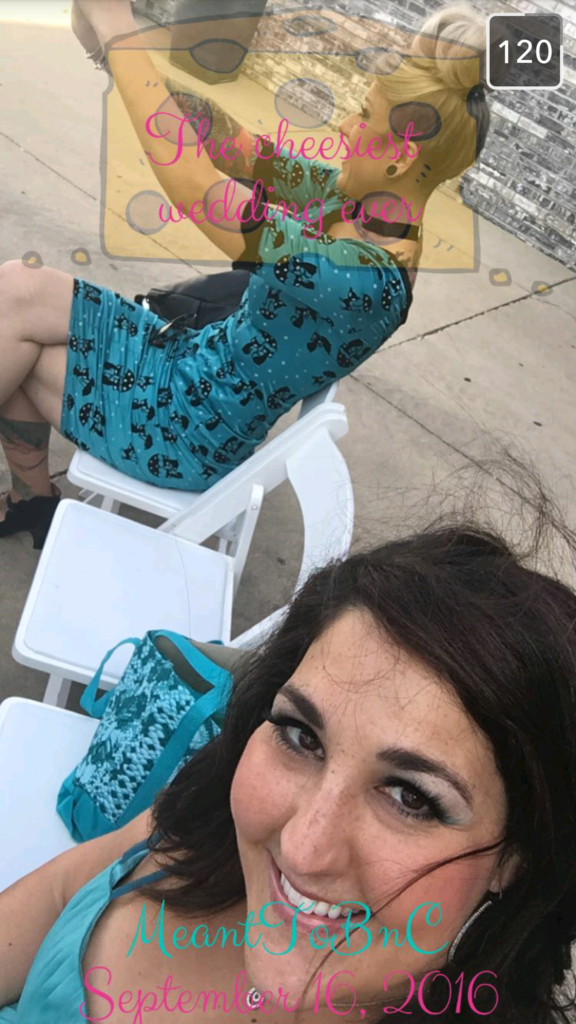 Cheesy table names
I had also thrown around the idea of naming tables instead of numbering them…but I was lazy and just kept putting it off. Until the day before the wedding. Brian was printing table names and labels for the favors with guest names and their tables. I was just trying not to freak out because it was 1 o'clock in the morning.
But it all came together so nicely. And cutting the cake WAS THE MOST FUN THING EVER.
And THAT'S how you have a cheesy wedding.