Pinterest for wedding planning is getting out of control. It's all DIY this and DIY that. And FML this and FML that.
Come up with the perfect save the dates!
Design the most creative invitations!
Your wedding favors: handled!
These centerpieces will blow your mind!
If you're insane, these wedding photo ideas will totally impress your photographer!
Exclamation points and lies, my friends. Pinterest is full of exclamation points and lies (Except when I'm pinning shit to Pinterest. That's all stuff that I know is possible. Because I've done it. And I'm not crazy. Well…except maybe when it comes to Halloween).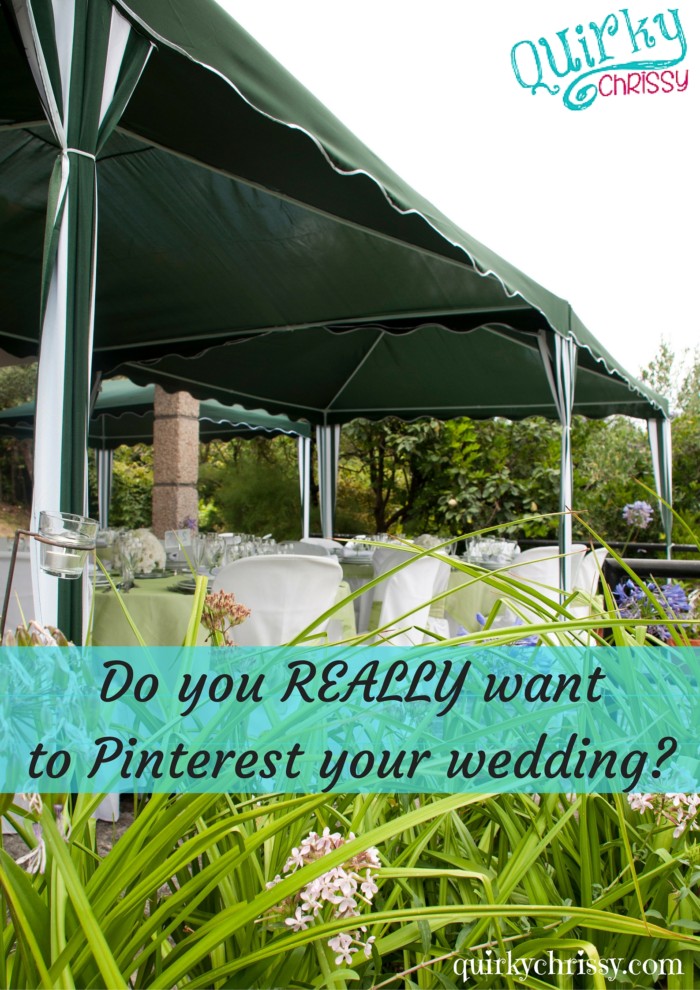 But for our wedding…instead of listening to Pinterest's bullshit, I have a 12 step program that is sure to keep you level headed and stress-free through the whole wedding planning process.
Step 1: Get great idea (maybe from Pinterest, maybe from the depths of your cluttered brain. Whatever works for you, lady).
Step 2: Consider the work that goes into great idea.
Step 3: Ask yourself is this REALLY something you want to do with your time?
Step 4: Say yes.
Step 5: Ask yourself if you can buy it on the internet.
Step 6: If yes, check pricing and proceed to step 7. If no, proceed to step 8.
Step 7: If price is reasonable (math out the time it would take to create such nonsense, and then multiply that by your hourly rate), buy it on the internet. You no longer need to continue. If the price is bullshit, proceed to step 8.
Step 8: Okay, now it's time to consult your MOH. If you haven't already told her, you should probably make sure she knows to shut it the fuck down when you get Griswold Goggles. She should not volunteer to help. She should remind you (and she's the only one who can do this – everyone else better tell you all your ideas are fucking brilliant and keep their mouths shut when they don't like one of them to avoid you wanting to kick them in the shins or cry or both) that you didn't want to stress, and your DIY projects are never fully completed, and even when they are, they're usually horror scenes.
Step 9: Try to rationalize with her.
Step 10: Remember why you gave her permission to shoot your crazy ideas down. Consider alternatives that you can buy on the internet.
Step 11: If you still really want what you want, recruit 27 other people to help you make it happen. Preferably someone with a glue gun and knowledge of how to make shit happen, and you, my friend, are on your own. If you've finally wised up, move on to step 12.
Step 12: Congratulations. You've successfully talked yourself out of making 9,000 origami swans, hand-crafted invitations for a guest list of 600, and centerpieces that will take 4 months to complete. Now, go buy yourself a beer with the time and money you've saved. Your wedding is going to be fucking awesome no matter what. You'll be surrounded by the people you love as you pledge to spend the rest of y our life with the person who makes you the happiest and your life the fullest.
No one's going to remember that you used white tablecloths and you had a full beach scene inside a glass jar in the center of every table. Nope. They will remember your smile as you said "I do." Or the song your besties jammed out to on the dance floor. Or the fucking fantastic thing you paid a billion dollars for on the internet because you didn't want to make it but obviously you needed it. And if they don't remember. Don't worry. You paid a photographer to capture fucking everything anyway.