And by Uncle Murphy, I mean the writer of Murphy's Law. The bastard.
So yesterday, I started the morning with my usual dash to the train and had a few missteps. And once I passed those missteps, thought I was home free. So I Facebooked that shit. Because. You know…that's what I do.
So I made it to the train; piece of cake. Stuff in tow. I sometimes get on the train on the back car and walk all the way to the front car. I like to be one of the first people off the train to avoid the Union Station cattle call. It's a good thing. Usually.
As I made my way toward the front of the train, I started to unwrap the layers of warmth surrounding my body that were causing me to sweat. The train gets toasty when it's full of people.
I sat down in the little vestibule like usual (So I don't have to sit next to loud, annoying smelly people) and typed up my ordeal. As I started to re-layer up, I realized that my sweet Bears hat was missing. Somewhere between Car 137(this is a made up number FYI) and Car 1, I had dropped my warm and cozy hat. With a one-mile walk and a -20 degree windchill to look forward to. Awesome.
It's okay, Christine (I call myself this, when I'm angry at self.) You've got the scarf and the face mask and the hood. It's all going to be okay.
Winter 1: Chrissy 0
So I went on with my morning routine. Buttoned my coat, snapped my face mask, wrapped up my  sweet 12-foot scarf, slipped my glasses into my pocket and was on my way.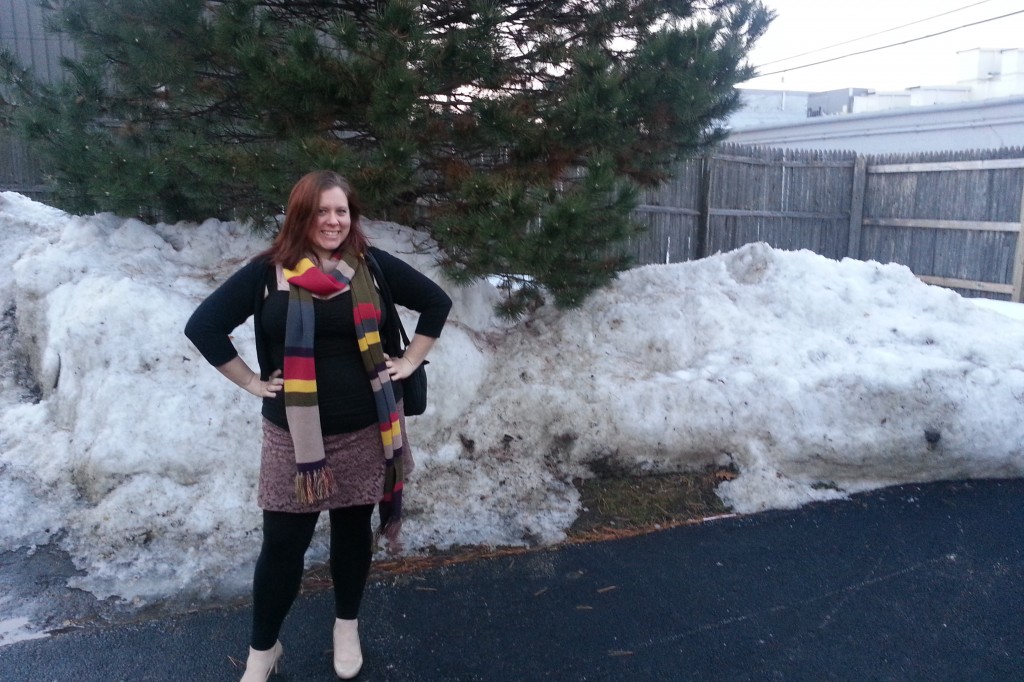 As I crossed the street just outside of Union Station, I slipped on a patch of ice. LUCKILY, I am a master of correcting myself so as not to fall. I know. I know. You've seen how many sweet spills I've taken. From spraining my ankle on a mountain to tripping over invisible wires to walking into No Parking signs…You can't exactly call me Grace.
So I didn't fall. Which is good, because if I had, I would have either A. face-planted into Adams street or B. gone backwards into the metal bridge dealie. But I screamed the obnoxious scream that usually scares the crap out of Brian.
Good work, Christine. You really sealed it with that one. It's okay though. Let's go find some breakfast.
I walked the cold walk to Pret, where I picked up a tasty little breakfast thingy with bacon (because all that matters is the bacon. Obvi.)
After Pret, it was only 3 blocks to the office, so I was almost there. I checked the time; things looked good.
We're ready for the day. It won't be that bad. You've got bacon. You can get a hat on your lunch break. Work's going to fly by. And vacation is in 2 days. You can do it.
I stepped into my office building and started deconstructing my walk-wear. Because I was pretty blind when I walked (the face mask fogs up my glasses), one of the first things I did was pull out my glasses from my sweatpants pocket.
Well.
Part of my glasses anyways.
As I reached in to grab my specks, the motherfuckers cracked. Something about them being frozen and crackable made that the perfect moment to die.
"MOTHERFUCK!"
I'd like to tell you that I just thought that in my head. I really would.
But no. It came out in all it's obnoxious glory. And the lovely security lady came to check on me, because I was visibly on the verge of a breakdown. She wanted to help. But she couldn't. There was nothing anyone could do.
So I thanked her. And probably apologized, because I do that when I'm upset. And got into the elevator. Alone.
And then…I cried the ugly cry.
It started with a few Claire Danes sniffles and snorts, but then it went full-out bawling. I could NOT win this morning if I tried.
I crawled into my office, trying to hide my eyes, hoping that they were masked by the cold look everyone seemed to be wearing. I found the only secluded place I knew of in the open office and I just let it all out.
Eventually, I had one of my co-workers come rescue me and she even brought my SWEET work slippers. There's something about sequined camo that makes the world seem just a little bit brighter.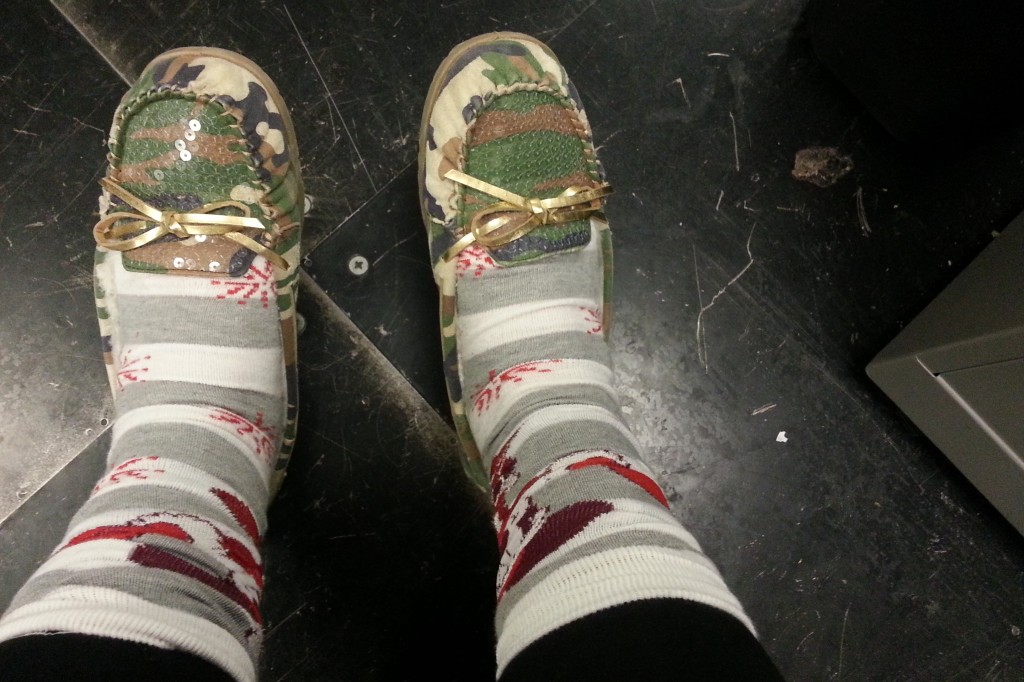 I was blind for the first half of my day, but picked up a set of contacts (after getting an unnecessary eye exam in order to get the free trial) and ordered some adorably sassy new specks. And then I remembered that vacation was only HOURS away now.
So here we are. 27 hours away from my flight outta this Frozen Tundra and after a week of vacation joy, I'm coming home to a new pair of specks, the Superbowl (Go Peyton! My LOVE!), the Olympics, house-hunting and so much more joy.
See, things can turn around for the better!
Have you ever had one of those days? Where you just can't seem to catch a break? Tell me about it. No seriously, tell me about it.