If you recall from a few days ago, I had an offer to discuss selling my site. Not like, a hey, we-want-to-buy-Quirky-Chrissy offer…More like a hey, we-buy-sites-are-you-selling offer.
After the first try, I ignored it…but when he went in for the second attempt, I delivered what  I hope made him laugh a little bit. His first response was all business, but his response to my response was baller.
It was like a mullet. Business in the front; party in the back. I just needed to pull the cap off. Which I did with a little help from you. I used some of your suggestions in my response e-mail, and I think you'll appreciate how that went over.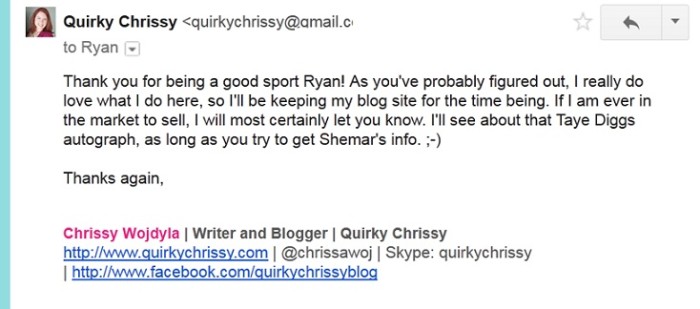 Ryan was a real trooper about the whole thing. So thank you, Ryan! I like to think that you came here, saw my blog post and responded to my survey. In my little daydream here, I truly believe that you were the one who answered my survey with, "Just say thanks but no thanks."
To the rest of you who responded to my survey, you're hilarious and beautiful people. I think we're going to do more surveys, because this was ridiculous amounts of fun for me!
Do you like to sass people in e-mail? Would you have had a little fun with this? What's the sassiest thing you've done recently?