Guys. I'm totally off my game here. McDonald's pulled a 360 and started Monopoly THREE FUCKING MONTHS EARLY.
Bastards.
I know. I know. You're all feeling the same way right now. Abused. Used. Beaten. Bruised. Bewildered. Battered. You're feeling like a victim.
I know.
Me too, guys.
But it wouldn't be me if I didn't obsess over the damn game.
Except…
I went gluten free a month ago. Almost to the day. Actually. Exactly to the day.
Bastards.
So my options are severely limited to say the least. Looks like all those stamps I accidentally bought 6 months ago are going to come in handy. Hello self-addressed stamped envelopes of JOY. Send me 84 cent game pieces. (Which if you're counting is cheaper than ANY of the food items on the list.)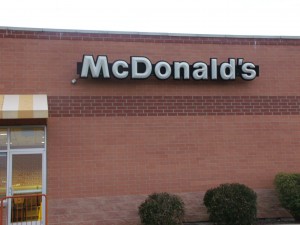 I once told you how to win at McDonald's Monopoly.This year, I'll send you back to those tips and give you the quick run down of changes this time around.
This year's McDonald's food items with Monopoly peels (and which items are
gluten-free

. Drinks. Drinks are gluten free.)

4 Peels – Large Fries 4 Peels – 20 Piece Chicken McNuggets 2 Peels – 10 Piece Chicken McNuggets 2 Peels  -Filet O Fish 2 Peels – Big Mac

2 Peels – Medium McCafe Iced & Blended Drinks

2 Peels – Large McCafe Iced & Blended Drinks

2 Peels – Large Iced Coffee

2 Peels – Extra Large Orange Juice

2 Peels – Medium Drink

2 Peels – Fruit & Maple Oatmeal 2 Peels – Egg McMuffin, Sausage McMuffin with Egg, or Egg White Delights 2 Peels – Hash Browns 2 Peels – Premium McWrap  
What's changed in McDonald's Monopoly 2013?
ONE of the two one-million dollar winners is in a Big Mac. So load up on meaty sandwich goodness. Because I can't. Or maybe I'll order a big mac without the special sauce or bun. Maybe.
As I did last year, I'll be documenting my McDonald's Monopoly winnings.
So good luck to you. May the FORCE be with you. And may you send me your game stamps.