You guys know I love me some Gorton's Seafood, right?
Easy, fast, and delicious fishy goodness. Perfect when you're forced to cook seafood for one…or when you go to your parents house to cook a meal for everyone except your boyfriend because he hates seafood…
Well, I recently discovered that these delightful little Simply Bakes are PERFECT for lunches at work (if you have access to a toaster oven or full-size oven – which we have both). I decided I'd pack everything I need for a tasty little tilapia sammy. I wanted it to be simple and flavorful. I had a French baguette waiting to be used, so I sliced a sandwich size chunk and bagged that for work. Then I grabbed a toaster oven sized pan
to put the Simply bakes bag in. I knew I had tiny packets of Tabasco sauce at my desk, and figured cheese was a necessity in this venture. When I left for work that morning,  I grabbed the baguette, the fish from the freezer and Trader Joe's truffle goat cheese from the fridge, threw them in the bag with the pan and jetted to the train.
Spicy Baked Tilapia and Truffle Goat Cheese Sub at Work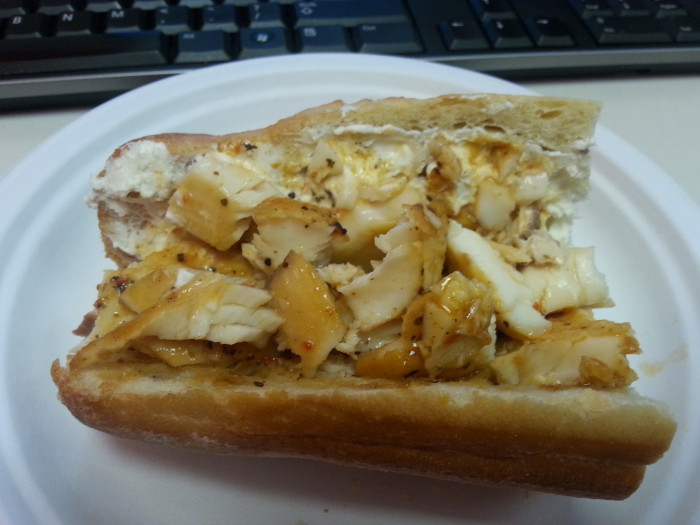 Ingredients
1 Gorton's Seafood Simply Bakes Tilapia fillet (if you only have access to a microwave, you can use the Gorton's Grilled Tilapia, but it won't be as saucy)
6-inch French baguette
1-2 oz truffle goat cheese
Tabasco sauce to taste
Process
Preheat toaster oven to 350 degrees Fahrenheit
Put the fish in the toaster oven for 20-25 minutes
Remove fish and let stand in bag
Toast the baguette
Spread goat cheese on one side of the toasted bread
Flake the fish over the cheese
Drizzle sauce from the bag into the sandwich
Top it all off with a healthy spray of Tabasco
Devour
This healthy(ish) and delicious recipe is a result of working with my friends at Gorton's. This month, they've partnered with SparkPeople to focus on realistic resolutions. Now, you've all seen my 2015 resolutions, and I wasn't kidding. I'm not doing anything to lose weight this month. But I couldn't just send you to a site without checking it out. That's not my style. So, I signed up for an account and set my SparkPeople goals to maintain my current weight. I decided that I would check out the Realistic Resolutions 30-Day Challenge, and I'm really glad I did. SparkPeople offers a great tracking tool and community for you to get started on your weight loss (or maintenance routine). The challenge has 30 daily tasks, all of which are pretty simple changes to make if you're interested in getting started on a healthy journey.
The Giveaway
In addition to leading you to The SparkPeople and sharing my new favorite lunch recipe, I'm hosting a delightful little giveaway for some goodies. All you need to do is comment below with your favorite seafood recipe or dish.
One lucky winner will receive:
While you're playing the giveaway game, you can enter the Gorton's Eat Smarter Sweepstakes to win $5,000 or one of many daily prizes.
This giveaway has ended.
Blog Friends, what's your favorite seafood dish?
This post is brought to you by my friends at Gorton's. I was not paid to write nice things, but I did receive free products in order to give you my honest opinion. You can get social with Gorton's and like/follow them on Facebook, Twitter, Pinterest and Instagram using the hashtag #RealisticResolution.