Confession Friday: I went out on Black Wednesday. In sweat pants. And drank water. At a bar.
I'll bet you thought I was going to talk about Black Friday, didn't you? Admit it.
So, every year since turning 21, I've joined in on the "everyone's home for the holiday, no one has to work tomorrow, let's go out and get shmammered like we're still in college" holiday. The busiest bar night of the year, I spent many a Thanksgivings praying over my grandmother's toilet, unable to consume so much as a piece of cheese throughout the day. (To be fair, this had also happened on Christmas and Easter…I was a bit of a lush back in my younger days.)
Some years, (back in the owning-of-the-bar years), I would be working–though I often turned down the shift in order to participate in the debauchery of drinking with my peers, my brother, and my dad.
Last year, Brian and I went out to a fancy-pants dinner with some friends, where we ate, drank, and were merry…instead of doing the bar scene. But there was that air of "we don't have to work tomorrow" excitement.
This year, one of my best girlfriends is leaving me. Lily is packing up all her stuff tomorrow and moving to freakin' Iowa. (I know what you're thinking…who the hell moves from Chicago to Iowa?) I've been thinking that since the day she told me. But she's moving.
And since her going-away-party was not really a chance to actually hang out with her…because she has a lot of friends and I couldn't really get some legit Lily time out of it, I made her go out last night for karaoke at our local tavern of choice. Where we both drank water. And sang some karaoke. And I argued with some young early 20-something dude about almost everything.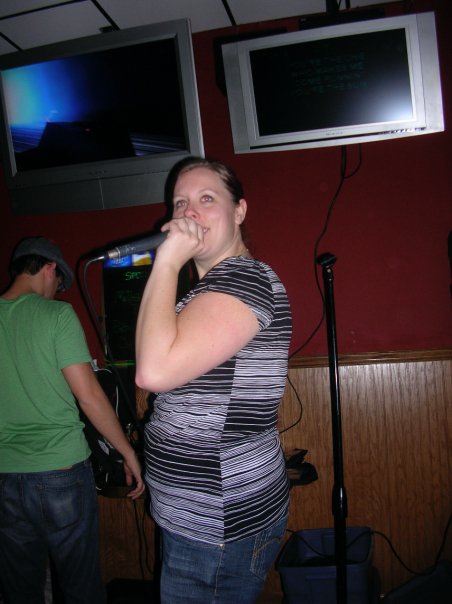 So I had fun doing the things we used to do before we got old. Except for drinking. Because we were both tired. And I don't like to drive on amateur nights with any alcohol in my system. Because people are stupid. And my insurance is high enough.
Enjoy the long weekend, kids!