I KNOW. It's like. Just BARELY the end of Halloween season. Thanksgiving week (yes, it gets a week) isn't quite here…actually it's coming late this year which is messing up my ENTIRE schedule…but whatever.
Brian won't let me put Christmas up until I take Halloween down…
BUT I LOVE my Halloween village. Thanks to my pal Brooke for introducing me to the crack that is Lemax Spooky Town.
So, obviously…I'm in the process of that…Expect Christmas to start…Sometime next week. Because I have a VERY busy two weeks surrounding Thanksgiving, what with ChiTAG and Chicago TARDIS and the 50th anniversary of Doctor Who Episode. Gosh, my life is so nerdy and exciting…don't you wish you lived here, too? Poor Brian.
But while you're waiting for Christmas to start over here, I'd love to offer you a holiday greeting. A Christmas card to be exact. I did this last year, thanks to the idea I borrowed from the lovely Lauren Filing Jointly, and it was awesome. Of course, it takes time. And planning. And envelop licking. And things. So I'm offering this opportunity early. Because our Christmas cards? Kind of rock.
Last year, Brian and I had our first, "hey! We live together and the girl in this relationship has decided that we're sending out Christmas cards together!"
Here was last year's: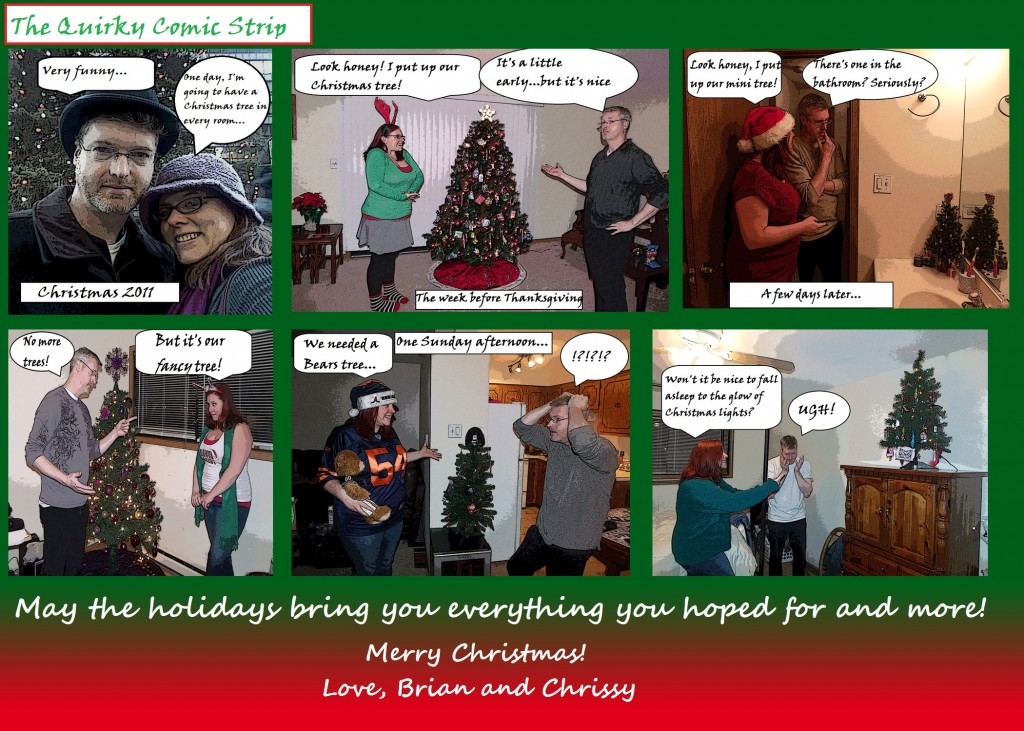 So if you'd like a Christmas card…and I certainly hope you do, send an e-mail to .