After a certain point in your relationship, people start asking questions. They ask if wedding bells will be ringing in the near future. They start grabbing your hand every time they see you, hunting for a giant, sparkly rock. They address invitations, thank-you cards, and holiday greetings to "Mr. and Mrs. _____" in an attempt to get a rise out of your male counterpart.
For me, this started about three years ago. His family. My family. Our friends. Everyone kept asking, "When is he going to buy you a ring?" For a long time, I laughed it off, showed them my empty ring finger and shrugged nonchalantly. A few months ago, I started answering with the truth.
I didn't want a ring.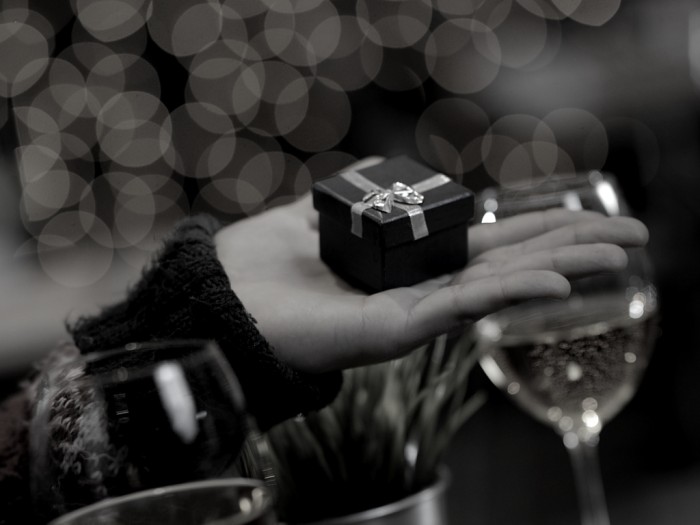 This is not to say that I didn't want to get married. I just didn't want an engagement ring. I love pretty jewelry, but I rarely wear it. In the first couple years of dating, Brian bought me necklaces and earrings that fit my personality perfectly. When I'm wearing these beautiful accessories, I think, oh, this is so nice. Maybe I'll start wearing jewelry more often. Maybe I'll be the girl who always wears fine jewelry.
Here's my actual MO: I'll wear the jewelry for a few weeks until I forget to put it on in the morning. I leave it sitting on the coffee table when I paint my nails. It gets left in the bathroom after I shower. Eventually, the necklaces, accent rings and earrings retire to my jewelry box, where they sit, collecting dust and waiting for some TLC. When I remember them, I pull them out for special occasions – weddings, special date nights and fancy parties, but then they go back to the jewelry box for another couple of months.
After nearly five years in a relationship, Brian and I have built a life together. We purchased a house and established our own little family of two. We talk about the future, marriage and babies. As a proposal drew closer, I'd begun hinting at not wanting a ring, but I wasn't convinced he believed me.
We finally had a conversation about engagement rings, and I told him I've never had strong feelings about my dream engagement ring. I've fantasized about the ceremony, cocktail-hour cheese display, reception, honeymoon, and marriage, but never about the ring. It just wasn't important to me.
I asked him if it was important to him that he buys me a ring. He wasn't entirely sure. You know what worried him most? What other people thought. He didn't want to disappoint anyone. I told him that we were probably going to disappoint a lot of people when we started heading down that path of wedding and marriage bliss. Not everyone will agree with our decisions for the wedding, how we choose to raise babies and God only knows what else.
I realized that his concern was mostly with social conventions, and I started thinking about my heirloom jewelry collection of rings passed down from my parents. I told him, "Just steal my great-grandma's ring from my jewelry box, and we'll be cool."
He didn't look swayed. We locked eyes and I explained I have a beautiful heirloom ring that belonged to my great-grandmother. I would be honored to wear it and have my family be a part of our wedding.
We considered the financial implications of buying a ring. To fit the industry standard, he was supposed to spend about $4,000, and so we talked about the things we could do with that money. From remodeling the bathroom to finishing the basement, planning a big wedding with our family and friends or paying for the honeymoon of our dreams, it seemed to me that stretching $4K further than a size 8 ring would be a wiser investment. And let's be honest. A four thousand dollar piece of jewelry that I may wear for a year at most? My soul cries for the amount of cheese I could buy with that kind of money.
Sure, he could buy me an inexpensive ring, but I'm perfectly content with an heirloom piece that represents tradition and family. How cool is that? After I made my case, Brian finally understood and was on board with the plan to use my great-grandmother's ring to signify our engagement. To hell with what everyone else thinks about buying a fancy new diamond. The ring I wear for however many months we're engaged will be super pretty. And won't have cost either of us a dime.
A week before we got engaged, he asked me one more time, "Are you sure you don't want me to buy you a ring?"
I responded with a very confident "yes."
I wanted to shift the focus from showing off the ring to sharing the excitement about committing ourselves to each other. And so, when my best friend silently pilfered a ring from my dusty, rarely opened jewelry box and asked me to be his wife, I promised to try and wear that ring every day. But for better or worse, when I forget to put the ring back on after washing the dishes or taking a shower, it can live safely in my jewelry box (I hope) while that four grand remains untouched in our savings account.
How do you feel about engagement rings? Do you have one/want one/not want one? Am I just a weirdo?