If you've been here for a while, you already know I'm not a fan of traditional New Year's resolutions. A few years ago, I even came up with a monthly list of ways to dominate next year without a typical resolution, which I continually utilize as a guide for success.
Now a lot of people who don't do traditional resolutions like to choose a grounding word that they use to guide them through the year. I'm not that type of girl. I'm more of a fly-by-the-seat-of-my-skirt gal, myself. Instead, I choose to label my year as it begins to play out or even at the end of the year. And this year was so perfect, you guys. I mean, not everything goes according to plan and things change and resolutions are hard to follow, but wrapping up your year with a bit of positive energy never hurt anyone.
And so I thought I'd tell you how I categorize my years.
In previous years, I've had The Experimental Year, a year of trying different stuff in the world of dating and boys, which was also the year that ended in a chance meeting with a handsome Irishman at a bar. I've had the Storytelling Year, in which I asked myself, "Will this make a good story in the morning?" and if the answer was yes, I did it, regardless of whether it was a "good" or "bad" idea. I've had good years and weird years and even bad years (like the Year I Didn't Feel Good Enough; though I also came away smarter and more ready to tackle the world than ever before). And I always try to find the positive spin to the end of the year instead of wishing it away like just another fucking zit. (Side note: I hesitated in linking the aforementioned piece because there was a surprising amount of backlash to it. And that backlash made me want to stop writing, but I won't self-censor any longer because that post wasn't specifically about 2016. It was about every year.)
I take the biggest changes, most exciting adventures, and my highlight reel and try to find an underlying theme. This year started shaping itself before I even realized it was shaping. And it all started with a fake resolution.
I play games
At the beginning of this year, I thought I'd be cheeky and come up with a ridiculous New Year's resolution. I made three. Two of which I'll actually hit. 
Play 365 games
Play 100 DIFFERENT games (so that some of those 365 could be repeats)
Play at least 25 different games that we own and have never played
Number one…that one is probably not going to happen. Unless we can play like 200 games in the next 3 days. Doubtful. But that's okay. I had fun.
Number two…I have six more games to play. MUCH more doable.
Number three…DONE. Well, at least we made it through several of our untouched boxes (of course, we also bought a few new games…)
Silly resolution aside, gaming was a good start to a truly magical year.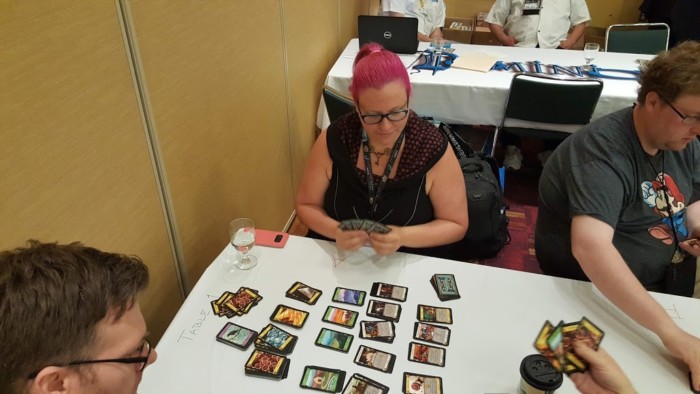 I play with video
I've been dabbling with some different video styles on YouTube. I started a few things that could absolutely become the first of their own series (C-Rex Adventures, 60 Seconds of Chrissy), but we'll have to see where 2019 takes us! It's all in good fun which, for me, is super important. I can't take myself too seriously, guys.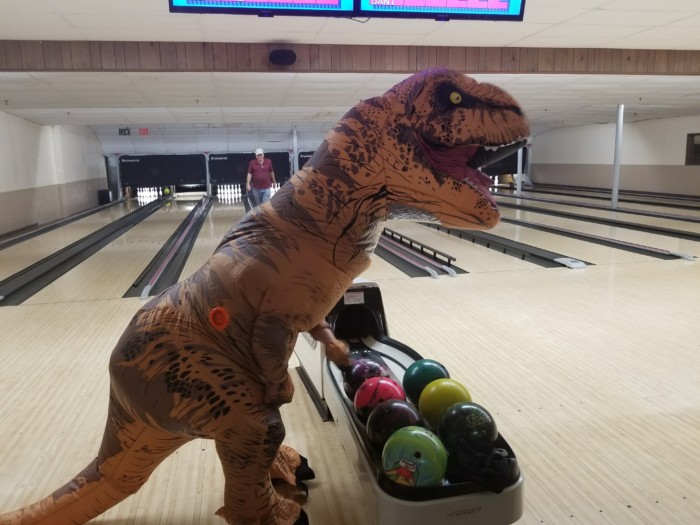 I play dress up
In March, I took on something called The Disneybound Challenge. Every march, an Instagrammer/Blogger runs an Instagram photo challenge for people who DIsneybound (for those of you not in the know, this means dressing like Disney characters, something I apparently have a knack for. I nailed it for 31/31 days and continued to play dress up throughout the year (today, I'm wearing an outfit inspired by Moana's Hei Hei).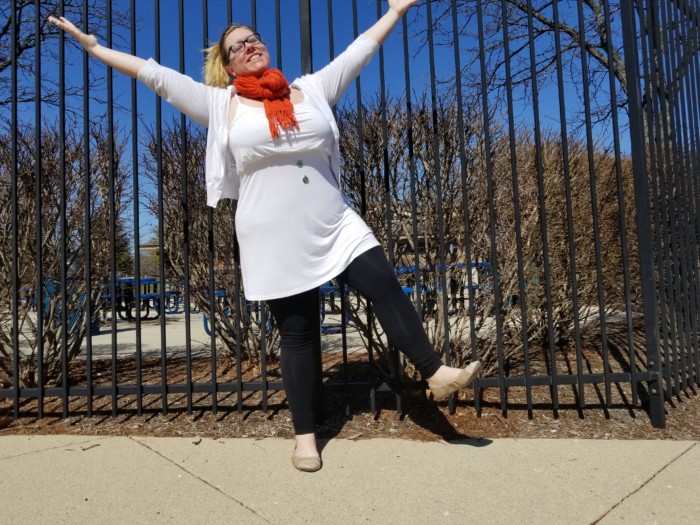 I play pretend
In April, I began training at The Second City Training Center. In March, I'll finish a year of improvisation and "graduate" from the A-E improv program at SCTC. Since August, I've performed in eleven shows (all student shows, but performances on Second City small stages nonetheless), with at least seven more shows before March comes to an end. When you're improvising, you're basically doing what small children do in free play — you make up stories. Sometimes you're the mom. Sometimes you're the baby. Sometimes you're an accountant named Stan. But always, you should be having fun playing with your castmates and classmates.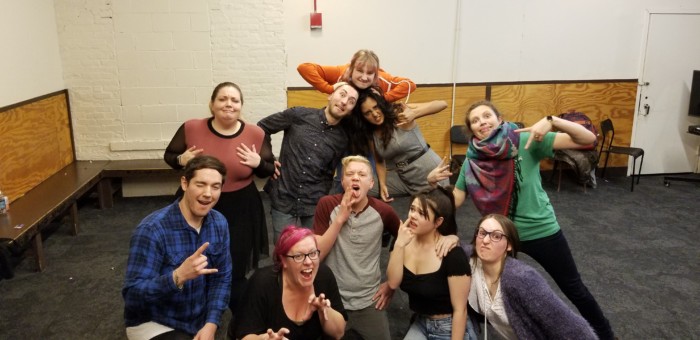 I play house
Sometimes, I even pretend to be a grown up with my Grown Up. We have a really neat house that I have spent a lot of time in this year (thanks to the job quitting and the new puppy). I may make a terrible housewife, and I'm a horrible housekeeper, but I am good at playing house. You know. Pretending to be good at those things. On social media. And when we host parties. But definitely not in real life. There are rooms in my house where the clutter goes to die. I'm trying to fix that, but it's a lot harder to get rid of clutter than I thought.
View this post on Instagram
I play with my hair
After years of planning and scheming, Kaitlyn and I finally took the plunge and dyed my hair hot pink. (Kaitlyn is my incredible stylist. She's pure magic). We started with a super sweet gentle pink, and now it's this hot pink, bold AF shade that I cannot get enough of. I'm never* looking back.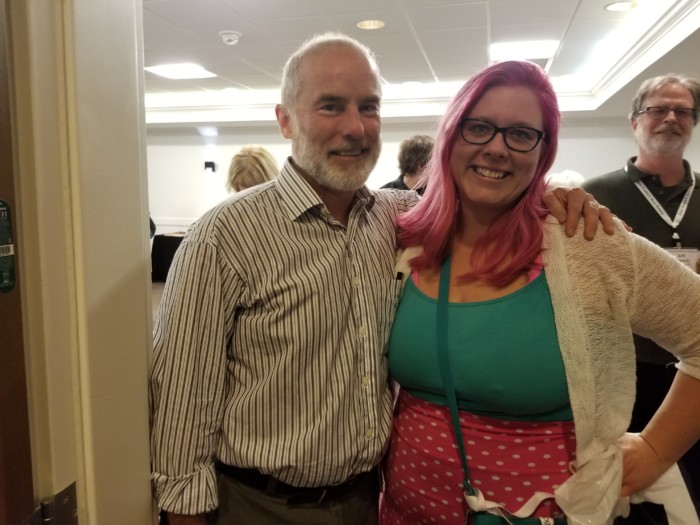 I play with puppysaurus rex
Adopting a puppy was one of the craziest things we did this year. Not only did this furball full of love and ENERGY enter our world, she dominated it. There is something magical about a creature that wakes up with the sun and says, "It's time to play!" She naps when she's tired and wants to play the other 77% of the day. This is a lifestyle I can get behind. Now if only her version of play was the same as mine. Unfortunately, two black lips and a few deep scratches later, we've learned the importance of training our sweet girl (but we always train with games and play and toys and treats instead of negative consequences. And boy does she love toys and treats! (I think I may have spent more on Nia's Christmas than Brian's…don't tell Brian).
I play Disney (and that other park with Harry Potter [ and that OTHER park with Bugs Bunny])
After immersing myself so heavily in Disney Instagram, I became obsessed with needing to get back to the parks. I wanted to knock Dapper Day off my bucket list and asked my pal Laura if she wanted to go. When she said yes, I booked a hotel for November and started planning. When my cousin invited Brian and me to visit Universal Studios with him and his wife in October, it sealed a deal I made in my head. I was going to get an annual pass to Walt Disney World. (If you go more than once, the price of the pass is worth it (especially with added discounts and perks and such). I was lucky and able to use credit card points to reimburse my Disney pass purchase, so it was essentially "free" in my head, which makes it all the more logical. To me. And so I visited the happiest place on earth twice in a matter of two months, catching both the Halloween and Christmas seasons. And then…just for fun…because it's close to home and the season pass was so cheap…we got season passes for Six Flags (Great America, but we can go to any of them with the pass). I guess I'm kind of a theme park addict…
And so with that, I give you Chrissy's Year of Play. In which I truly embraced my inner child and let her help me find the joy I need to live this life and take the next steps on my journey. Being a creative is hard. Being an empath is FUCKING hard. Learning how to free yourself to determine your path? So hard. But so worth it. I honestly believe that my role in this world is to bring joy and laughter and share that light with you. And so when you see me behaving like a kid in a candy store with a light-up skirt and hot pink hair, remember that we all have a part to play. This is mine.
*I reserve the right to change my mind on the "never" at any time. 
If you could put a theme to your year, what would it be? What are your highlights from 2018?