I may or may not have the urge to name my first born child Stormageddon.
For those of you who don't know, I recently immersed myself in the complete and utter nerd-dom of Doctor Who. And once I dive into something that major, I obsess. Seriously. Fucking. Obsess. So obviously, I watched the entire modern series in a matter of 2 months. Did I mention that I obsess?
Like when I saw this shirt. I needed this shirt. So I bought this shirt. I can't wait to nerd out in it at a con or two.
So yesterday, I'm not sure if you heard this or not, but Chicago kind of drowned a little bit. Flash floods across the suburbs. Roads blocked. Commutes delayed. Cars destroyed. Scary terrifying thunderstorms. Power outages. A boat load of not good. An ARK, if you will…
Needless to say, I DID NOT leave my apartment yesterday.
How does this all relate?
My girlfriend in Arizona Facebooked, "What the hell is going on in Illinois?!" And I replied with "Stormageddon."
And then I remembered the episode of Doctor Who in which I told Brian that our first born child would be named Stormageddon. And then I Googled it for some fun things for you.
You're quite welcome.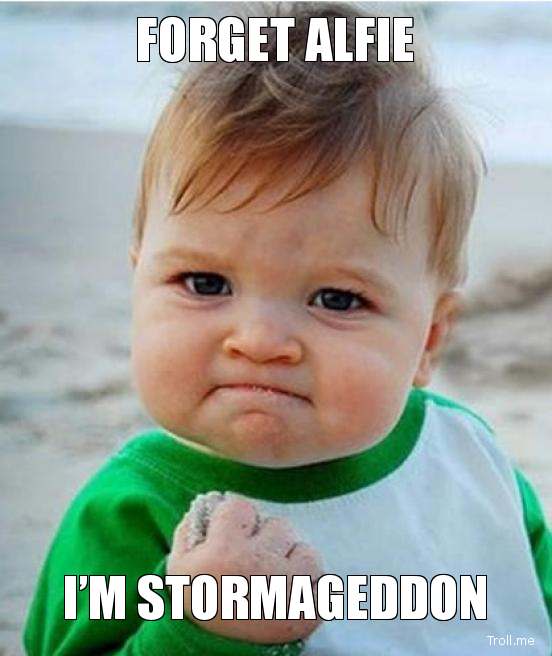 If you want more Stormy Baby Pictures and Doctor Who Joy…It's possible that I could spend hours on this Doctor Who Tumblr…
Happy Friday Everyone! Have you ever braved a terrifying storm? Snow Storms or Flooding Rain Storms? Tornadoes? I'm petrified of them, but I do love a good story…