I've been dreaming of wine and cheese lately. I'm not sure why, since I happen to have a pretty decent stockpile of both wine and cheese in my fridge. But it happens.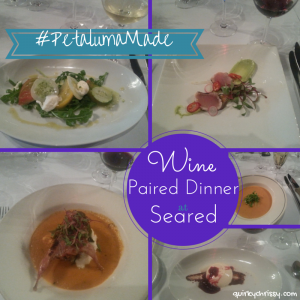 Remember back in July when I was all over social media with some of my new blogging buddies telling you how fantastic Petaluma, California is? Well, I absolutely HAD to tell you about the wine-paired dinner that we had at Seared. It definitely hit the level of meal-amazingness that our Disney dinner at Cat Cora's restaurant had.
After a day of boozing and wining through the Petaluma countryside, we made our way back to Seared, a fine dining establishment in downtown Petaluma for dinner. We were greeted by a lovely collection of Petaluma business owners, wine growers and farmers.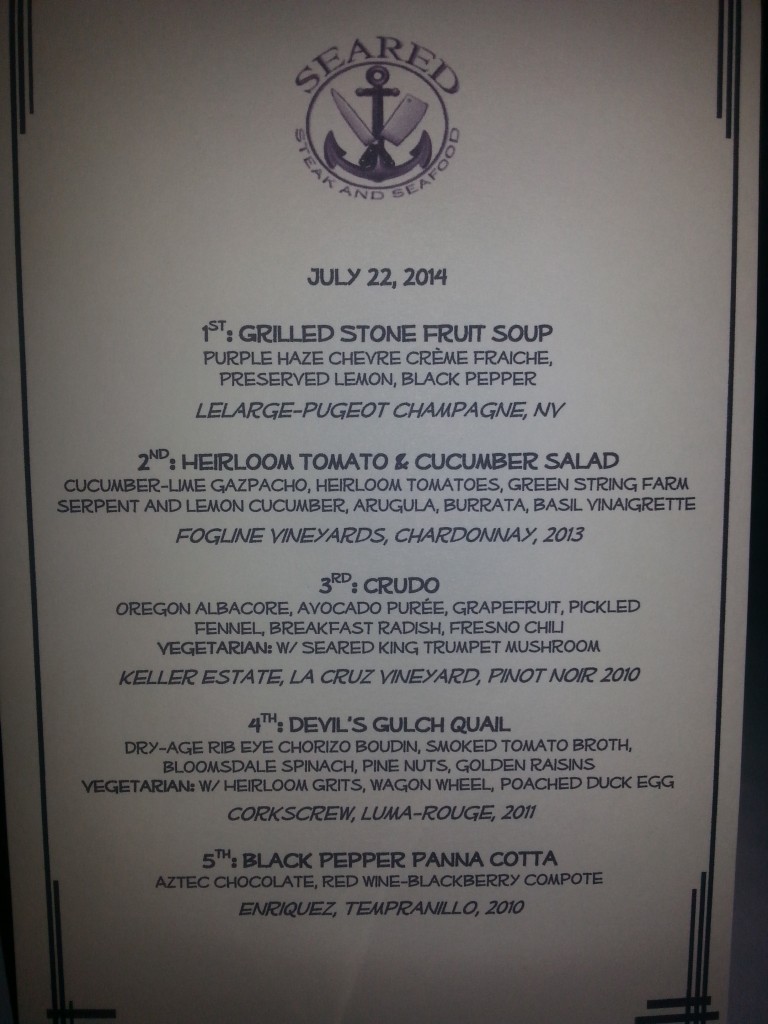 While the 5-course dinner itself was exquisite, the experience was what truly made this meal magnificent. Brian couldn't stop bragging about how awesome it was that the chef came out and described each course in detail, followed by a short description of the wines by the wine owners and growers, and in one case, the farmer who raised the quail. It was the ultimate in dining style.
Grilled stone fruit soup
The first course was a stone fruit soup garnished with baby greens, creme fraiche made of Purple Haze (a lavender and fennel pollen chevre goat cheese from Cypress Grove), preserved lemon and black pepper. The flavors melded together perfectly for a phenomenal soup.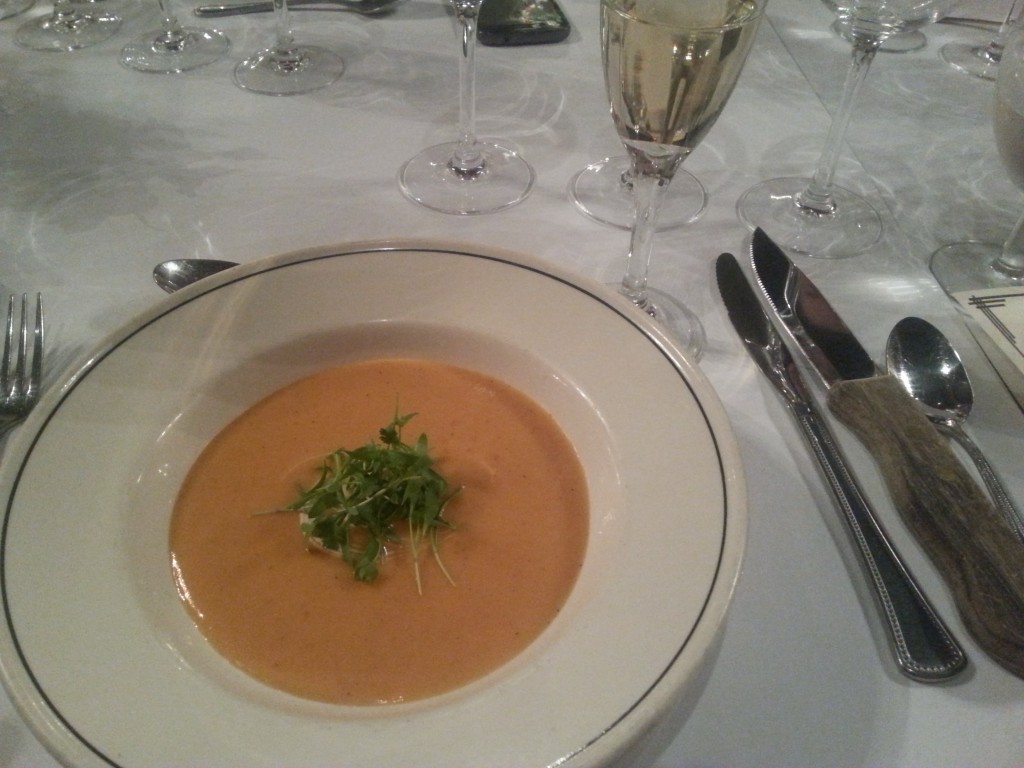 Paired with the soup was Lelarge-Pugeot Champagne, which was represented by the lovely Clémence Lelarge, whose family vineyard produces this delicious Champagne in France.
Heirloom Tomato and Cucumber Salad
This course was absolutely delightful and refreshing. Have I told you how much I love arugula? The cucumber was sliced thin, the tomatoes were amazing and the burrata complemented the salad perfectly.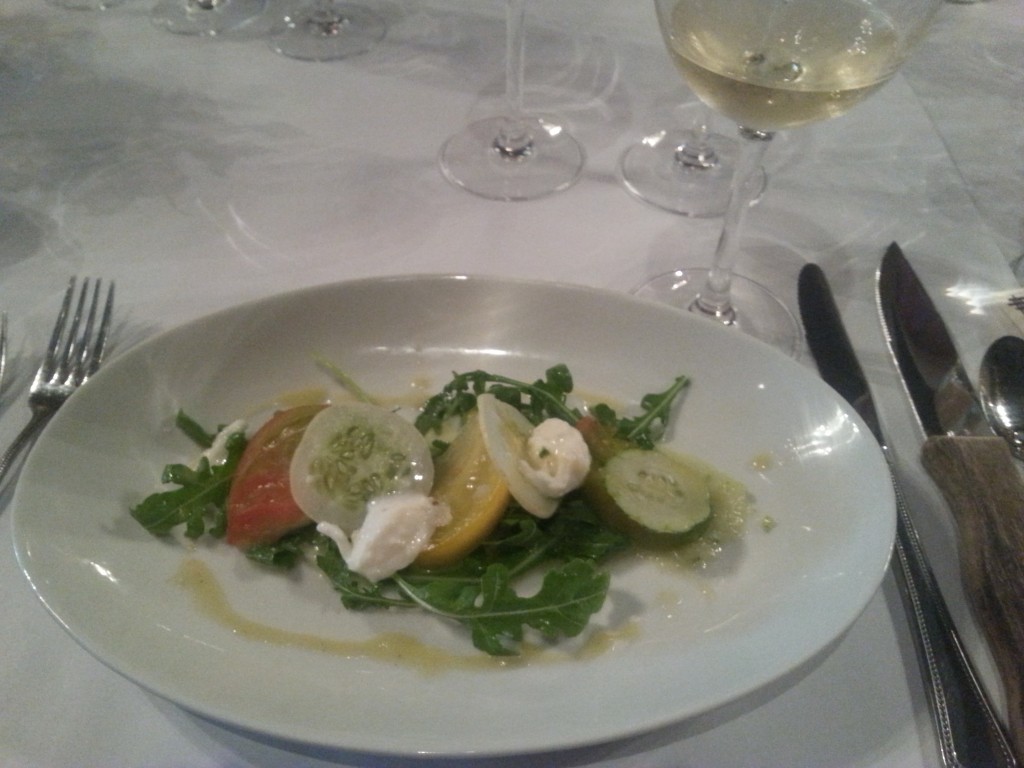 This was my favorite course of liquid joy, featuring the Fogline Vineyards 2013 Chardonnay with a lovely introduction presented by winemaker, Evan Pontoriero. This wine was sunshine in a bottle. Brian and I came home with a few bottles of this brightly flavored wine.
Crudo
This delicious raw dish featured a flavorful albacore and a unique combination of accouterments to create a delicate balance of complementary flavors. Brian (who, as you may remember, despises seafood) and the vegetarians all received a similar dish with a trumpet mushroom instead of the albacore. The culinary geniuses in the kitchen made every effort to accommodate our entire group and all their dietary restrictions.
This dish was paired with the La Cruz Vineyard Pinot Noir from Keller Estate, as introduced by the delightful Anna Keller, who I had the pleasure of sitting next to during dinner. I love a good pinot, and this wine was decadent and delicious.
Devil's Gulch Quail
Our main course was this amazing quail, stuffed with a rib eye chorizo boudin surrounded by a smoked tomato broth and topped with spinach, pine nuts, and golden raisins. After the chef discussed the course, we were treated with a short presentation about the quail and Devil's Gulch Ranch from owner, Mark Pasternak. As I gently tried not to make an ass of myself, eating the quail with a fork and knife, both Anna and Mark were found teasing me for not just picking it up and going to town like everyone else. I was pretty proud of myself and the fact that not once during this meal did I dribble, spill, spit or splash!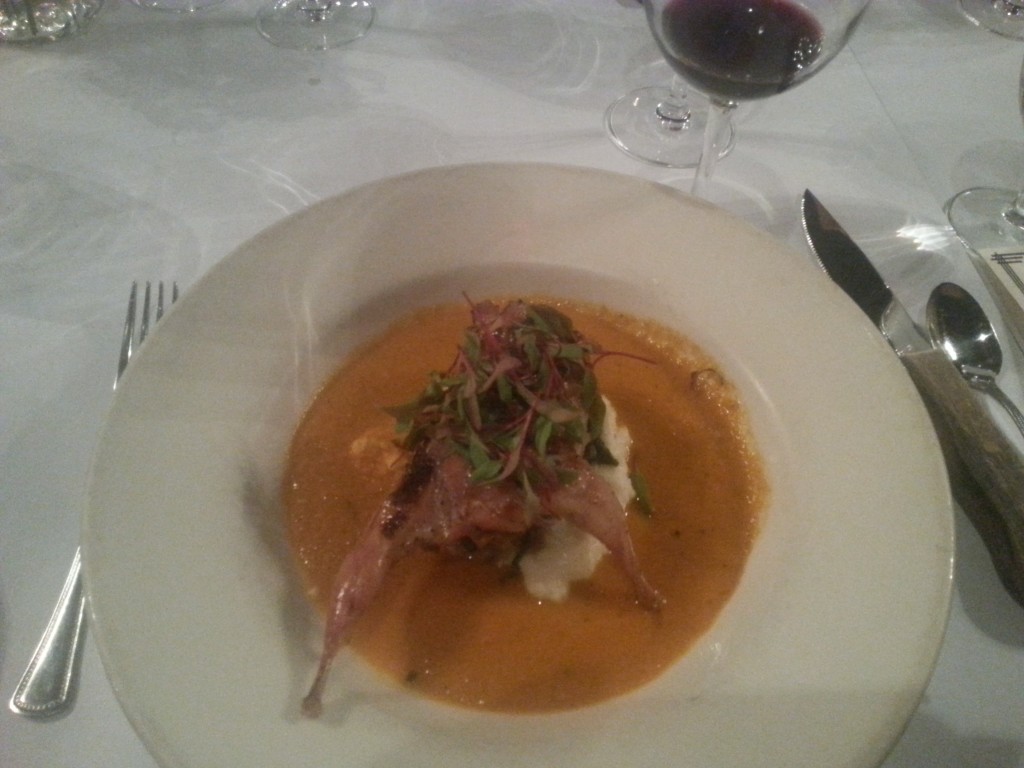 The quail was paired with that tasty Luma-Rouge from Corkscrew Wines that we sampled earlier in the day at Azari Vineyards. A perfect pairing for a fine meal!
Black Pepper Panna Cotta
I had never consumed panna cotta until this event. I didn't even know what it was. Cake? Pie? Pastry? Jello? Pudding? It was its own magical sweet dish that made me want to pick up the plate and put tongue to remnants. But I refrained. Because I'm respectable.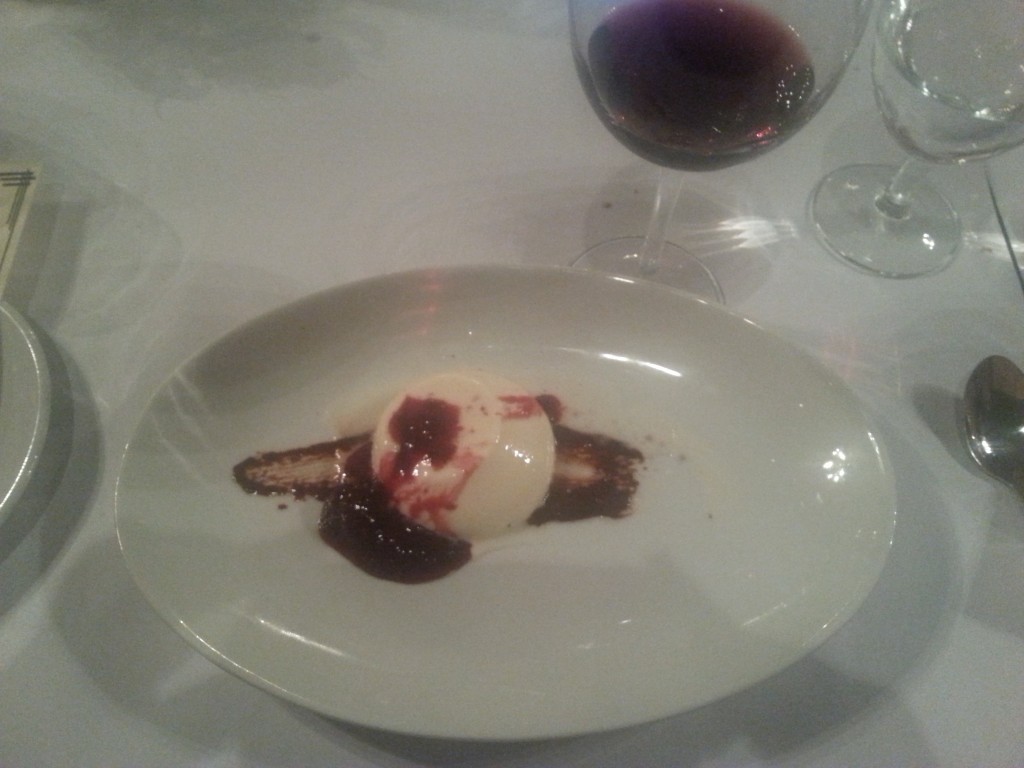 The panna cotta was finished with Enriquez Vineyards Tempranillo, which was the happy ending of an amazing meal. Cecilia Enriquez, wine owner and maker briefly spoke about the wine, which we had the joy of tasting earlier in the day, and she thanked everyone for their participation in this wonderful trip that was her brain child.
One of the most amazing aspects of this meal was the introductions from the winemakers and owners (and the rancher who supplied the quail!) describing their wines and their stories. This was an experience that could not have been matched, and I can't wait to visit my friends in Petaluma again soon.
Blog Friends, what's the best meal you've ever had? Have you experienced a wine paired meal? Tell me about it!