I try really hard to be a mostly positive person. Sure, I bitch about shit. Life's life, guys. Shit happens. Bitching happens. And Hate. Hate unfortunately happens. Not my hate, though…someone else's hate was spewed on me. Just like that one time I got hate mail from MySpace. And so my dear friends I am offering you a piece of my past.
I Used to be a Waitress Server
I grew up in a bar, so it wasn't unusual that I found myself working in restaurants and bars whenever I wasn't working a full-time job. For about 6 months, I worked as a waitress an Irish pub (you know, the dark wood, make the servers wear kilts and knee highs kinda place).
But at the same time. After that job, I swore that I would never be a waitress again.
I'm going to give you a little glimpse into the why.
One afternoon, two very unhappy looking ladies entered the bar and sat in my section. They ordered chips, soup and salad. No beer. No booze. And no smiling.
So I tried to be my chipper cheery self.
Unfortunately, they also got to meet my super klutzy self. As I was clearing their plates away (and God forbid they should have attempted to move out of the way just a smidge so that I could easily access the empty plates that they wanted removed…), I accidentally tipped the dressing boat/ramekin and some spilled out. Most of it went to the floor, and a few drops landed on this girl's winter coat. I rushed to clean the mess, and apologized profusely, but I was met with disdain. Disdain for me being a lowly server. Disdain for my MASSIVE life altering error. Disdain for me as a human being. And I apologized. And this girl glared at me. And I offered to pay for the coat to be cleaned, because God forbid you spill anything on an old-looking, dark colored coat…
She paid the bill, and forgot to leave me a tip. I'm going to assume she forgot. I mean, she must not have realized that servers get paid like $4/hour if they're lucky.
Seriously guys, I've spilled ice cream on bridesmaids that were nicer to me than this girl was. I went home and cried.
A few weeks later, my boss came to me with the following (on which I've blacked parts out to protect the guilty.)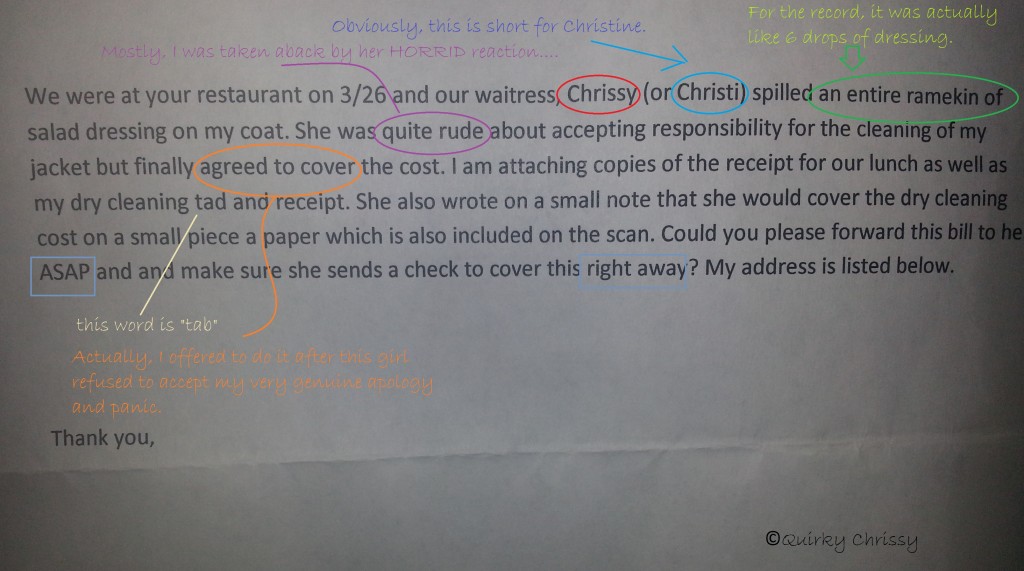 If you're wondering whether I sent her the check? I did. A few weeks afterwards…I wasn't making a whole lot of money at said bar…I didn't think she was that desperate for the $20 based on the fact that she spends $20 to dry-clean one item…
Unfortunately for this girl, the check was returned to me about 3 weeks after I retired from waiting tables. Apparently, she gave me the wrong address.
I didn't think it was necessary to seek her out.
For the record, guys…ALWAYS be nice to your servers. The Golden Rule ALWAYS applies. Even when it's lowly, bitchy waitresses. Because one day, she might be almost famous and tell the story about how you were mean that one time.
Were you ever a server? Bartender? Anything in the service industry? Dealing with people sucks, amiright? Tell me your story!