Well, this week has been quite the whirlwind! Tom and I managed to snag tickets to the Walt Disney World annual passholder preview for Galaxy's Edge, and I have a full trip report coming next week, so make sure you're subscribed for email updates.
Today, I'm talking about Star Wars style at Disney. Because when you head to Batuu, you'll definitely want to get into the jedi spirit. I don't say this solely because I like playing with fashion and style, but because it is 100% part of the experience. The cast member interaction is incredible, and the right outfit can actually enhance the interaction to the point where cast members will start talking to you about the resistance and the first order.
Now, because this is a part of Disney World, you still have to follow Disney's rules regarding what is and isn't allowed. Costumes are only allowed for guests ages 14 and under, with the notable exception of Mickey's Not So Scary Halloween Party, a separate ticketed event in the Magic Kingdom. And while you can buy some pretty amazing-looking cloaks, robes, and fighter pilot costumes in Batuu, you can't actually wear them in the parks.
With that in mind, there are still a few different types of looks you can choose if you want to get into the spirit of Galaxy's Edge (and ideally secure some of those fun cast member interactions).
Graphic tees and Star Wars symbols
Obviously, a Star Wars graphic tee will always fit in and absolutely has its place in Galaxy's Edge. You can also wear other Star Wars branded clothing, like skater dresses and skirts with one of the many symbols of the various alliances in the Star Wars 'verse.
What about the armies of R2 units disguised as flowers?I thought about wearing this low-key HerUniverse skater dress (I did see other ladies wearing it in the park), but two in-park outfit changes was already stretching my 4-hour time budget, and I was really excited about the other two looks.
Costume-y skater dresses
One of my favorite ways around the no-costume rule is to wear a skater dress inspired by a character. You can find all sorts of fun cosplay-light looks that won't break the bank or the Disney rules. My first outfit in Batuu was this AMAZING Chewbacca skater dress. I received this dress from my friends over at TV Store Online (who like to send me quirky things to wear to random events like Jury Duty and other epic places) in order to provide an honest opinion of it, and I absolutely love it! I considered getting the non-furry Chewbacca version of the skater dress, but then I remembered how extra I am, and if I was going to Batuu, I was going big.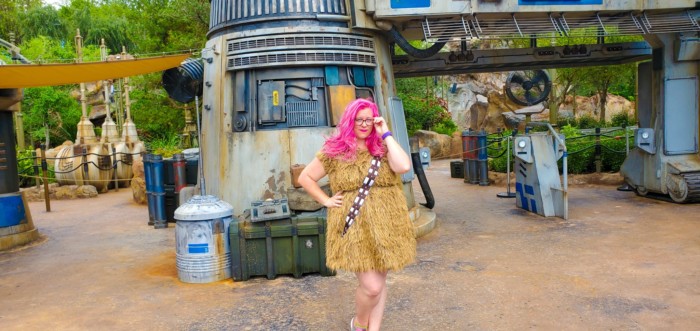 So there I was, wearing a fur dress in August in Florida. Granted, it was after 4 PM, so the midday sun was fading, but it was still a toast position to be in. In fact another cast member walked up to me and told me, "Batuu has two moons…and three suns." And then she looked at me like I was insane.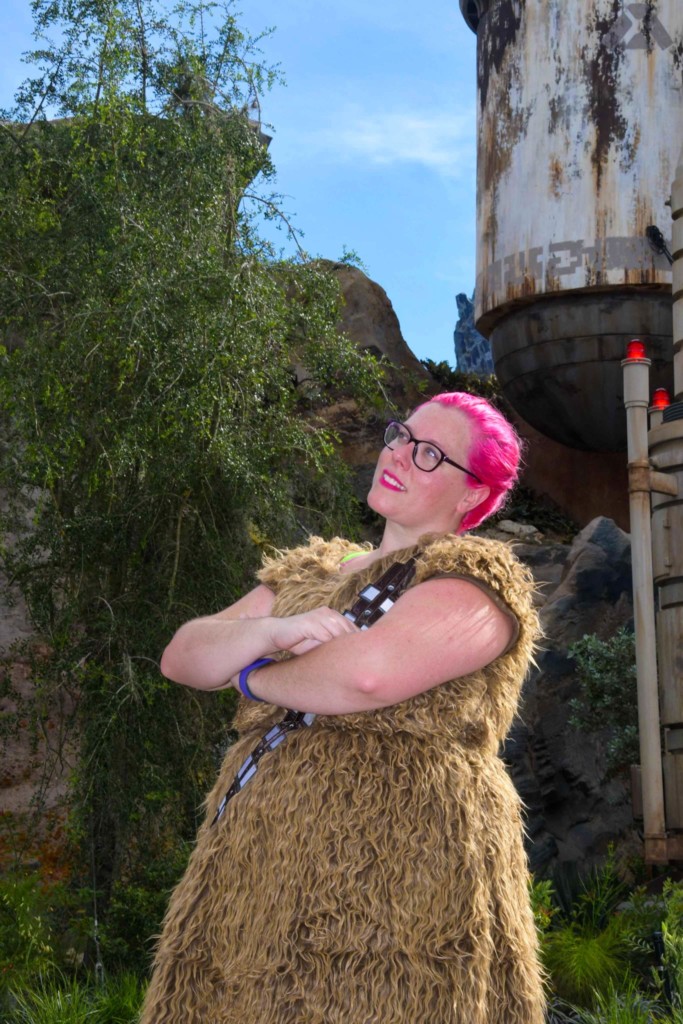 To be perfectly honest, gang, I had every intention of putting the dress on (which I did in the middle of Batuu over the neon green tank top and shorts I was wearing under my Buzz Lightyear Disneybound) and taking it off immediately after a few solid photo opps. But something surprising happened. I never overheated. I didn't even feel that warm. There were fans blowing in the land, creating a nice breeze. The interior shops and spaces had A/C blowing, and I was keeping myself SUPER hydrated. I also refrained from drinking alcohol (a must for me when it's as hot as Florida is in the summer).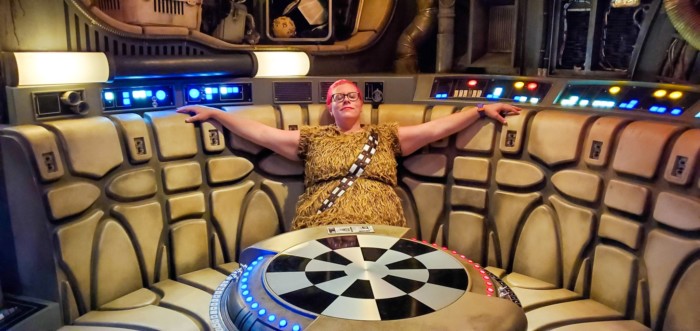 And so I spent two+ hours in the dress. We rode the Millenium Falcon, took lots of photos, had dinner, and wandered the shops. It was comfortable, looked AWESOME, and provided countless opportunities to engage with cast members. I also got a lot of compliments, which is always a confidence booster. I would have worn it the entire time if I wasn't carrying around a backpack full of clothes, including a skirt I was super stoked about.A couple things to note about the dress: it is furry, so it does shed a little. It is also a little snug in the arms, so I recommend sizing up if you are able.
Disneybounding
The last look you can use, and my all-time favorite way to dress up in the parks and at home, is to Disneybound a character from the movies.I found the most perfect skirt while thrifting a few months back, and I knew it would be a perfect way to check out Batuu. I only had to find a character that would work. After much Googling, I came across the scene of Padme Amidala packing for Naboo. And I knew what I needed to find: a sparkly tank to wear under a black vest I already owned.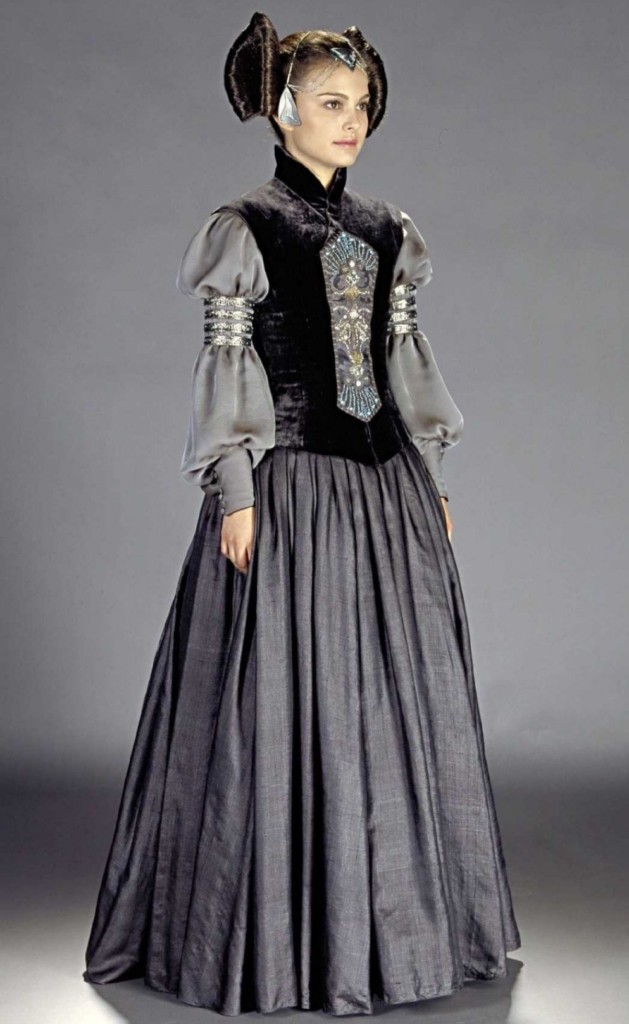 I was super excited to put together my thrifted outfit once I found the perfect black and silver sequin top just days before leaving for Batuu.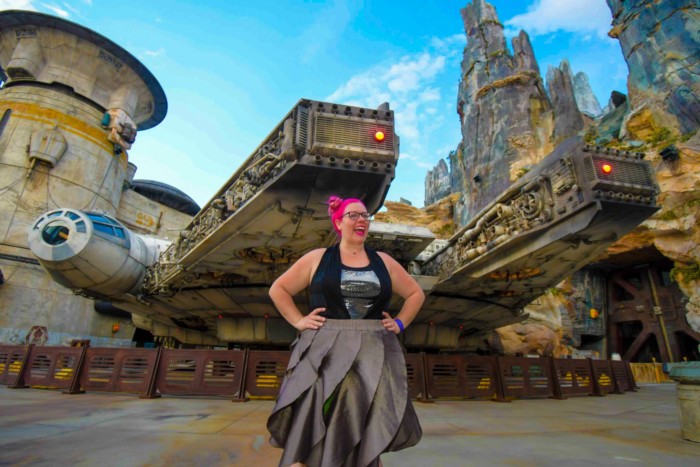 It was comfortable, breezy and looked fun in Disney Photopass shots, but it didn't get as much uninitiated interaction from cast members.
Are you excited for Galaxy's Edge in Florida (or even California)? What would you wear to Batuu? Let me know in the comments below!