Happy October, Blog Friends! It is now officially acceptable for me to get excited about Halloween and BOY OH BOY am I excited for Halloween.  Of course, we won't be throwing a Halloween party this year. And we don't (yet) have a house to decorate for one of my favorite holidays, but big things are happening this month. Big things.
I figured I'd kick the season off this year with a little Halloween costume love.
A few years ago, whilst I was dating the bartender, I came up with the most brilliant Halloween costume, if I do say so myself. Mom and I were sitting in her room, brainstorming ideas. My mom is a BRILLIANT costume creator, so it only seemed right to run ideas back and forth with her. I was broke, out of work, and in college, so I knew I wanted to keep it cheap. I figured I had a couple of bridesmaid dresses hanging around my closet to use, so we started thinking about ideas…
The next thing I knew, I was plotting the ultimate bouquet toss winner Halloween costume. I started with the dress, which I ripped to absolute shreds. Then I bought fake nails, which I glued into the shredded dress. I saved a few of the nails, which I left to put in my hair.
On the Saturday before Halloween that year, my mom and I got to work for all the parties I was headed to. We started with my hair, spending an hour creating one of those bridesmaid-esque updos. As soon as it was finished, I pulled and tugged and messed it up. It was important work. I then stuck fake nails into the knotted mess and even a few flower petals.
I put on the dress, so Mom and I knew what skin space we were working with. We started with bruising, using a plethora of eyeshadows to create blue-gray-green bruising all over my body, including one black eye. We moved on to scratches (with all those broken nails, scratches were a must). This was accomplished with real scratches (light ones) that Mom traced with dark red lip liner to maintain them all day long.
I needed to add a smidge of fake blood, so I put one earring in, and blood coming down the other ear. I also figured a bloody nose would look pretty convincing. I finished the look with a single high heel, crutches and an ankle brace because I'm hardcore.
My then-boyfriend picked me up for our Halloween festivities in a hoodie and camo pants with a mask in his backpack. A mask that he may have put on twice throughout the entire day.
We started at a Halloween wine-tasting event at my local liquor store, where I was competing in a costume contest to win a wine refrigerator. I walked around the place, petitioning my cause and making sure that EVERYONE voted for me. If ever I had to explain what I was, I had a whole speech prepared.
"I caught the bouquet. You should see the other girls. I mean, it's not what catching the bouquet MEANS…it's about taking out the competition."
I went home with a wine refrigerator that day.
Last year, at work, I thought I would revive my favorite Halloween costume of all time. I took it to a more gruesome level, and was pretty pleased with the results.

I may have looked more like a zombie than a live person, but I couldn't stop adding gore. I especially liked the knee cut. I won a contest there, too…but never received my prize…grumble grumble grumble.
Of course, the best part about this was taking the train home in costume. I looked fucking spectacular, and it wasn't Halloween proper, so no one else on the commute was dressed up. It was kind of magical.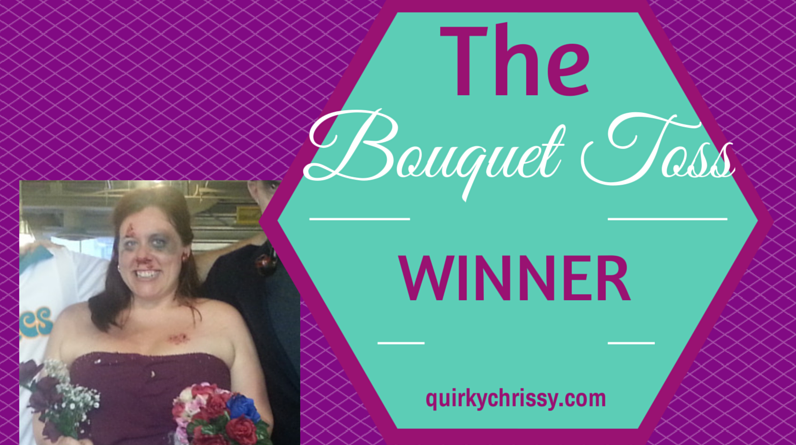 I still don't know what Brian and I are going to be for Halloween this year, but it's sure to be a scream.
Blog friends, what's the most creative costume you've ever come up with? Would you rip a dress to shreds to have fun with Halloween? Are you down with the gory costumes? What are you going to be for Halloween this year?