This post is part of a sponsored post series about the steampunk lifestyle. This campaign is sponsored by Steampunk Goggles. All opinions are totally my own. 
Do you know what Steampunk is? Thanks to my partnership with SteampunkGoggles.com, you're going to be treated to a series of delicious posts this month about Steampunk. And if I have my way…a guest post from my boyfriend. (No promises, there, kiddos. I don't always get my way. This isn't Burger King.)
So I'll ask again. Do you know what Steampunk is?
I didn't. Well…until I met my boyfriend.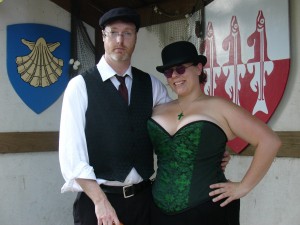 So, I've always had an obsession with the Victorian era. And apparently, so has Brian. What made the two of us slightly different was that while I was reading Jane Austen and dreaming of Fitzwilliam Darcy, Brian was rocking with cool Steampunk goggles, gear and dreaming of vintage sci-fi magic. Brian was down with Steampunk. And so I learned a bit about it. And we see it in some of our annual adventures. Steampunk costumes show up during cosplay at Gen Con and Comic Cons. We even went to Steampunk Day at the Bristol Renaissance Faire! As you can see, I've taken it to heart.
The short form of Steampunk is this: Victorian science fiction. Or technology as imagined during the Victorian age. But the beauty of Steampunk is that unlike most genres, there isn't a set "This. Is. Steampunk." You'll find thousands of variations and twists and spins. You can look to Jules Verne and H.G. Wells for inspiration, as they were front-runners in Turn of the Century science fiction.
So you've probably noticed that this is something of a geeky nerd culture. But it's totally geek chic. Obviously. If I'm involved.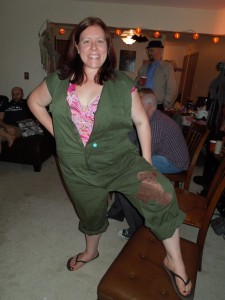 The thing I love about Steampunk is the DIY/anything can be Steampunk aspect. Take my Kaylee Frye Halloween costume (Check out that Teddy Bear patch that I MADE BY. MYSELF. I'll write about how easy that was on another day.) While Firefly isn't truly in the realm of Steampunk, it definitely falls into the unique category (for those of you who don't know, it's basically Space Cowboys. Old West Meets Sci Fi.) I could quite easily make this costume unique by adding a few accessories and accents.
I'd start by adding some boots with buckles and other embellishments, tucking my pants into the tops of the boots to show them off.
Then, I'd need a necklace. As Kaylee is a Firefly mechanic, adding gears and other doodads wouldn't be completely out of the question. I might even make a gear patch to add to the patches on her coveralls (which I found relatively cheap on eBay).
Kaylee's a real sweetheart, so I don't think I'd want to give her a gun, but her costume counterpart in our universe is Malcolm Reynolds, and I'd DEFINITELY give him a gun. He's already got a sweet holster. You can find lots of DIY Steampunk guns on Pinterest.
Steampunk goggles would be a perfect add on for this costume, to really pull the Steampunk genre into the mix and complete the ensemble.
Now, because I'm working with Steampunk Goggles on the kickoff of this Sunday series, I've got some exciting news for you. You can get your own sweet pair of goggles with a special discount (What what!) of $5 off $30 or more PLUS free shipping with the code: TRIBERR1.
Steampunk Goggles is hosting a Pinterest contest to win a sweet pair of your very own goggles! Three lucky winners  will get a pair of awesome goggles, so go enter this Pinteresting Goggles Contest!
Blog Friends, are you into Steampunk? Is this all news to you? What do you think of it? Are you down with a bit of Steampunk Sunday every now and then?