Clark Griswold is my spirit animal. So when I got to spend part of the holiday season in Disney World with my family, I was in heaven. It was like Christmas Vacation AND Vacation in one hotel suite. Without Cousin Eddie.
We spent a magical 8 days in Orlando as my mom and I dragged our entire family to Disney World for her 60th birthday. Even though I'd just been there in June, I was fucking pumped. My family hadn't been on a trip together since The Worst Thanksgiving Ever AKA The Worst Vacation Ever. We hadn't been to Disney World together since 1998. And did I mention there was an adorable 9-month-old baby in tow?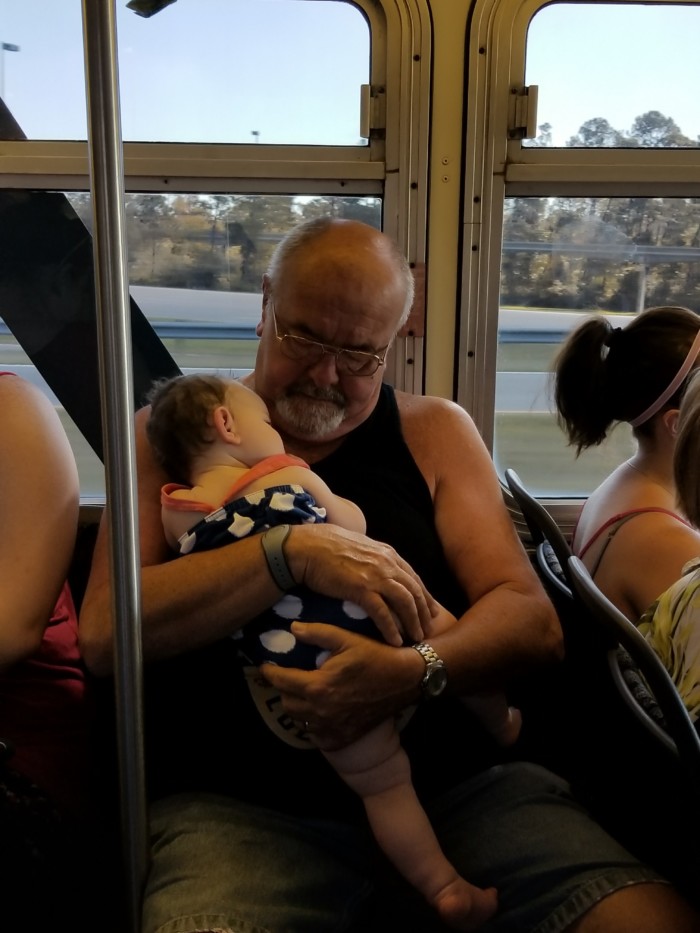 Somehow, all 7 of us managed to crash in the same hotel suite for most of a week and not kill each other. To be perfectly honest, I'm surprised that I don't have more interesting tales of drama and/or homicide to regale you with from our trip. I was most concerned about being in a hotel room with Mom because she and I get along smashingly when we don't live together, but put us in the same space for more than a few hours and smashingly turns into smashing things (love you, MOM!). Apparently, being in the happiest place on earth meant that both Mom and I were in our happy place and nothing could stop us from enjoying every freaking minute of it. Mom was only there for the first three days of the trip, culminating with her birthday party at Mickey's Very Merry Christmas Party. Look how happy she looks on Day 1!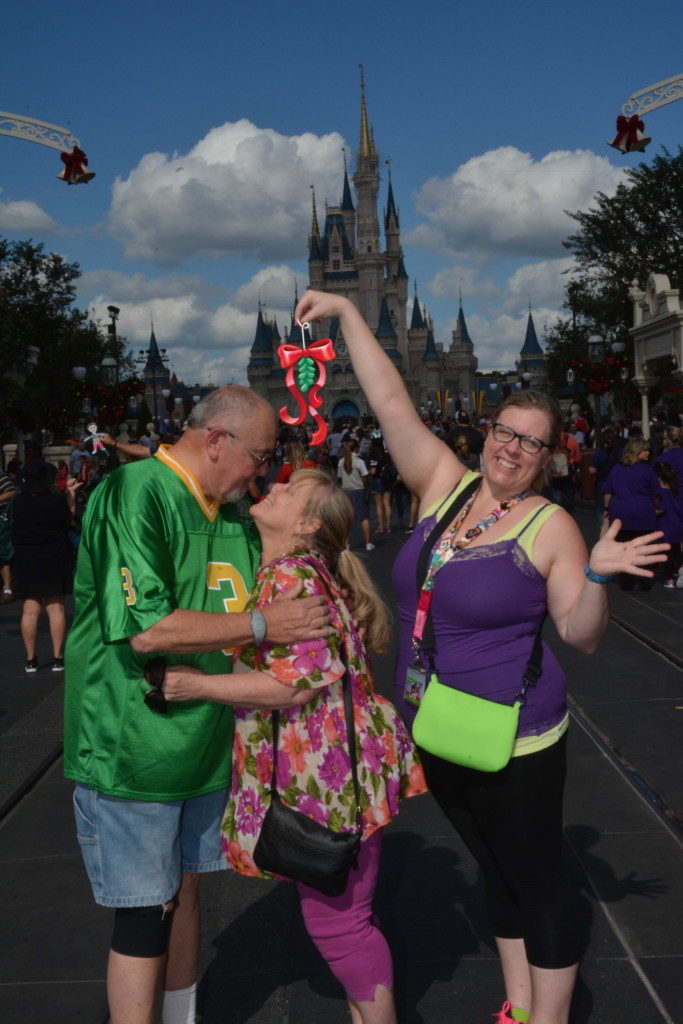 The best part? She was just as happy on Day 3, and I was just as thrilled to be there with her. Dad, on the other hand, was sick to death of taking fucking pictures (he may have told me so the next day).
But how did we all manage to share the same space for a week and not kill each other? Here are 5 ways we did it.
Don't all travel at the same time. I think if everyone had gotten on the same plane at 5:30 in the morning, there would have been even more crankiness, even if we were all drinking bloody Marys because Southwest is the best. Alas, Brian and I flew at the crack of dawn (yes that meant a 3 AM cab to the airport) with my parents, landing at a respectable 9:30 in the morning. My brother, Anna, and the baby flew in on an afternoon flight that allowed them the time they needed to get their little nugget prepped for her first flight. On the way home, it was just my brother, Anna, Nugget, Brian, and me. Mom left earlier in the week and Dad left the day before we did.
Don't feel obligated to follow the same schedule or plan. Originally, Mom and I were going to Disney on our own the first day, but Dad decided to join us. This was one of those days that will forever be with me. It was magic. Brian, on the other hand, needed time to decompress from the flight, so he stayed back at the hotel waiting for the rest of the fam. My brother and dad were originally going to go with us to Universal Studios, but they ended up staying back at the hotel with the nugget so Brian, Anna, Cletus (one of my besties and bridesmen, who happened to be in Orlando for a conference at the same time we were there), and I could revel in the Wizarding World of Harry Potter (more on that later). Mom decided she didn't want to go to Animal Kingdom, so she met the rest of us at EPCOT later. It all worked out, and everyone got to relax when they wanted to.
Do plan some time for yourself. I know me, you guys. I know that I'm the only one in her right mind who can do 7 days in a row of theme parks. I also know that I need to be able to do what I want to do when I want to do it. In June, I learned that Disneying on my own is AH-MAZING, and so I planned an entire day by myself before my family joined me around 4 PM. I went to a character breakfast, dined with Prince Eric, met more characters, took some photos, ate lots of delicious things, and just enjoyed the things I knew my family didn't care about. Meanwhile, back at the suite, my family slept in, had a pool day, and relaxed before the Christmas Party.
Do mix up who you spend your time with. You don't all have to be together at the same time in the same place. Have a few set plans in place (We had dinner at Biergarten designated months prior, and we knew that Mom wanted a night picture in front of Cinderella's Castle), but then feel free to split up and enjoy smaller group time.
Do make sure everyone has food when they need it. A lot of unnecessary fights happen when people are hungry. My brother was ready to kill everyone when he felt like he hadn't had a decent meal in days (he wanted to sit down and eat something that he liked, and we had been doing a lot of quick-serve snacks that day), and as soon as we got him delicious Chinese food, he was happy again. Also, if you're into it, booze helps too. There are a ridiculous number of delicious drinks to try and not nearly enough time to try them all!
<
div class="mceTemp">
<
div class="mceTemp">

Merry Holidays from my family to yours! And if you want to get on our Christmas card list, this is your last chance to drop your address in the Google form!