"Auntie Chrissy gives the best presents," my godson tells his little sister and brother. I love giving presents to my family. I adore spending the time to find something each one will appreciate (that they don't already have) and then taking it home to wrap it in some crazy mess I call a gift-wrapping space. Wrapping presents is part of the joy in providing a gift they'll love. Sometimes, I'm sneaky (because I was a gift opener as a teen). And sometimes, I just really enjoy making a pretty package to store under my tree. But I always try to fill the package with something that brings the receiver joy.
I don't know about you, but I get tired of seeing the same things on gift guides year after year. So I've come up with some more creative gifts for you to wrap up for your loved ones if the classics just aren't going to cut it. And this year, because it's my first with puppysaurus rex, I've included gifts for your furbaby. Because I'm definitely getting Lady Nymeria all sorts of gifts! Some, if not all, links are affiliate links, and any purchases you make may earn me a small commission (and costs you absolutely nothing).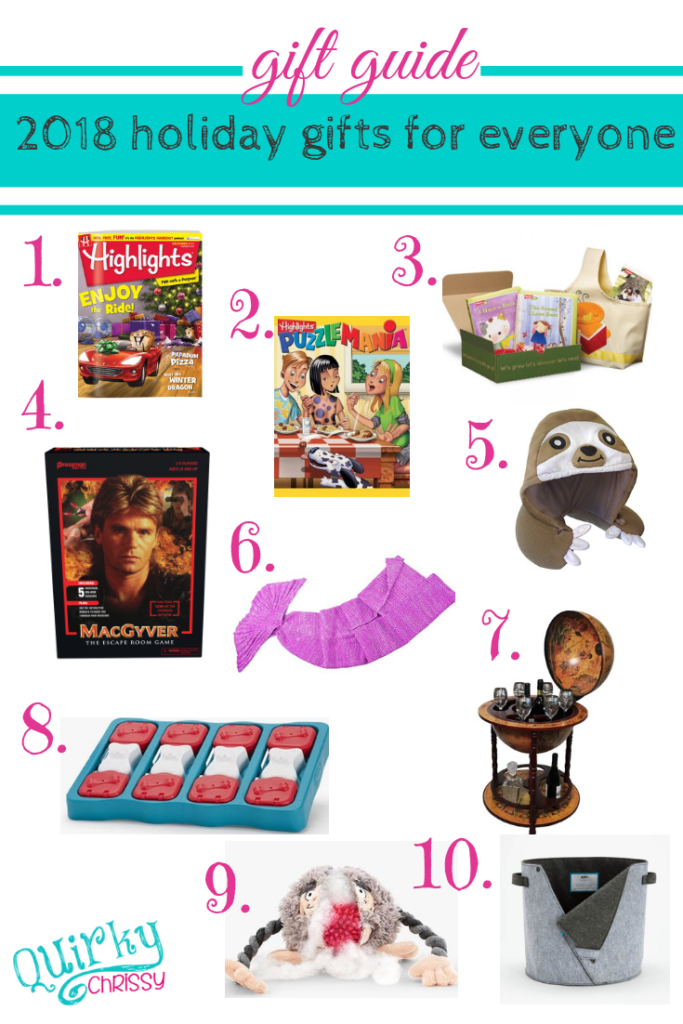 For the kiddos
Highlights™ for Children magazine subscription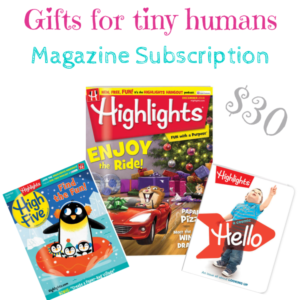 When I was a kid, there were few things more exciting than getting mail. Okay, fine. Even now, there are few things more exciting than getting mail that isn't a bill. But I LOVED when the Highlights™ mag hit the mailbox. I would read the entire thing from front to back, play all of the games, solve all of the puzzles, and then wait patiently for the next issue. It was magic. Gifting a subscription to the kids in your life is simple and sure to bring 12 glorious months of joy to any kid. Highlights™ is perfect for kids 6-12, and if you have a younger tiny human to surprise, they also have High Five™ (ages 2-6) and the tear-resistant Hello (ages 0-2) magazines available.
Puzzlemania® book club subscription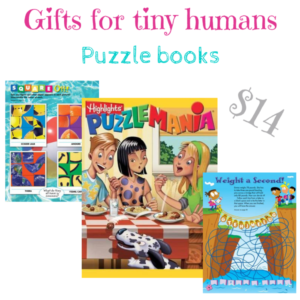 I'm not sure if you know this about me, but I'm kind of into puzzles. And I can say with perfect clarity that it probably started with Puzzlemania®. I loved solving logic puzzles, answering riddles, finding hidden pictures, catching the mistakes. You name it, I loved it. I also know that I have an 8-year-old niece who seems to think a lot like me – loves reading and writing and creating. I'm pretty sure a subscription to Puzzlemania®, with two full-color puzzle books a month, would totally be a hit with her. Want a mathier version? Consider a Mathmania™ subscription instead.
Let's Grow™ Play & Learn Boxes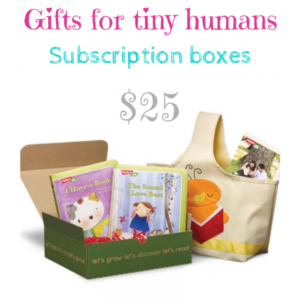 A good subscription box is a good subscription box. And this one, for the tiniest of humans (ages 0-2), comes with two books, a fun toy, and activities that parents (or Auntie Chrissys) can do with their toddlers and babies. Right now, you even get a free fancy tote bag with your first month's subscription. I'm definitely signing the baby up for this one!
For the grown ups
MacGyver: The Escape Room Game
This game from Pressman Toy is only available at Target and offers a fun MacGyver theme with a room escape in a box. You get five one-time, one-hour missions that will test your thinking and puzzle-solving abilities. This is the perfect gift for any gamer or puzzle solver in your life. I love Pressman and their family of brands. They have some really fantastic games for kids and "grown ups" of all ages, which you'll see next week with my board game gift guide.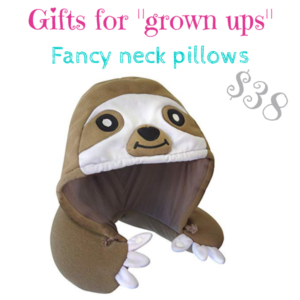 Traveling in style is something I pride myself in. With this sweet hoodie and neck pillow, anyone can be the coolest kid on the plane, train, or automobile. Not going to lie, guys, this one is at the top of my own wish list (cough Brian cough). So if you're looking for something silly for your favorite kid at heart, I recommend this slothy magic.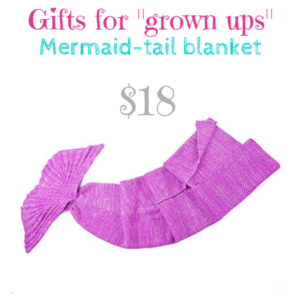 Who doesn't love cozying up on the couch with a blanket and hot chocolate in the winter? Add a little whimsy to someone's snuggle with this sweet mermaid-tail blanket. Anyone who loves magic and mermaids will totally appreciate this fun gift of comfort. Plus this one comes with a bonus mermaid necklace (which you can gift to the same person or someone else. I'm not judging. I'd do it!).
Sixteenth-century Italian globe bar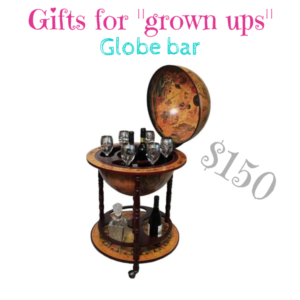 As the priciest gift on this list, I know what you're thinking. Chrissy, this isn't Goop. What the Gwyneth Paltrow are you thinking? $150 is a lot of cash. But GUYS. This is a full-size bar cart. On wheels. In a globe! And also, I own one of them and think everyone should have one. It was probably one of Brian and my favorite gifts from our wedding showers. We put it on the registry for fun, because it was so freakin' cool, and luckily we have some family that thought, "let's get them the craziest thing on their registry!" And so I present to you the best gift for someone you're willing to spend a few extra bucks on. Even if that someone is you. You're welcome.
For the pupper
Outward Hound puzzle brick toy
Like dog mom like dogter. My little pup loves puzzles, especially puzzles with a food prize. This Outward Hound (one of our favorite brands) toy is the perfect thing to add to her puzzle collection (and keep that crazy pup just a smidgen occupied when someone is trying to get some work done around here!).
The thing about gifts for puppies is that they are also gifts for dog moms. And this toy basket seems like the perfect thing to store Nia's ever-growing selection of toys so that they aren't always scattered all around the house (and trying to kill me—one of these days, I'm going to twist my ankle/knee/hip/back by tripping on one of her toys in the middle of the kitchen!).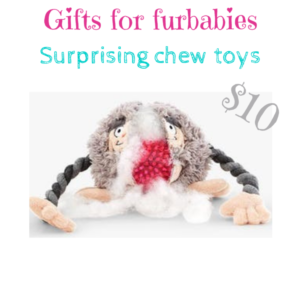 My dog LOVES toys with rope. She also loves plushies. And chew toys with ribs and bumps and grooves. She just loves toys. It's actually pretty rare that she destroys a plushy, but we're finding that because of the sharpness of her teeth (a result of the distemper that stunted the growth of enamel on them), she does eventually puncture her beloved toys. So this guy has a little bit of everything, and I know that I'll be waiting patiently to see her get into this guy because there's a fun toy surprise inside the toy!
So there you have it, gang. My 2018 gift guide for everyone! Which of these gifts would you give to someone? Which of them are you adding to your wishlist? Let me know in the comments below!
And if that wasn't enough gifting for ya, consider some of these other guides I've created over the years: