Several years ago, I spent about six months unemployed. Collecting unemployment from the state of Illinois is something of a joke, in my opinion. I know a lot of people who collect and don't do a damn thing to find a job. I even had a recruiter ask me if I was collecting, and if I would still be interested in part time or freelance work if it would mess up the unemployment check. Really? I thought that the point was to REEMPLOY yourself!
Of course, as someone who spent many hours a day, five days a week, for six months searching, I'm a little jaded. I had to go to a state mandated "re-employment" workshop, something that people who had been collecting UI for years had never been to…and still, no full-time employment for Chrissy.
I've also had my fair share of singleton experiences. I spent the better portion of my adult life single and made the rounds of dating–online and otherwise.
So having spent a lot of time job hunting, and a lot of time dating…I realized that job hunting is a lot like dating. More specifically, job hunting is a lot like online dating.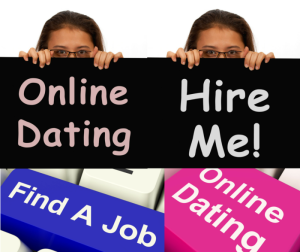 How to find a job…or how to find a date
Step one
Build your online profile. You need to make yourself marketable to your target audience. Whether it's a future boss or a future boyfriend, you need to know what they want and give yourself the appearance that you have it. The more you write, the more interesting (or boring) you become. You've got to have a perfectly written cover letter or dating profile that stands out in a crowd of other single or unemployed persons. Not only that, it has to stand out to the particular type of person or company that you're trying to snag.
Step two
Search. Search for the forever employer. Search for the forever boyfriend or girlfriend. Search for a right-now date or the right-now job. You've got your information posted for them to find you; now, you have to try to find them. With a plethora of websites and apps available for you to find your perfect match, you can spend hours filling out forms with all of your information, writing about yourself, and so much more. This step is where desperation can often come into play. Whether you're sending out 500 job applications on CareerBuilder, or sending messages to 500 different people on Match.com, you've got to make sure to limit the sound of despondency in your tone. Keep it confident. Simple.
Step three
Make contact. Once you've found a potential match, you've got to get in touch with them in the hopes that they will respond to your inquiry. If they've found you first, you need to take it from virtual communication to real communication. Email, phone, and then in-person communication. It's a process
Step four
The first date or the interview. From the pre-meeting anxiety to the sigh of relief upon its completion, these two are incredibly similar. You make yourself look your absolute best–a best that you almost never look in real life. A brand new outfit, coiffed tresses, flawless make-up, and whatever else you can think of. You're showcasing a part of yourself that almost never makes it out into the real world. Because ain't nobody got time for that every day.
Step five
Wait. Hope they call. Whether it's the second interview or the second date, you can only wait for them to make the decision that they'll call. Of course, you can be proactive and make the first move, but even then, it's always a waiting game. Are they going to answer? Are they going to turn down your request for a second date or meeting?
Basically, you're trying to fit personalities into a functional relationship that will become mutually beneficial. Dating or job-hunting–the questions are all the same. Are you personable? Are you a hard-worker? Are you intelligent? Can you keep up? Do you mesh well together?
Eventually, you'll find the right one at the right time, and things, hopefully, work out well.
Have you ever been unemployed? What comparisons would you make about dating and job hunting?