I've always been afraid of pressure cookers. Okay, I've been afraid of pressure cookers since I discovered their existence when Brian and I first moved into our apartment two years ago. He had one and tried to get me to use it. I laughed it off…in fear.
A few months later around St. Patrick's Day, I used his mom's, under the supervision of his mom and uncle to make a bacon roast thing (basically, bacon in hunk form). I made Brian deal with the pressure release.
About a month ago, we got this fancy pants Cuisinart electric pressure cooker. I was pretty excited about it, because it seemed much less scary than a traditional pressure cooker…but not as excited as Brian. Which is weird since he doesn't cook anything besides frozen dinners, frozen pizza, cans of soup and grill food.
Except that the pressure cooker can create all his favorite things in half the time. So he went into this venture ready to tackle a new device. Me? I was planning on throwing stuff in the pot and hoping it turned out.
So we each gave it a go.
While I was sick a few weeks back, Brian prepared a tasty meal as I watched on with amusement…and my camera.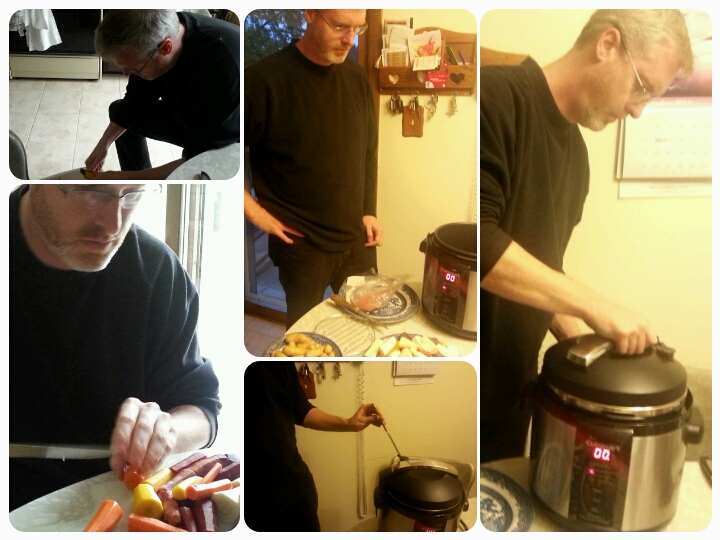 He made a pork roast with parsnips, tri-colored carrots, potatoes and onions, which he seasoned with garlic, salt, pepper and fresh thyme.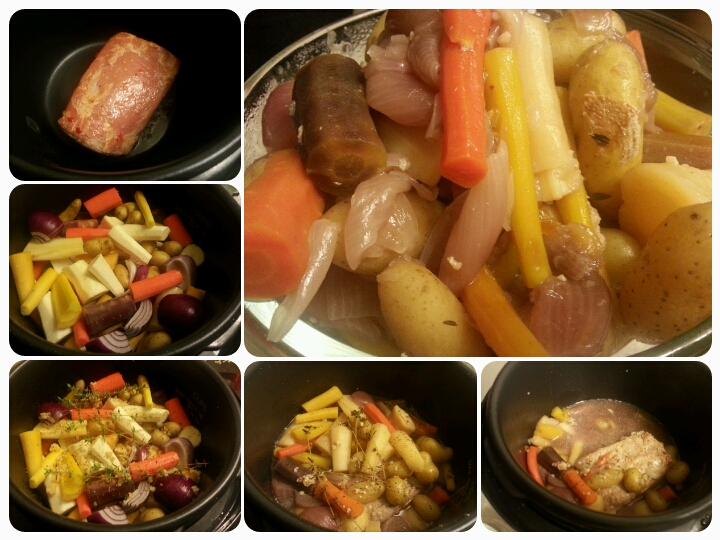 As he was cooking, he showed me how to operate the machine (you know, since he had read up on it and read through the directions and such.)  It was surprisingly easier than I expected.
1. Select mode from low pressure, high pressure, brown, saute, simmer, and keep warm.
2. Add food. And water.
3. Close and seal lid (unless you're browning – then you can keep it open)
4. Set the timer and press start.
5. Release pressure/steam (Brian did the quick release by turning the pressure knob dealie, and I did the slow release by not doing anything.)
6. Remove lid.
That's seriously all.
So his pork (which he cooked on high pressure for 20 minutes) turned out pretty well, though I suspect we added too much water (we used a cup of water & opened it up to find a little more than 4 cups of liquid). The flavors were nice and it cooked wicked fast. To be honest, we probably over cooked it too, out of fear of under cooking. The browning feature was awesome as we browned it right in the pot without needing another pan.
So when it was my turn to try it out, I was ready. But not really at all. We still haven't moved into the new house, but I thought I'd cook there one night with the pressure cooker.
I stopped at Trader Joe's to pick up the ingredients for pot roast and made sure I wouldn't have to cut anything. I literally threw it all in the cooker (after browning the pot roast) and went on with my day. I cooked at low pressure for 30 minutes, and I think I over cooked this one. I guess I can't fault Brian, huh? I also used less water and still ended up with about 3 cups of liquid, so there's that.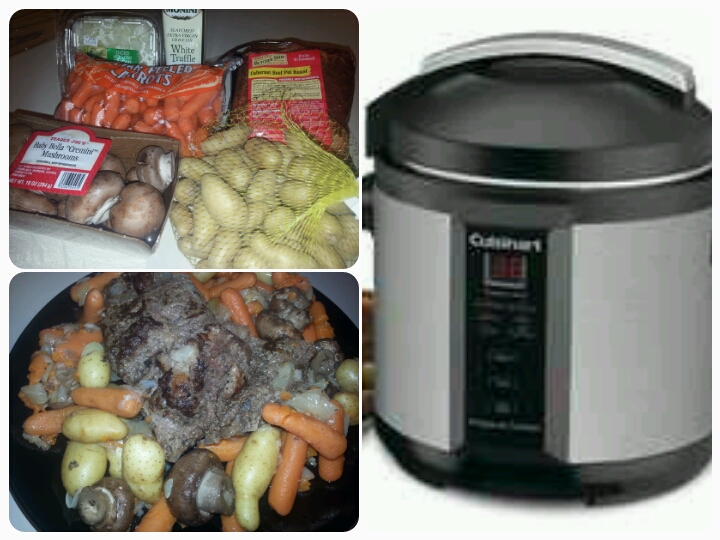 Is it as easy to get right as I hoped it would be? Not really…BUT this is a girl who failed on slow cooker usage waaaay more (to the point of inedible). So, we'll keep trying until we perect it, and once we have this system DOWN, I'll be back with an update. Because the cook timing of this contraption is exactly what we need for home-cooked meals in our busy commuter schedules. Plus it's WAY less scary than the other kind of pressure cooker.
Have you used a pressure cooker? Would you? Do you love roasts as much as my Irish boyfriend?
This is not a sponsored post. I was supplied with a Cuisinart Electric Pressure Cooker in order to review it and give my honest opinion, but I was not financially compensated.
I did use affiliate links in this post, so if you make a purchase, I might get a bitty commission.