I love love love Halloween. It's THE ultimate holiday. It's the fourth family holiday, you know. Christmas, Thanksgiving, Easter, Halloween. My aunt in North Carolina actually flies into Chicago for this, above all other holidays. It's the best. I've had my fair share of Halloween costumes, many of which were homemade or half homemade.
Haunted House Costumes Galore
This is the first in a series of photo posts in honor of my favorite holiday.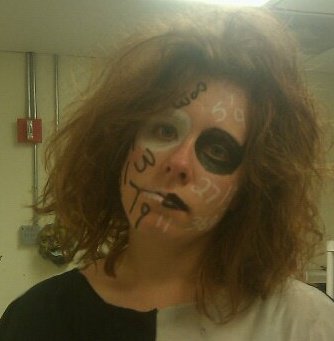 In fact, this is how I managed to survive student teaching. I've said it was the hardest thing I ever did in my life, but it got a little crazy, considering I was president of my local Jaycee chapter, who ran a haunted house. One of the most hectic times of my life–I escaped into the costumed crazy of Suzzee, my haunted house character with character.
She started out because I love acting the crazy part.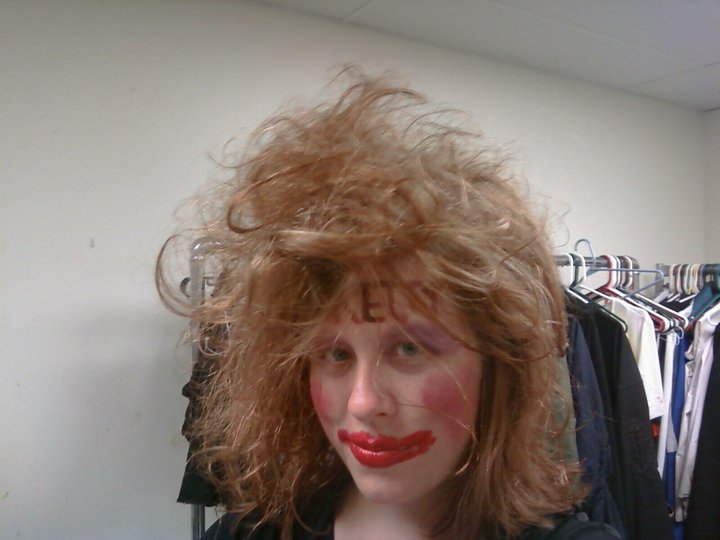 As I've had some experience in the world of haunted houses, I've decided to share with you the secrets to haunted houses. This is what to prepare for.
The Five Types of Haunted House Scares
The Standard Scare
This scare revolves around the things that typically scare…Spooky atmosphere. Scary music. Dark hallways. Traditional monsters. Dead people.This is the easy scare. Mostly scares little ones…
The Boo! Scare
This scare is the most common. The jump-out-of-a-hidey-spot scare. The rah! scare. The scare they're expecting, but not expecting…If you're going through a haunted house, expect this when you least expect it. And when you most expect it. Just be ready for it everywhere.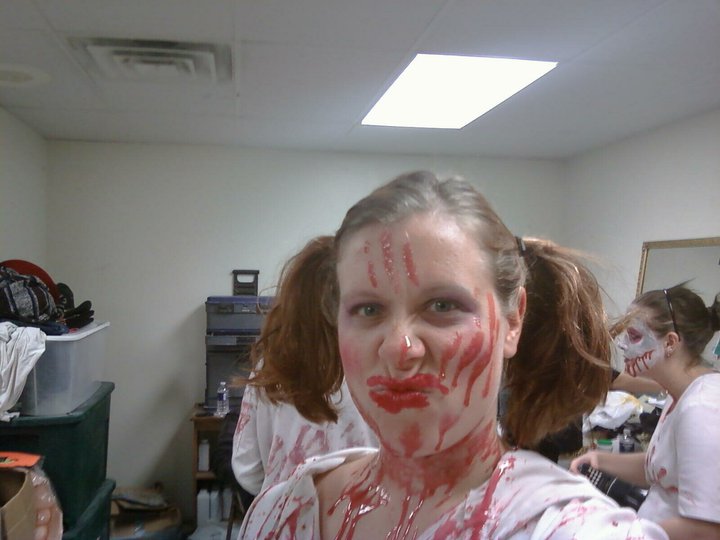 The Grotesque Scare
As you can see in the photo above, I wasn't opposed to covering myself in fake blood. (corn syrup and food coloring) The grotesque scare feeds on the fear factor of humans. I'll bet you never thought about how gross watching someone masticate is… I took every opportunity to chew in people's faces.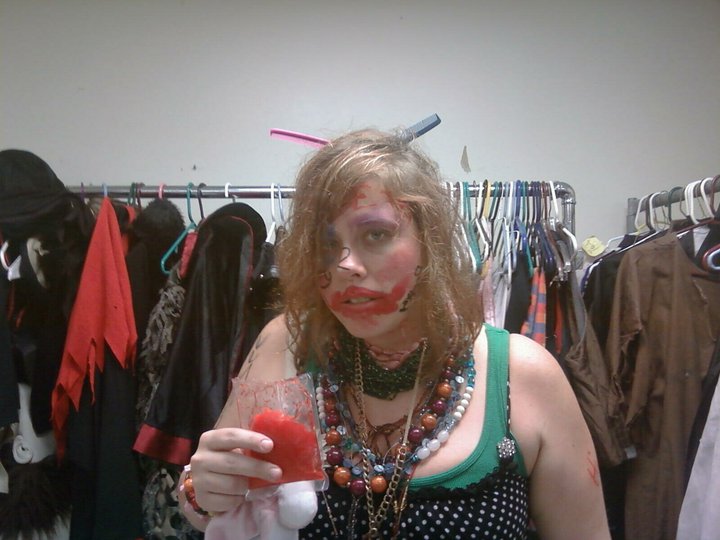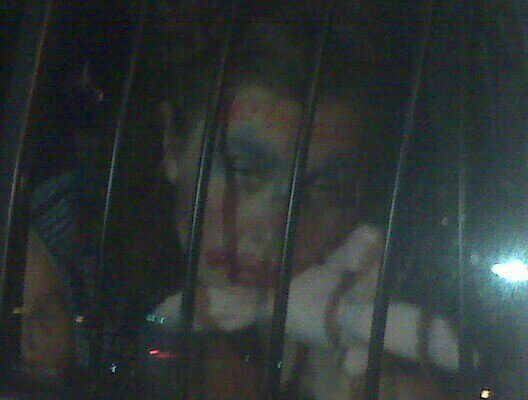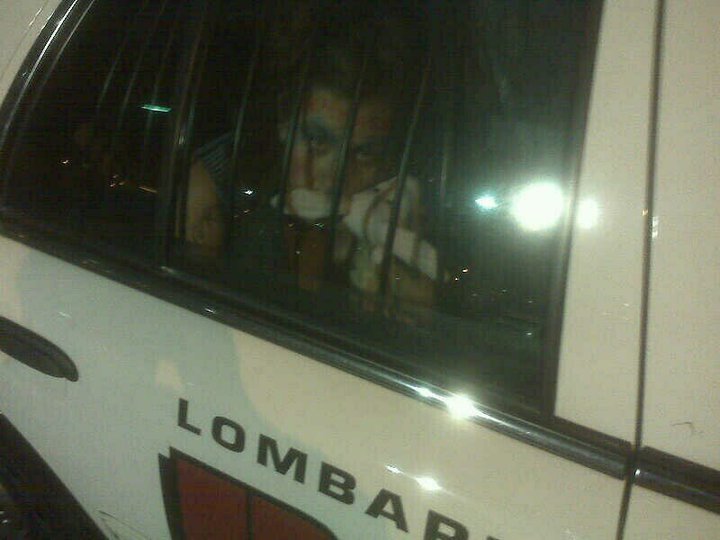 The Personal Space Scare
This scare is easy. Walk up to someone who looks scared…stand close enough that you're just barely touching them (without touching them). Get your face in their face. Sniff them. Smile at them. Scowl at them. Or even better…Scream in their face when they start laughing at you. All of these things are allowed in a haunted house!
The Mind-Fuck Scare
There really was no other way to describe this type of scare. It's the scare that leaves you with nightmares. It's the scare that makes you unforgettable to teeny bopper radio DJ's (Yes, that's right…I ran into them at the car show 5 months later looking normal…Guess what? They still remembered me. They told me they were still having nightmares about my character. It was the greatest compliment. Ever.) I've got a super creepy monotonous singing voice that I bust out for haunted housing… I can stare at the same spot for 5 minutes straight…It's pretty fun.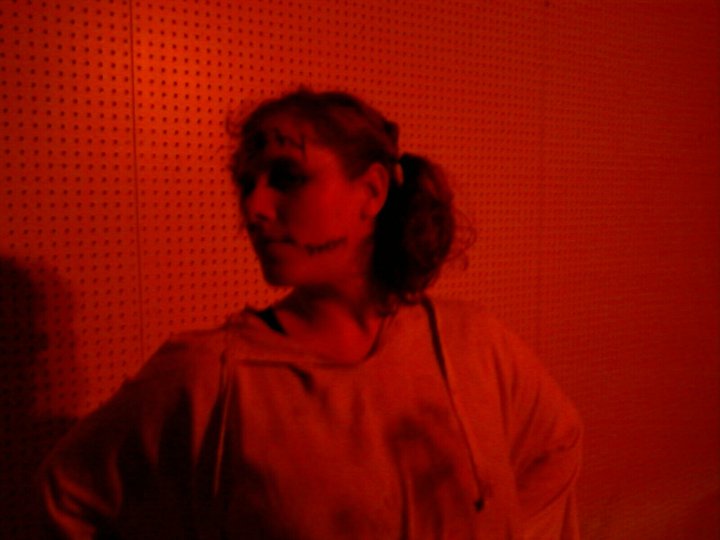 So Suzzee was the best…Because she encompassed ALL of the scares. An all-around mind-fuck who did and said whatever she wanted.It was great, because I had to be in character at all times. So instead of being the responsible president or the responsible student. Or the responsible teacher… I could just be Suzzee. And life was fun.
When I grow up, I want to be an actress.