Last night I had one of the biggest social media panics. My Twitter account went down.
I know, it sounds all, "Chrissy, this is not the end of the world…grow the fuck up."
But I've spent the last year and a half building my Twitter up to the point of monetization. I'm in the midst of several campaigns. I'm leaving for ChiTAG Fair in 20 minutes. And I was at an event that I would have loved to keep tweeting about.
Apparently, Twitter has a bug. And sometimes, Twitter accounts just sort of…disappear.
So there I was, on my way home from the TAGIE Awards (Toy and Game Inventor Awards – more on that next week) in a FORMAL fancy pants gown, with my feet kicked up on the seat in front of my on the train, FURIOUSLY e-mailing back and forth with Twitter support.
I had to open multiple "tickets." I had to make sure I was e-mailing them from the correct account. And nothing was working. It was like my Twitter account never existed.
My e-mail address wasn't recognized. At all. And I was tired and cranky. Because I haven't gotten enough sleep in the last few days…something about being super busy with ChiTAG (Get excited for next week's posts on toys, games, and fashion) and work. And other things.
So I was panicking when I got off the train near midnight, and Brian was all, "You look so pretty!" And I was all, "Take me home I need a computer because my phone died, my Twitter disappeared and I have some serious tech support e-mailing to do."
I went to bed near 1 AM, having not heard anything from Twitter support since they told me they were resetting my password (which never happened.)
I woke up this morning with a testing e-mail that was received. Like this Twitter disappearing nonsense was all a bad dream.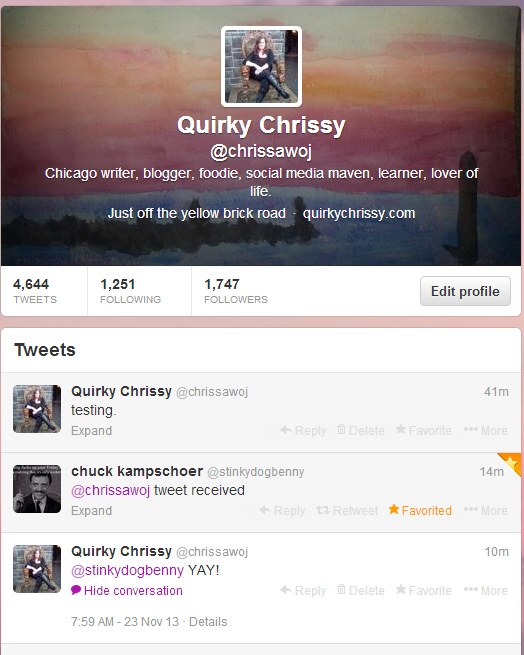 Thanks, Dad!
Has this ever happened to you? What about other social media panics? Are you as crazy as me?