That title actually has nothing to do with this post. It was just necessary. Because today is the big day! The BLOGGESS. Is in. Chicago. Ish. But since I live in Chicago-ish, it works out mighty well. BECAUSE I'M GOING TO MEET HER TODAY! And I've got some out of town guests that I'm dragging to the reading. Because that's how I roll.
As I mentioned on Monday, this whole week is dedicated to bloggers. And today. Today is a whole post. Dedicated to one blogger. Because she's that awesome. And it's perfectly fitting. You see, I found her blog through the comments section of The Bloggess (This is how I found a lot of the blogs I read, actually. You should try it, if you haven't.) And then she became my very first non-real-life-fan/friend. And she's one of my BBBs (Blogging Best Buddies). And she's fantastic. And she sent me the coolest Christmas "card" ever. Because it was a card. And a magnet. AND A FREAKIN' PAINTING!
This Blog Post is Dedicated to…
As previously mentioned, Lily was my first non-real-life-friend to find the blog, probably because I stalked her a little bit after I found her blog on The Bloggess. And it was the greatest day ever. Because she's sweet as pie. And funny. And TALENTED. She turned her art into magnets. And told me that she was sending one with her Christmas card…
But Lily didn't just send me a magnet. Nope. I had to go to the post office to pick up the package (this was before my mail lady was cool), and I kept thinking to myself, "This does not look like a magnet sized package."
I couldn't wait to get home to open the package…(are we seeing a pattern here?)…so there I was in the car and I discovered this beautiful watercolor of a sunset. (She calls it, "Sunset from the Driveway.")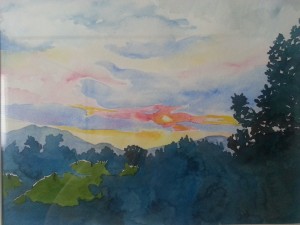 Of course, it took me FOREVER to get a frame and put it on the wall…because I am a little crazy and take my sweet time making decisions. Plus it was Christmas time, and my apartment looked like Christmas threw up…so I waited. And finally, I found the right frame (for now, until I can custom frame it). And now it lives in our bedroom. The first art in our home.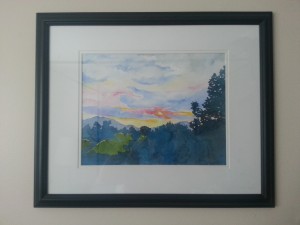 Thank you Lily. For your talent. For inspiring me. For being my friend. You're amazing.
And to everyone else: Go check out Lily's blog and her art.
Blog Friends: Are you a blogger? Tell me about your blog. Or do you have a favorite blogger? Tell me about him or her. What makes his/her blog awesome?