Guys, this Toy Story review has *some* spoilers about the themes of the story, but I promise not to ruin the ending because some things are sacred. So before you run away — I loved the movie. I thought it was very smart, super funny, and full of heart. On the contrary, the movie did not captivate my niece (8) and nephew (5) enough for them to want to stay in the theater for the 1:40 minute run time. Their favorite part was playing hide and seek in the theater lobby with Uncle Brian (who patiently allowed me to stay in the theater and watch the whole movie).
So…while I believe the movie itself is worthwhile (and I can't wait to see it again), it may not capture the attention of your littlest ones (not all little ones are created equal, obvi).
*Spoilers start here*
How does trash become a toy? When does a toy become trash? In Toy Story 4, we meet Forky, a handmade toy made out of a spork and other items pulled from the trash, who can't grasp the fact that he is no longer garbage, and instead a toy loved by a child. Simultaneously, we see Woody begin to question his purpose now that he's fulfilled his primary role as Andy's favorite toy. While I'm not a parent, I am pretty confident that this likens itself to empty nesters coming to terms with their changing titles — from So and So's Mom to Individual.
I loved that Toy Story 4 had a number of thematic callbacks to the past movies. Woody's struggle with change is not unlike that of Toy Story when Buzz threatens his place in Andy's Room. Rescue missions and antique toys abound in Second Chance Antiques just like they did in Toy Story 2. Toys moving on to the next phase of toy life and ensuring that every toy has kids to play with them is reminiscent of Toy Story 3. And in Toy Story 4, we see the concept of homemade toys taking priority in a child's life, which I love so so much.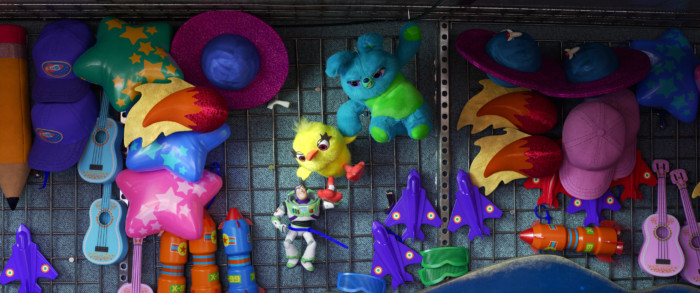 The new characters are fantastic — Tony Hale's Forky is charming and lovable. Keanue Reeves' Duke Kaboom is super funny and a perfect frenemesis for Woody (and don't worry. If you're waiting for a "woah," I promise, you won't be disappointed). Key and Peele kill it with Ducky and Bunny as pure comic relief.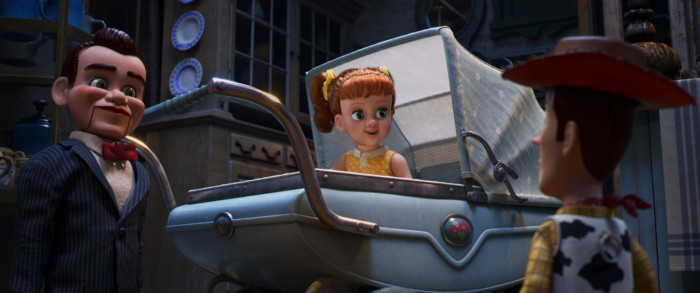 Christina Hendricks is my favorite of the new characters with Gabby Gabby and her creepy band of ventriloquist dummy henchman as the primary villains of the story. Gabby Gabby enters the scene with the song from The Shining playing on a record player in the antique store, and I knew it was love at first sight for me. (Upon further research, I also discovered that The Shining references are rampant in the entire Toy Story franchise — primarily references to Room 237.)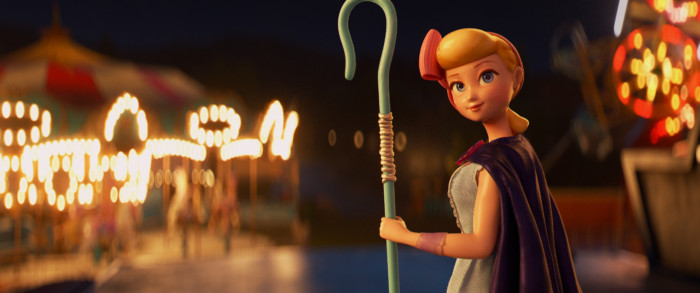 The new characters rock and the classic toys are put on a backburner (spending most of their time back in the RV while Woody and Forky adventure into the antique store and Buzz explores the carnival), but it's the return of Bo Peep who pulls through as the real MVP of this movie. Bo has gone through some serious off-screen character development, and I am so here for the new and improved Peep.
Overall, I laughed (Um, actually, I laughed way more than most people in the theater. Either I was getting more of the jokes than anyone else, or I think inappropriate things are hilarious. One of those, I'm sure). I cried. Although I cried less than I expected to. WAY less than I cried in Toy Story 3, which to be honest was a relief. Toy Story 3 was gut-wrenching. And I cheered. I will definitely be seeing this one again (did I mention, there are Easter eggs for, like, every Pixar movie ever?).
I won't tell you what Woody discovers along the way or how the story ends, but it's good. It's all so good. Go see it. You won't be disappointed.
Get tickets for Toy Story 4 on Fandango here
Woody (voice of Tom Hanks) has always been confident about his place in the world, and that his priority is taking care of his kid, whether that's Andy or Bonnie. So, when Bonnie's beloved new craft-project-turned-toy, Forky (voice of Tony Hale), declares himself as "trash" and not a toy, Woody takes it upon himself to show Forky why he should embrace being a toy. But when Bonnie takes the whole gang on her family's road trip excursion, Woody ends up on an unexpected detour that includes a reunion with his long-lost friend Bo Peep (voice of Annie Potts). After years of being on her own, Bo's adventurous spirit and life on the road belie her delicate porcelain exterior. As Woody and Bo realize they're worlds apart when it comes to life as a toy, they soon come to find that's the least of their worries. Directed by Josh Cooley ("Riley's First Date?"), and produced by Mark Nielsen (associate producer "Inside Out") and Jonas Rivera ("Inside Out," "Up"), Disney and Pixar's "Toy Story 4" ventures to U.S. theaters on June 21, 2019.