With fall quickly approaching, I've found myself dreaming of a trip up to Six Flags for Fright Fest. Okay, I'm actually dreaming of a weekend getaway to Walt Disney World, but Brian did that 3 years ago, and he isn't quite ready to go back yet…we're working on that.
I don't know if I can rock the coasters right now because of my back problem, so I'm not sure if we'll head up there this season or not, but a girl can dream. I love wandering around a theme park when the weather is cool, and you can wear yoga pants and a hoodie at night while you ride your favorite coasters. You don't have to make up excuses not to go on the water rides, and no one is sweating their balls off.
When I do make my way to Six Flags, I always try to follow these very important rules to make the most of my experience. It's a way to sort of roll with the punches that the underpaid cast members are throwing.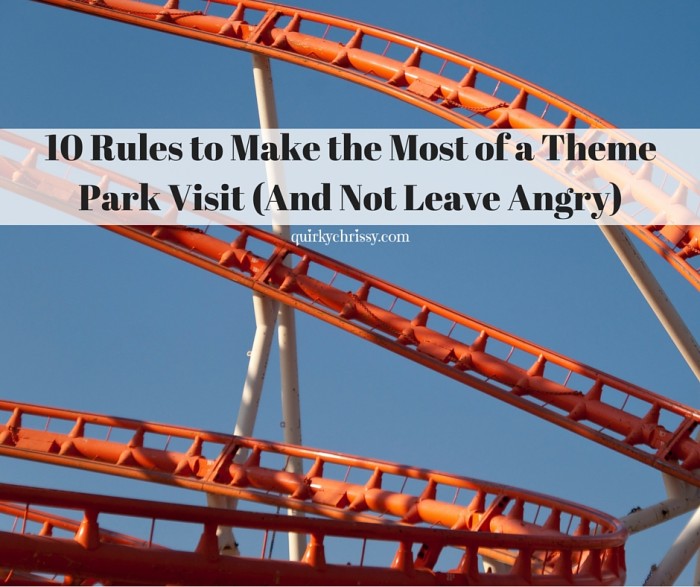 1. Buy your tickets in advance. Find the cheapest coupon code you can. Seriously. That shit is expensive, and they usually have cheap codes hidden among the interwebs. Or on cans of pop. Plus tickets are usually less costly online. At Six Flags, we've paid as little as $37 each for 3 people with tax, surcharges, and parking.
Don't look at the food or the prices from the vendors. You know the food is crap, and the prices are likely to be exorbitant. There is an exception to this, and that's at Disney World, with their fancy restaurants and amazing food options. Pack a lunch, head to a local restaurant, stop at your fave fast food chain…

Find out about money-saving promotional stuff. If you fail to follow rule number 2, use your Discover card (or whatever card they're partnered with) and save 5% every time. That shit can add up.

Tap water is free. Utilize that, people. Brita filtered water bottle are a bomb way to make that happen.

Know the best rides. If you make it a point to get on your favorite rides first, you'll be able to cheer yourself up and ride them again later after you've made some bad choices by standing in line for a crappy ride that breaks down all the time. Raging Bull is still the best roller coaster at Six Flags Great America. Ride it first. The Whizzer is a classic, and so fun at night.

Understand the schedule. Don't plan to get there at exactly opening or you'll sit in long-ass lines to get into the parking lot. Instead, aim for 30 minutes before the park opens or a couple hours afterward. Leave 30-45 minutes before the stated closing time. You'll be at the bar with a cocktail in your hand while the rest of those bozos are still sitting in the parking lot. If you're rocking out at Fright Fest…Monsters don't come out until 4 or 5. Plan accordingly.

Don't overdo the Dramamine. If you get motion sick or vertigo after you've already taken the maximum dosage of the super powerful non-drowsy meclizine…sit the next coaster out. Trust me on this one. I took 3 pills in 12 hours (max recommended is 2 in 24 hours), and I was out of it for 3 days. Loopy, dizzy, and sleepy. I felt like I was drunk. For three days. And not the good kind of drunk.

Make sure you know your way around. Don't bother asking anyone who works at the park where stuff is. They have no clue. Use the map.

Try to avoid asking for help in any matters. You know what, you may as well just not ask the Six Flags team for any assistance.* We once waited for 45 minutes for lockers that didn't lock, and still no one came to help us.
Make it yours. Go with people you like, so that your two star experience feels like a five star experience, because friends.
*I don't actually think everyone who works at a theme park is crappy at their jobs. I just had a few bad experiences that made me whiny
.
Which theme parks have you been to? What tips would you have for maximizing your trip to Six Flags or another park?