So I've been cooking up a storm lately, and I thought it was high time I share some more delicious recipes with you! In fact, I'll bet you didn't even know that October is National Pasta Month. Lucky for you, there's me. And lucky for me, the fine people at The Pasta Shoppe were kind enough to send me some amazing pasta samples to try out. So that YOU can see some really delish ideas from my culinary mind, and then go to your kitchen and make them too.
Now, as you may know, I work a full time job in the city and live in suburbia, which means about 2+ hours of commute time when I add the morning and the evening together. So Brian and I don't get home until almost 7. At which point, I'm RAVENOUS. And if you remember from the rules of owning a Chrissy, feeding me regularly is more than a necessity. It's survivalism. So I need to make dinners quickly. The pasta that I received is fast. Easy. AND TASTY.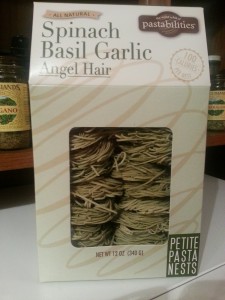 Basil Chicken Nests with Marinara Sauce and Cheese
6 pasta nests
1 boneless skinless chicken breast
1 cup marinara sauce
6 small slices of cheese
Fresh basil chiffonade
Last week, I used the Pasta Shoppe Basil & Garlic Pasta Nests, which cooked rapidly on my stovetop while I pan-fried a sliced chicken breast. I sprayed my toaster oven size baking pan with PAM, delicately placed the nests, filled them with the sliced chicken, and topped them with my homemade sauce (which I made over the weekend) and Thai basil Jack cheese.
I baked them in the toaster oven for about 15 minutes, and was left with a deliciously tasty meal for two. Then I garnished mine with a basil chiffonade (Brian hates added herbs) and voila! Brian was thoroughly impressed. (He's always impressed when I actually put sauce on pasta, instead of just olive oil and cheese…which tends to be my MO.)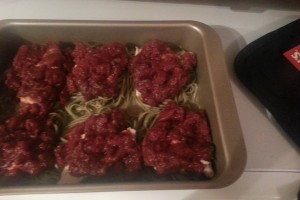 In addition to the fancy-pants pasta nests, I also received a slew of other goodies, most notably Snowman Pasta, Halloween Pasta and Under the Sea Mac and Cheese. Yes, my friends. DOLPHINS. AND CHEESE. IN ONE MEAL. (No dolphins were hurt in the making of this pasta.)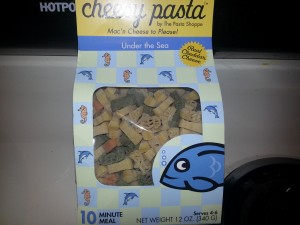 Halloweenie Chili Mac
2 cups Halloween pasta
2 cups chili
1/2 cup shredded cheddar
Nacho jalapenos
I was planning on making the Halloween pasta for our little Halloween party, but I quickly realized that with the number of people we'd be having, it probably wouldn't have been enough. So instead, last night, I used leftover chili to make some chili mac. I love to make chili in the fall, even when death bugs are trying to poison it…Of course, every time I make chili, it's totally different, but you can find one of my recipes here: Turkey Chili.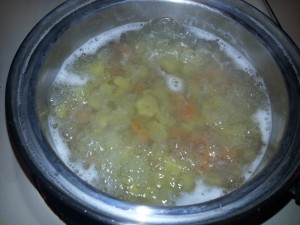 This time I used less veggies and real ground beef, so it was the perfect chili mac chili. I cooked the pasta (only 6 minutes!), reheated the chili and then layered a bowl with pasta, chili, jalapenos and cheese. I microwaved the bowls for about a minute each until the cheese was melty and then we dined. It was. AMAZING. I didn't even know how much I loved chili mac until last night. Plus, spiderwebs, ghosts and pumpkins just sort of made this super fantastic.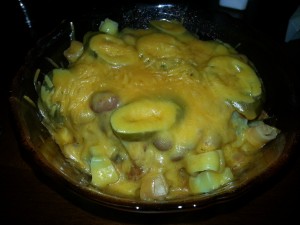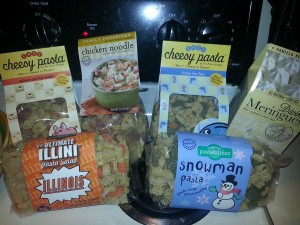 So you want to know more about The Pasta Shoppe? They make small batch pastas with fun shapes and delicious flavors. Some come with added seasoning for pasta salad, mac and cheese, chicken noodle soup and so much more. When I checked out their websites, I was totally impressed. And SUPER excited.
In addition to being awesome, they run the Fun Pasta Fundraising company, so you or your kiddos can raise money by, wait for it, selling pasta! But not just any pasta…the delicious, fun-shaped, small-batch pasta from The Pasta Shoppe.
I'm saving the mac and cheese for a special occasion, but I'll be sure to let you know how it turns out!
Want to create your own delicious pasta recipes with fun pasta? You can win a $30 prize package from The Pasta Shoppe! Just fill out the Giveaway Tools form below.  Make sure to leave a comment telling me which pasta you would most like to try and what you would do with it? The recipe that sounds the tastiest may just be featured on another Tasty Tuesday!
Good luck! The giveaway will run for one week!