If you remember the story of Death Bug, you'll remember how I almost died…and how Death Bug tried to poison my homemade chili. I take a lot of pride in my homemade chili, so I thought that I would share with you my secret recipe to greatness.
Brian loves it when I make "comfort foods." He prefers roasts and stews and chilies to anything fancy and delicious that I can make. Sometimes, when I'm feeling super nice, I will make them for him. This week, I made my chili again. Thankfully, there were no Death Bugs hanging around post-frost to try and poison us.
My mom taught me how to make chili, and if I didn't tell you this, she might get upset. My culinary talents come from both of my parents, and the amazing chefs that I've had the opportunities to work with. This one's a Mom creation that I've made my own.
As you may remember, I am doing the Weight Watchers thing, chili is an excellent way to get in your daily dose of fiber (both soluble and insoluble) crazy amounts of veggies, based on preferences, and oodles of protein. This recipe is just 5 points per 1 cup. Although I usually add 1-3 points worth of cheese…and then another 3-5 points worth of tortilla chips to use in place of a spoon…but I digress.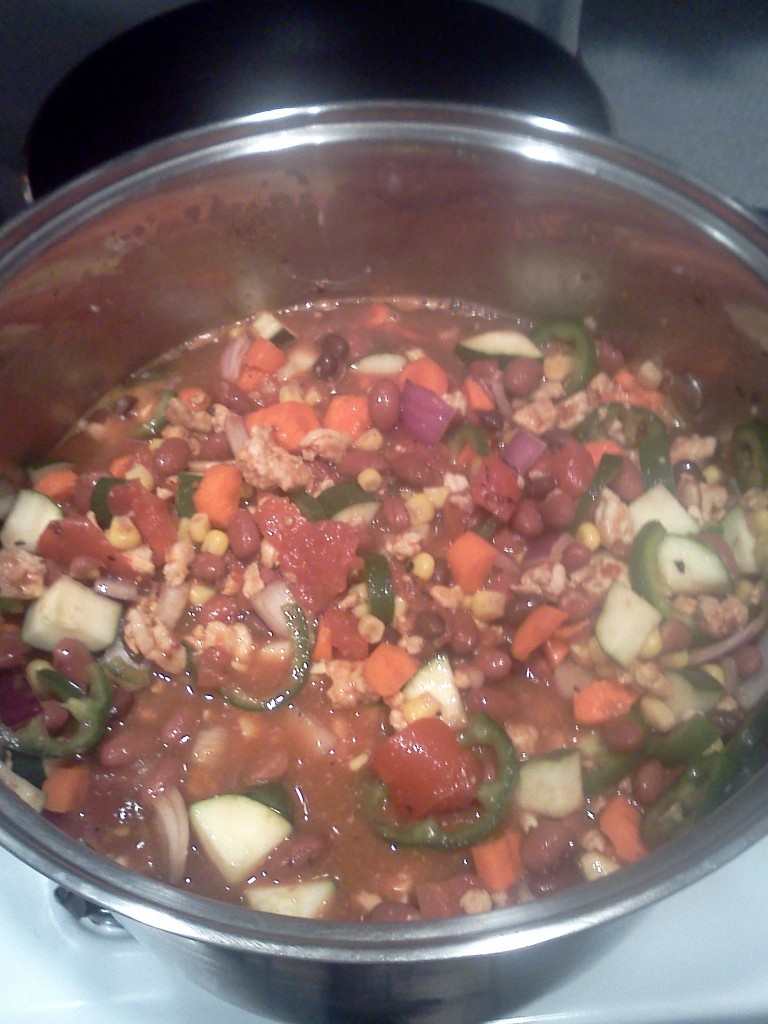 Weight Watchers 5 Points Plus Turkey Chili
(I use Trader Joe's for almost everything, but it's super easy to sub these out for your own favorite or generic brand…it also usually depends on what is in my cabinets at the time)
The Ingredients
1 can of Trader Joe's Turkey Chili with Beans
1 can of Trader Joe's Black Beans
1 can Bush's Best Mild Chili Beans
1 can of Sweet Corn (low sodium)
1 can of Hunt's Fire Roasted Diced Tomatoes
1 lb Empire Kosher Lean Ground Turkey
1 cup diced carrots
1 cup sliced jalapenos
1 cup sliced or diced zucchini
1 red onion
Smoked Paprika to taste
Ground Cumin to taste
Onion Powder to taste
Garlic Powder to taste
Sea Salt to taste
Pepper to taste (I use a 3-pepper grinder and white pepper powder)
Texas Pete's Hot Sauce to taste
The Steps
Brown turkey with the spices, salt, and pepper. I use the same pot that I'm going to cook the chili in to save dishes.
Once the turkey is cooked, add the rest of the ingredients.
Cover and simmer on LOW heat for 10-15 minutes.
Remove cover and simmer for 45 minutes, stirring occasionally, until carrots are soft.
Serve with chopped raw onions, shredded cheese (I've used smoked gouda and Kerry Gold Dubliner-both are delicious), and Trader Joe's Reduced Guilt tortilla chips.
1 serving = 1 cup = 5 Weight Watchers Points Plus
Make it Vegetarian Chili for Lower Points Plus
Substitute an extra can of mild chili beans for the turkey chili with beans
Substitute 2 cups of sliced baby bella mushrooms for the ground turkey
Enjoy!
What are some of your favorite comfort food recipes, friends?