This year, I had a lot of fun with our inaugural (note how I DIDN'T say first annual) Halloween kickoff party. If you remember, I did some bad ass disgusting bathroom decor for my guests to appreciate…but I also made some sweet (and not so sweet) snacks. And you know how I looooove snacks.
Of course, we're not the only Halloweenies in our group of friends, and our old roommates had quite the food display, as well. With their permission, I've included some of the gruesome Halloween treats they created. Without further ado…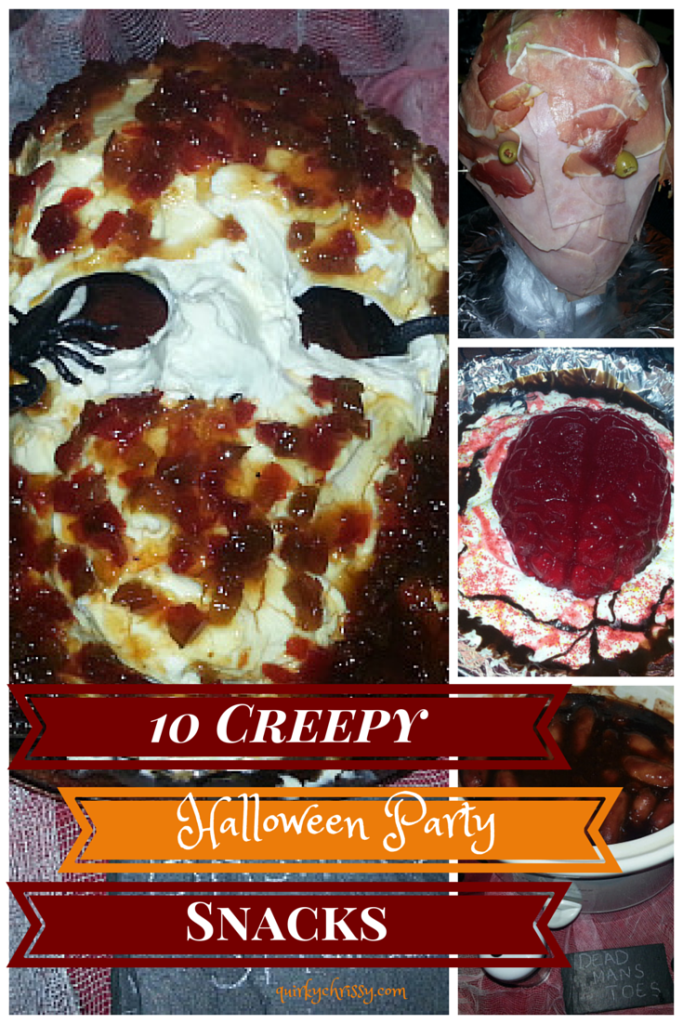 Cow Guts: Beef Chili
Make your own homemade chili or buy it prepackaged. Toss it in a crock pot and you've got an EASY and tasty treat for your guests. This was actually a huge hit!
Chicken Guts: Buffalo Chicken Dip
Mix shredded chicken (I buy a couple of rotisserie chickens from Sam's Club because they taste better than canned chicken), Frank's Red Hot, cream cheese, blue cheese crumbles, and ranch dressing for a really delicious treat on crackers.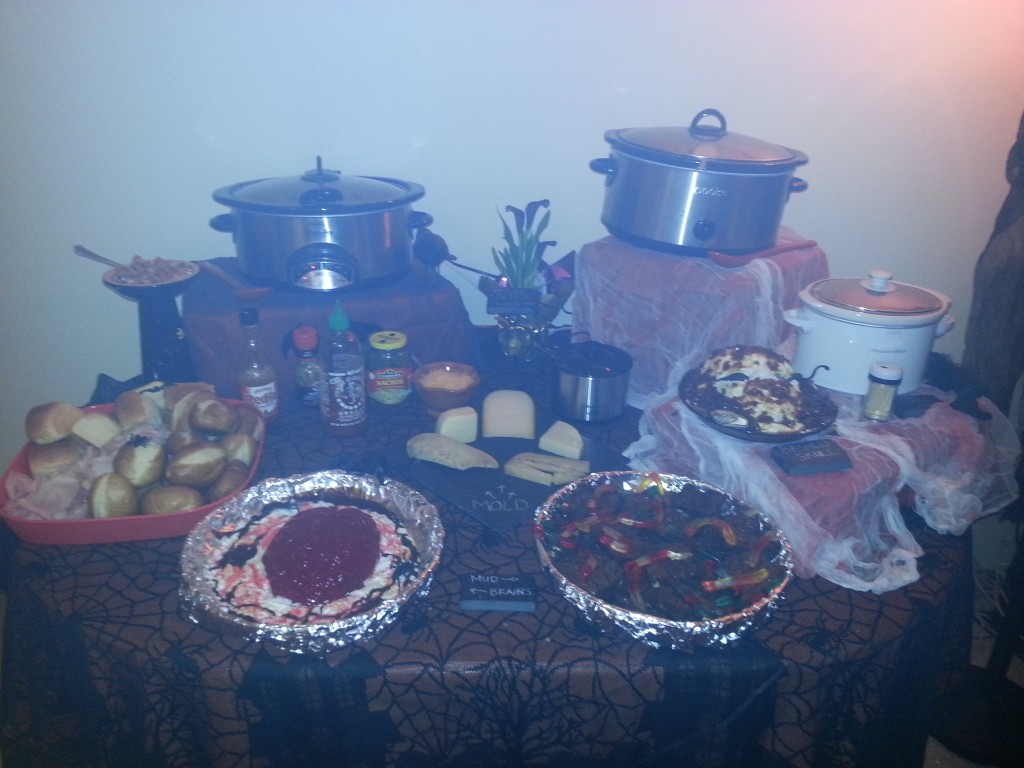 Mold: Cheese
Duh. Mold is cheese. Cheese is mold. And Cheese is DELICIOUS.
Worms in Dirt: Brownies with Gummy Worms
A kid-friendly favorite. I had to have one. This one isn't so gruesome as it is delicious.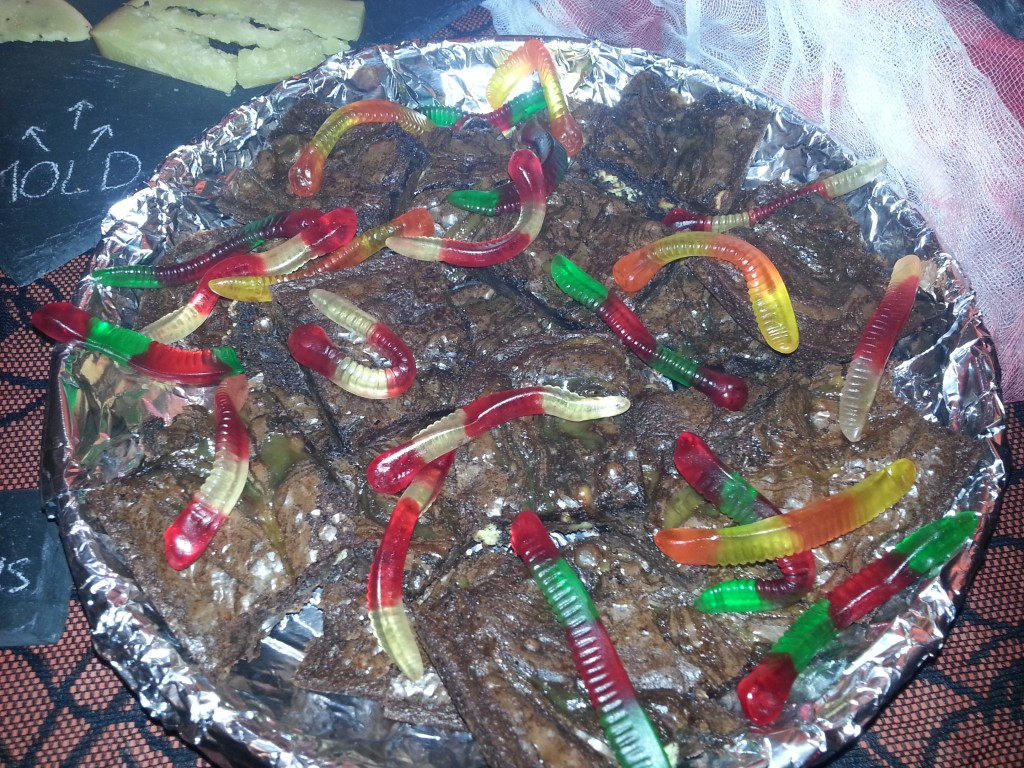 Brains: Jello Mold
I just used raspberry Jello in a brain-shaped Jello mold, and then added a bunch of random crap around it to add to the creepy/nasty factor. It was actually quite delicious.
Dead Man's Toes: BBQ weenies
I used Lil Smokies and a sweet Michigan cherry BBQ sauce, because it has little baby cherries which added more creepy texture. These were easy to cook in my medium-size slow cooker.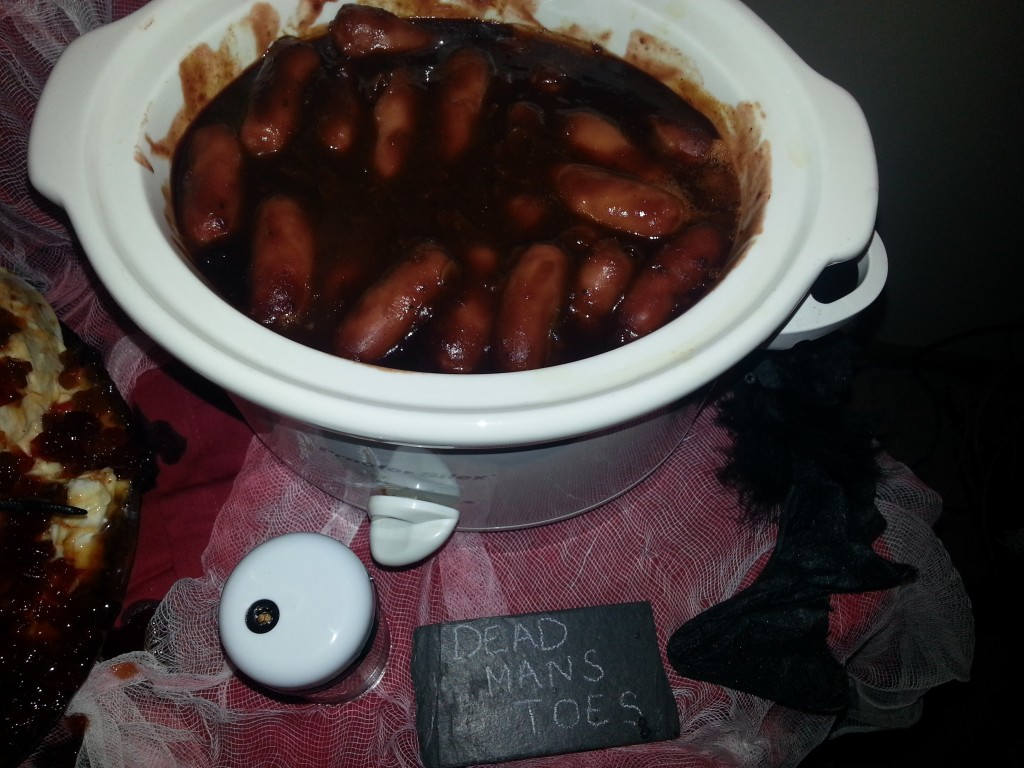 Leatherface: Ham and Prosciutto
Use a Styrofoam head to add meat and olives to create a creepy looking Leatherface. Our old roommates wrapped the foam head in plastic first for easy cleanup and reusability.
Bloody Shots: Cherry Vodka
Not much else for explanation here. Inject your mouth with vampire blood (cherry vodka). You just need to buy the plastic shot syringes. I think I'm going to try these at our next party but with something better than cherry vodka…maybe like…whiskey or something.
Witches Brew: Lime Punch
This is a fan favorite. It tastes like happiness, but looks wicked. I've also made it in a witch's cauldron and used a plastic glove and blue food coloring to make a blue hand of ice.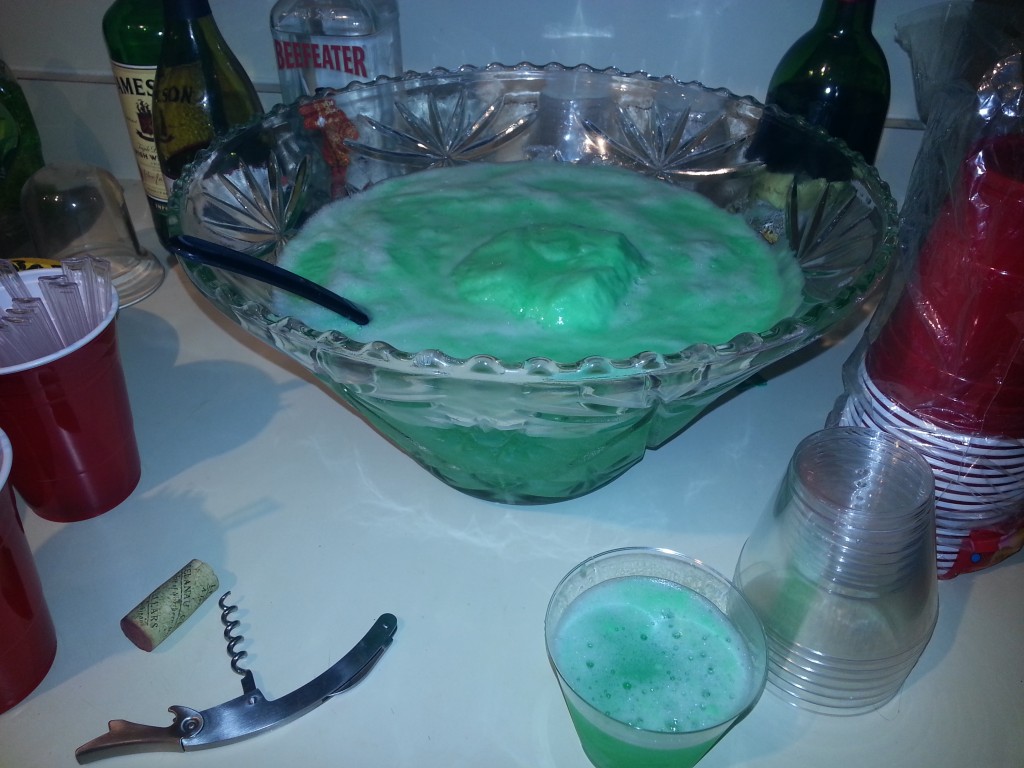 Bashed Skull: Cream Cheese and Pepper & Onion Relish
I just used a simple, inexpensive mask that I got at Michael's. I painted it with cream cheese and covered it with pepper and onion relish (I like the one from Harry and David the best). Serve in a glass pie plate with crackers and garnish with plastic scorpions. I also use slate labels to let my guests know what they're eating…sort of.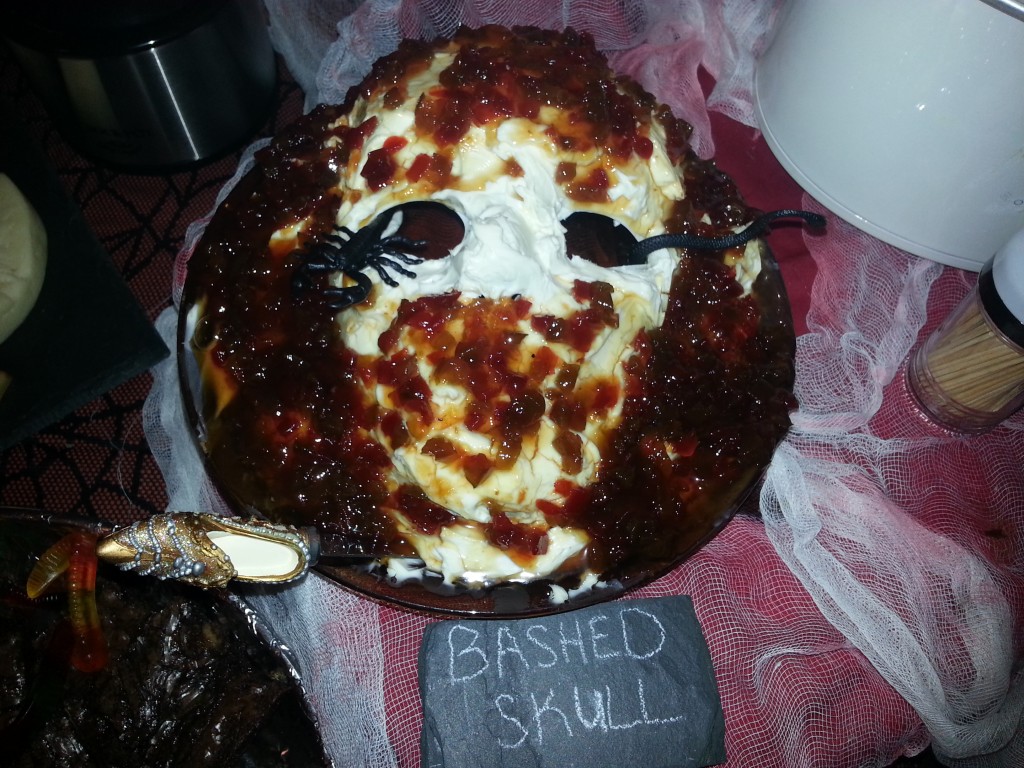 What scary treats do you make for Halloween? Would you eat any of these delicacies if you showed up at my party?