Get excited blog lovers! I'm participating in a giveaway event that entitles you an entry or lots of entries for a Walmart Gift Card. What's that, you say? Chrissy's selling out? You really shouldn't be too surprised. I'm a joiner. I want to play with the big kids in the cool sandbox. I figured that this was a nice little hop into giveaways. Really? Who doesn't want a Walmart gift card?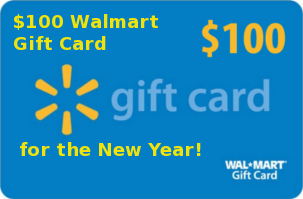 That being said, here are the details for this amazing gift card giveaway:
Walmart Gift Card Giveaway
Sponsored by TipHero, this sweet giveaway will run for 2 weeks, until January 2 at 11:59 US Eastern Time, at which point one lucky winner (18 and older, please) from the US or Canada will win a $100 shopping spree gift card for Walmart.
Entering is easy-just fill out the PromoSimple form below. Good luck!